Nicaragua and the Best Handcrafted Ceramic Tiles and Bricks
Nicaragua has a tradition of making some of the best clay tiles and bricks in the region. Being able to see them made is a special way to spend a day. But the first order of business in any good outing is enjoying a hearty meal like a nacatamal, another Nicaraguan tradition. This favorite breakfast food of mine is a blend of corn meal, rice, pork, tomato, onion, olive, a hot pepper, and a prune all wrapped in a banana leaf and boiled for 8 hours so the flavors meld into a delicious mouthwatering experience. Wow. Awesome and filling.
So, after a nacatamal and several coffees, we left Managua for the one-hour drive north along Lake Managua and into the shadow of the Momotombo Volcano. There, we would visit the birthplace of tile in Nicaragua, La Paz Centro, translated as "the center of peace."

A nacatamal for breakfast and a great ride along the lake with views of the Momotombo Volcano.
When we arrived at the ceramic and tile plant just before 9:00am, the work day was almost over for the hundred-plus people working there. Many of the workers had started before 2:00am and would be finishing long before the noon sun becomes overwhelmingly hot. My office neighbor at the time, Jacobo Arguello, owned this facility. Since we had purchased half a million handmade clay bricks from him for our sidewalks at Gran Pacifica, of course I had to visit and see just how it is done.
The history of tile making goes back centuries for the area that is now La Paz Centro. Between what is now Managua and the ancient Pacific Port of El Realejo, there was an Indian village producing handmade tiles, bricks, and roof tiles. The location is memorialized in a historical novel, El Burdel de las Pedrarias, by Nicaraguan author Ricardo Pasos Marciacq, taking place around 1520. Bricks and tiles from this village were used in the construction of what is now called "Leon Viejo," or Old Leon, which is now a UN World Heritage site.
La Paz Centro is now famous for the clay products manufactured there by over 70 small factories in the area. The old ways still rule.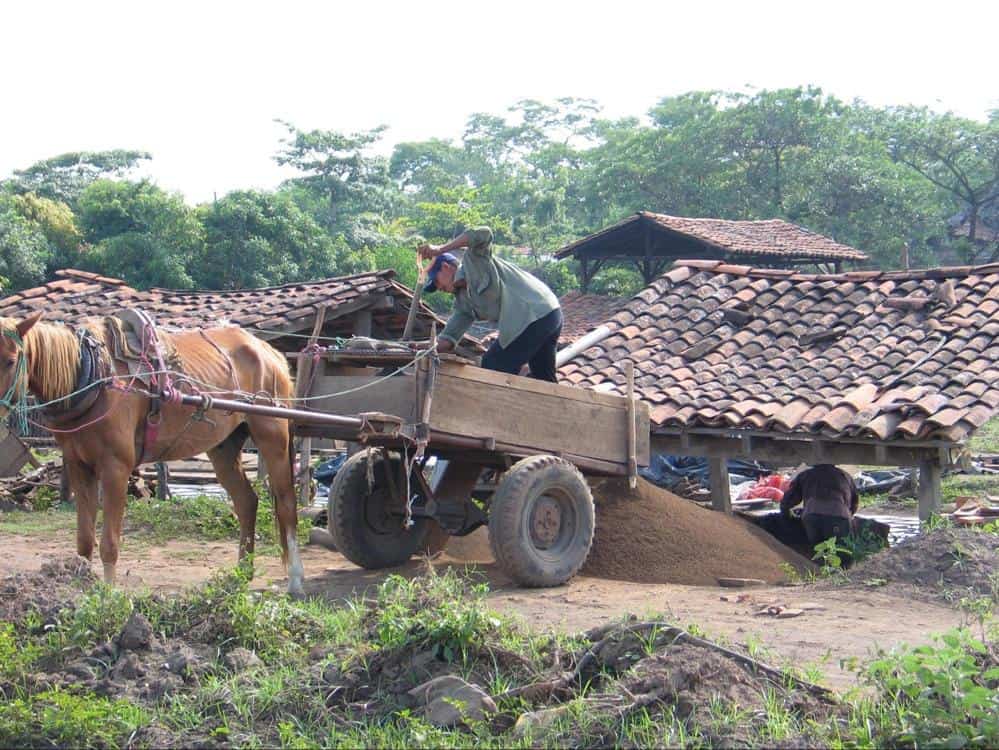 Sand and clay delivered to the working rooms by horse-drawn cart.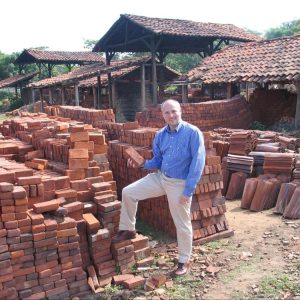 Edward Skibitzke, architect and world-renowned tile expert from Southern California, accompanied Jacobo and me to the factory in La Paz Centro. Bud, as Edward likes to be called, has a client list that includes the who's who in the world of the rich, powerful, and famous. These clients are used to getting their way and demand custom work patterns and installations in odd and extraordinary fashions.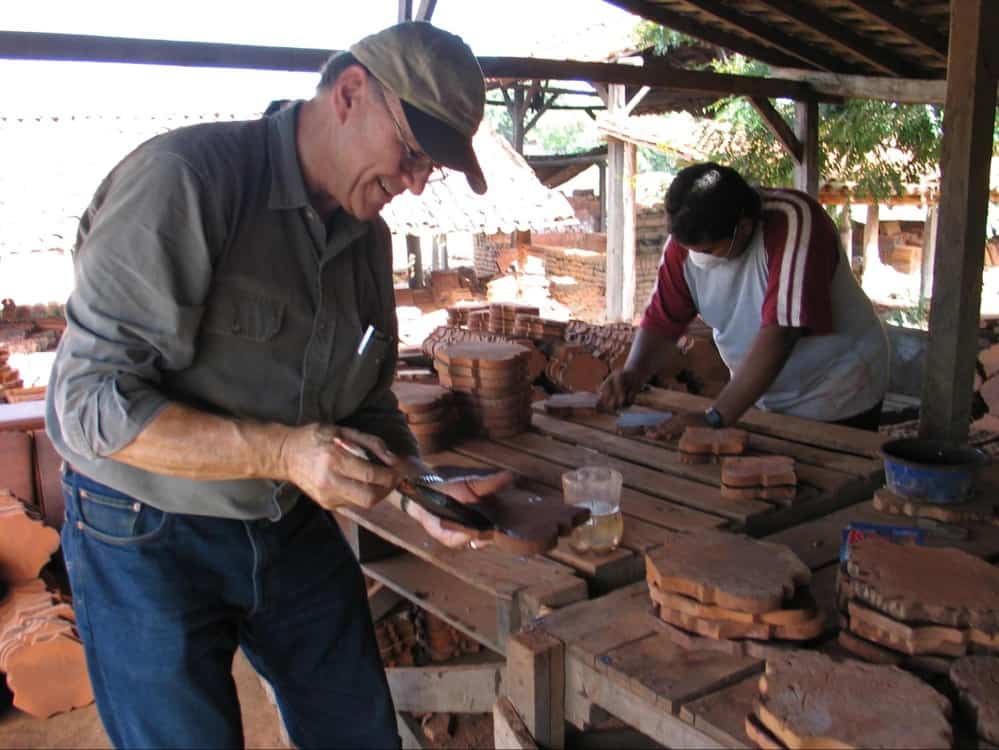 Edward "Bud" Skibitzke hand glazing a tile for a client.
One such project was described to me, "Imagine if Picasso wanted to create a masterpiece home using tile as his expressive medium." That is the type of project Bud designs and builds. I saw the custom roof tiles for this job being made one-by-one; each one scratched up by hand and etched with a rolling tool before firing. Very special indeed!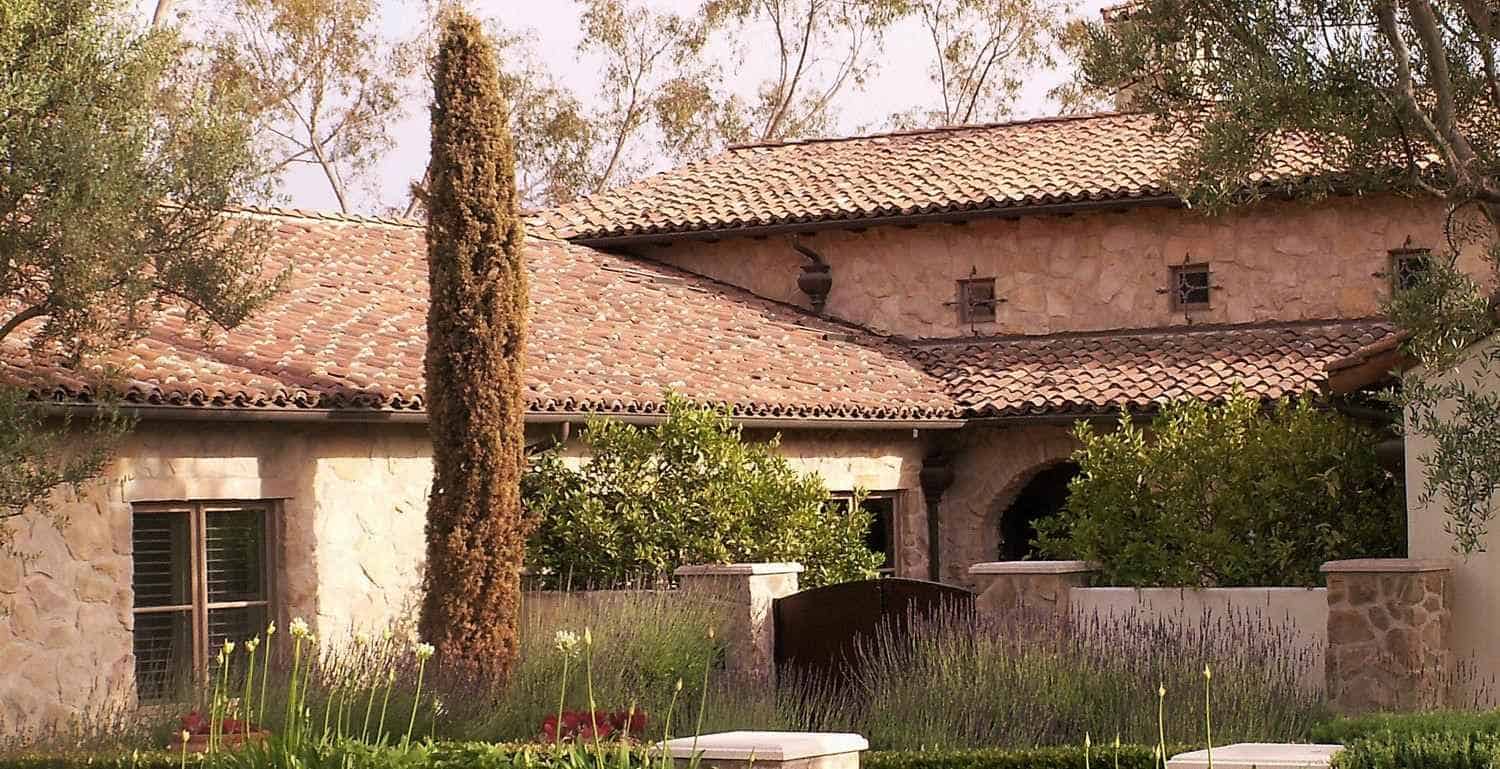 Handcrafted roof tiles from Nicaragua
Experience the Insider community that takes your international lifestyle to the next level. Download your FREE guide
"18 Steps to Implementing Your Plan B" instantly!
The village of La Paz Centro has the perfect geography to make this some of the best tile and brick products in the world. The clays contain just the right amount of flux and oxides. The sands are high in silica content and are salt-free. The water contains the correct proportions of minerals, like calcium. All of this adds up to the right raw materials. Mix in a staff that includes engineers and chemists from around the globe, and you have the recipe for success.

Hundreds are employed to make bricks from the perfect local materials.
Jacobo recognizes the special gift presented to him by Mother Nature. He makes sure he reciprocates by using renewable resources to fire his kilns, for example planting over 250,000 eucalyptus trees on his nearby cattle ranch as fuel for the kilns. The oils from the eucalyptus create an extremely hot fire that produces flashings of grey, purple, and black into the tiles delivering added character and warmth. On top of that, his entire production is "carbon neutral."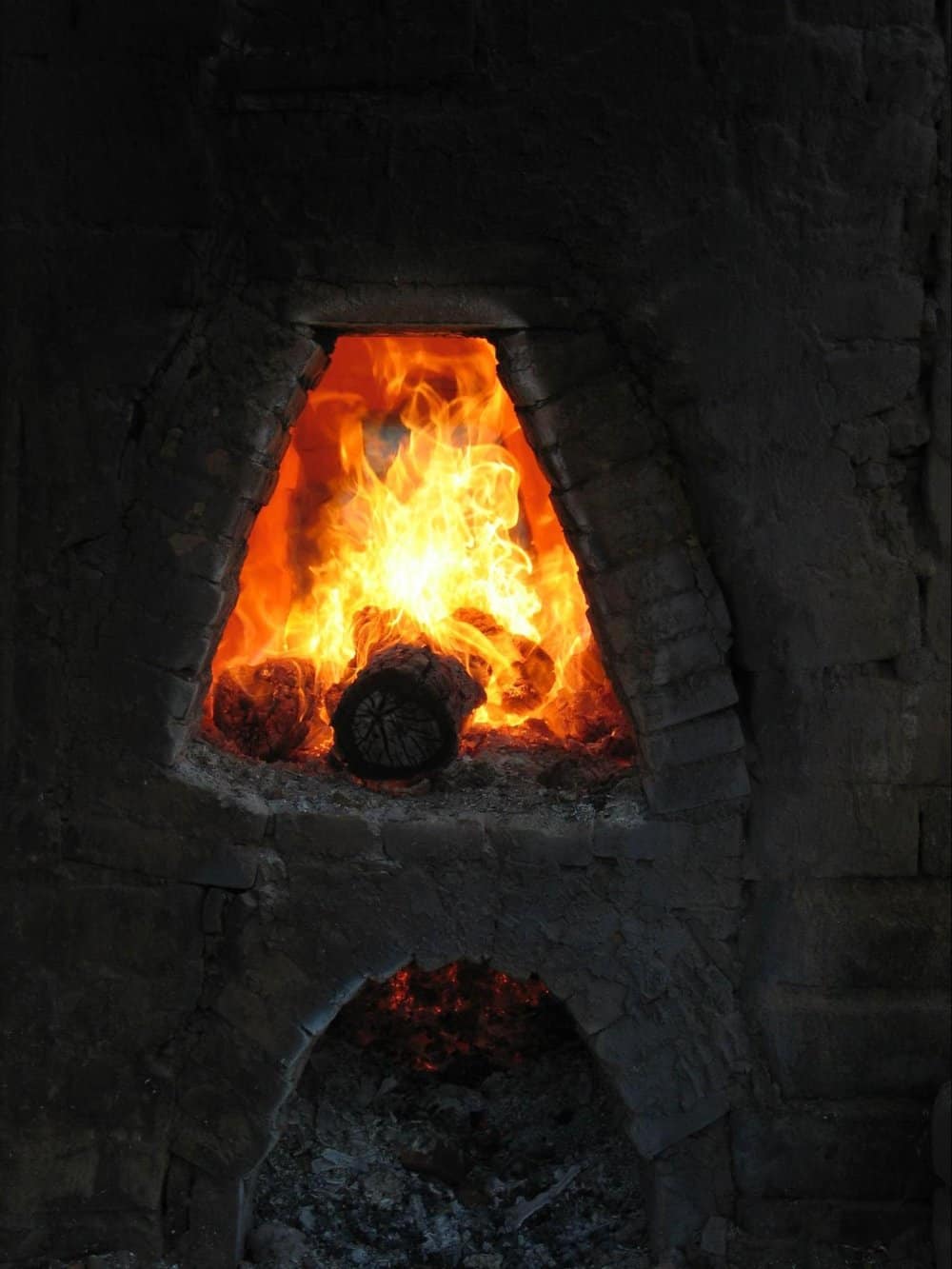 Eucalyptus logs fuel the kilns.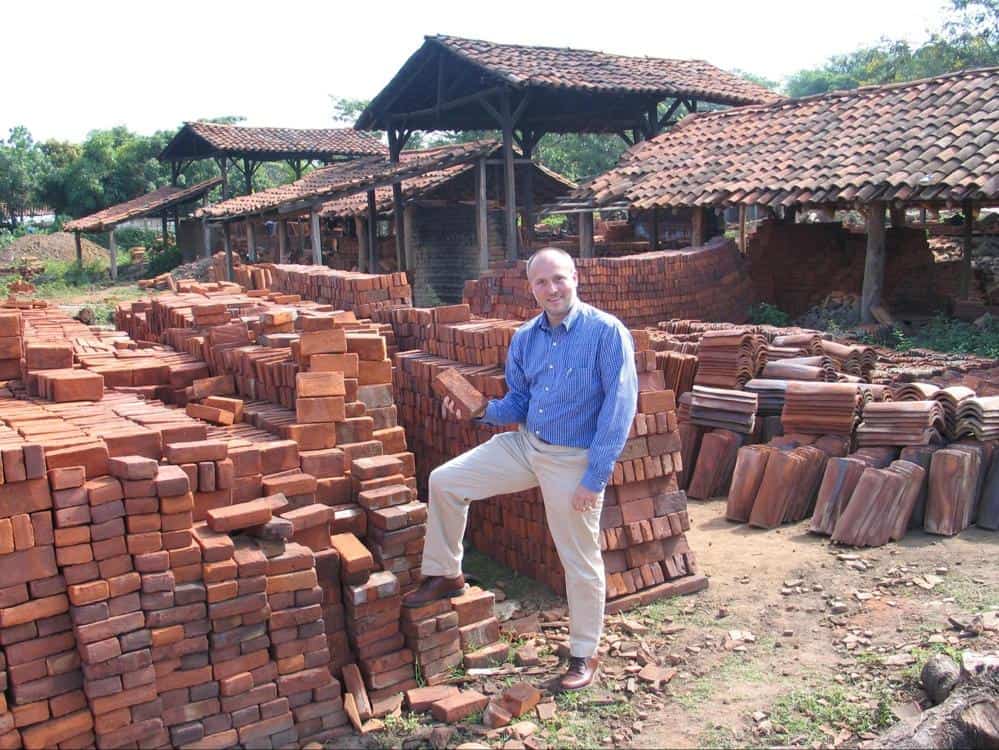 Michael Cobb at the Nicaraguan brick factory.
At the height of production, Jacobo exported sixteen 40-foot containers a month to the United States, and this represented only half of the production. The balance of the tiles and bricks was for domestic consumption by his Central American and Caribbean clientele. Incredibly, 90% of what they produced is handmade. Bud assures me that this is by far the largest handmade production facility in the world, and no one delivers the quality and consistency of ceramic products like Jacobo.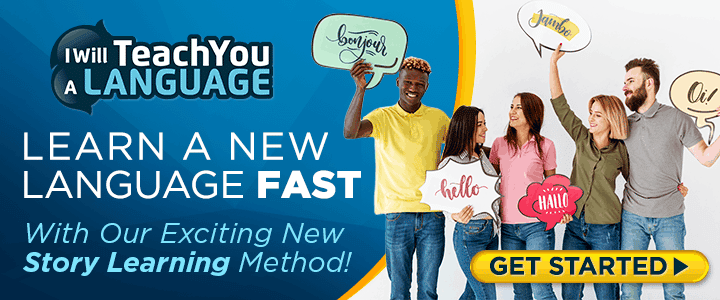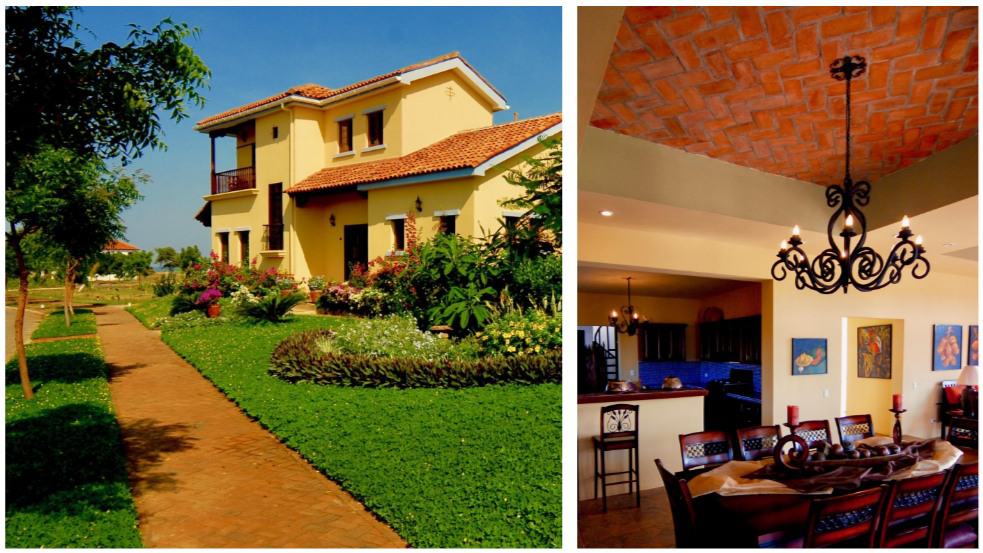 Brick sidewalks and ceilings at Gran Pacifica.
Gran Pacifica owners can feel proud that they share in a ceramic heritage that dates back well over 500 years, maybe thousands. Members of the community experience the rich textures and cool surfaces that only this type of material can provide. Whether it is barrel tiles for roofs, ceramic floors, custom painted accents, or the handmade bricks that create the authentic walking surfaces throughout the Gran Pacifica neighborhoods, owners know they are part of something truly special.
Here are a few articles I believe you will enjoy reading:
The Ultimate Guide To Investing In Teak Wood
6 Countries Where It's Easy To Get A Residency Visa
For more information on Understanding Teak Investment, please fill out this form and we will have one of our specialists reach out to you.
Want to hear an amazing podcast?  This podcast is one of our listeners favourite episodes.  Rachel Jensen from ECI talks with me about Investing In Teak and about buying real estate in Latin America.  After you have listened and are super stoked, go to the webinar that Rachel and I have done, it will answer every single question you have and point you in the right direction! Enjoy!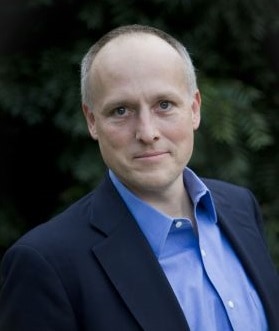 Michael K. Cobb is the CEO and co-founder of ECI Developments which has properties throughout Latin America. He speaks all over the world on international real estate and is a board member of the National Association of Realtors.


Like Our Articles?
Then make sure to check out our Bookstore... we have titles packed full of premium offshore intel. Instant Download - Print off for your private library before the government demands we take these down!