It's nice to be recognized as an expert in the industry. Sometimes what becomes common place knowledge over time is actually an expertise hidden just below the level of consciousness. Follow me on this one:
As many of you know, one of my favorite sayings is, "I don't know what I don't know."
But here's another one almost similar, yet quite the opposite: "Most of the time, I don't know what I do know."
Deep Thoughts by Jack Handy, as SNL would say. But "I don't know what I do know" pops up more and more the older I get. These are the times when something happens, or a situation appears, and intuitively I know how to handle it. It's experience, I guess. Or in truth, it's probably the many varieties of experiences all mixed together that spring forth to produce a solution to a problem.
The interesting thing is, if I was asked to produce this knowledge without the specific situation, I'd be hard pressed to do it. So, I guess, I don't really know what I know. But other folks seem to think I must know something to garner an all-expenses-paid invite to a major foreign investment conference in El Salvador.        Here's how it happened.
Over the past four years, Gabriel Guardado of PROESA has asked me each year to participate. But due to scheduling conflicts with their annual event, I could never attend. This year I was free and quickly allocated the 4 days to be there.
Honestly, El Salvador has never been high on the list for ECI expansion, not due to any specific reason, just simply because we had not given the country any real time, energy, or focus. On top of that, other than flying through the airport about 250 times, literally, in the past 24 years, I had never been to the country. This Investment Forum was the perfect opportunity to perform a high-level visual inspection and deeper dive on fundamentals about the country. While there, I would meet some of the major players in the government and private sector and be able to pick their brains about opportunities now and those coming down the pike. I would also be networking with other current and future investors in El Salvador and hear real life experiences, the challenges and the successes firsthand.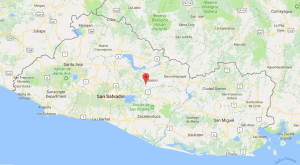 Map of El Salvador
When I arrived in the El Salvador airport, a young lady holding a sign with my name greeted me prior to immigration. I was whisked away to a small air-conditioned lounge while she took my passport for stamping, along with $10 to purchase my tourist visa. Five minutes later, she was back with my documents.

Monseñor Óscar Arnulfo Romero International Airport in El Salvador
FREE GUIDE! Get Essential Information on Protecting Your Assets
18 STEPS TO IMPLEMENTING YOUR PLAN B
A small group of us, mostly Asian, were brought to a van for the 45-minute ride up and over the mountain and then down into the valley where the capital city, San Salvador, is located. Pleasantly cooler than the coast, this city of 2.9 million is the vibrant, commercial hub of the country. After a quick and smooth check-in to the Barceló Hotel, including the doorman handing me a bottle of water as I entered (nice touch), it was off to bed for an early pick-up ride to the conference.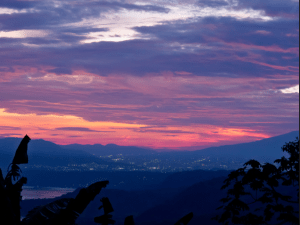 El Salvador City at night
The first part of the morning was devoted to a very high-level discussion of the country by PROESA, the investment promotion agency here in El Salvador. Their president, Sigfrido Reyes, presented some statistics and general information about the economy, workforce, and country. Here are some of the major data points that are generally relevant to Escape Artists looking at expanding or moving business operations overseas:
El Salvador is a U.S. Dollar economy. The official currency is the U.S. Dollar
Tax Rates: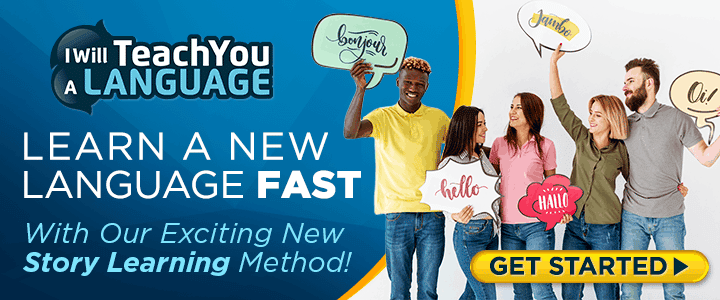 Income tax: a 30% tax rate is applied over taxable income. For companies with a taxable income less than or equal to USD 150,000.00, a reduced tax rate of 25% is applied.
Value added tax (IVA): 13% IVA (Same as Costa Rica)
Transfer Taxes:
Tax on cheques: Cheque payments over $1,000 USD pay 0.25% on the operation base. This tax is non-refundable, and the amount is charged to the company bank account.
 Tax on liquidity control: A tax of 0.25% will be paid on cash payments and deposits, if the accumulated sum is more than $5,000 USD in the month. This tax is a credit for any future payment of VAT, Income Tax, or Ad Valorem Tax. The bank will charge it to the company bank account.
Inflation for the period of 2012 -2016 was an average of less than 1% (0.7%).
The Swiss Institute of Technology ranked El Salvador as the 70th nation in the world for Globalization out of 192 countries.
El Salvador received $1.3B in Foreign Direct Investment (gross inflows) in 2016.
Exports of goods and services were $6.7B in 2016.
El Salvador businesses enjoy low tax rates (2nd in region after Guatemala).
The country has over 30 years of experience in aircraft maintenance.
A long history in manufacturing has allowed the vertical integration of business.
El Salvador has absolute freedom of capital flow.
The labor pool is 2.9 million people, with 57% under 39 years old. 23,000 technicians and professionals join the country's labor force every year,21% having engineering and technology degrees.
32 direct flights connect El Salvador to the world, half to the U.S.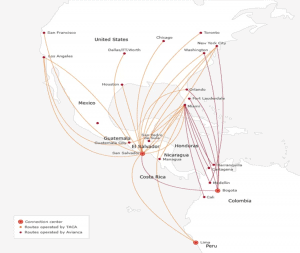 Taca and Avianca flight map from El Salvador
Mid-morning, the President of El Salvador, Salvador Sánchez Cerén, spoke at the conference. We stood for his entrance and then listened to the national anthem.    It's a great anthem and the Salvadorans in the audience sang with vigor. That said, I have now heard a national anthem longer than the Star Spangled Banner.
The president's address stayed at a very high level. He focused on the big picture concepts, highlighting that El Salvador is a great place for business. He stressed that the country is open, welcoming of foreign investment, provides legal stability, transparency, contract integrity, and leads the region with modern banking and finance institutions to facilitate business transactions. He noted the excellent logistics and infrastructure of the country, the competitive energy, and telecommunications costs. But most of all, in accordance with the slogan of PROESA, "El Salvador – Great Like Our People," he emphasized the high productivity of labor and the conscientiousness of the work force. This dovetailed well with his core message that free enterprise and foreign investment are key to the long term sustainable success of his country.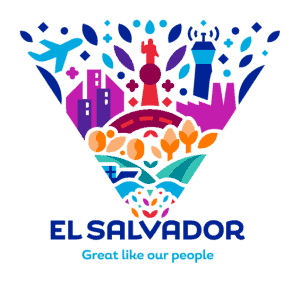 El Salvador Investment Logo
"Great like its People"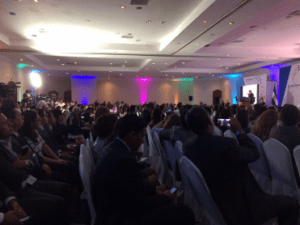 President Salvador Sánchez Cerén addressing the Forum
More next week on the rest of the day's meetings and additional data points on El Salvador.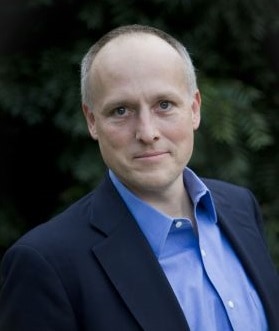 Michael K. Cobb is the CEO and co-founder of ECI Developments which has properties throughout Latin America. He speaks all over the world on international real estate and is a board member of the National Association of Realtors.


Like Our Articles?
Then make sure to check out our Bookstore... we have titles packed full of premium offshore intel. Instant Download - Print off for your private library before the government demands we take these down!