"Don't go to the most popular digital nomad destinations if you're looking for the best place for remote work." – Barbara Jovanovic, SafetyWing
What great insight. 
This article has come to life in a colourfully decorated condo in La Floresta, a lakeside town adjacent to the Magical Town of Ajijic. As a fully remote worker, an important lesson learned is you don't have to live in a big city to have all the amenities required for work. Big cities don't offer the quality of life I seek. For a farm girl at heart, open space is a need and a desire. Instead of being based in the busy megacity of Mexico City, I have been blessed to have the opportunity to discover La Floresta. Mexico City was an adventure to visit, but I would not want to live there. A metropolis offers a cloak of invisibility sewn with concrete. The great outdoors with wide open spaces is where I come alive. 
La Floresta will never make the top 10 digital nomad spots anywhere, but that's okay—it was what I needed to feel at home. Partly because there are a lot of retired expats and partly because it's a sleepy community where people walk their dogs and locals ride horses down the streets. La Floresta is just a 30 minute taxi ride away from the Guadalajara airport. The best of Mexico's worlds thrive in La Floresta.
The search for undiscovered remote work locations is not a singular one. Many people ask where they should move to and work, where they can set up a business in a new country outside their home country, and where they can go to escape the Fourth Industrial Revolution. The latter is a tough question. For starters, look at how countries treated their citizens during the pandemic—that's a telltale hand; and one still being played.
What other areas are remote workers seeking? Mexico may be great for me, but it's not for everyone. Many people can't get over the idea of Mexico and Central America as dangerous locations. Deeply ingrained paradigms are hard to shake. However, the earth is a diverse planet—there are alternatives on the other side of the globe.
What Requirements do you Need for Happiness?
The first question you need to ask yourself is what you require for happiness. Community spirit, natural beauty, and locals who say hello to you while passing by on the street are big positives. If you are obsessed with cooking and need a full kitchen, don't settle for something small, you will only be frustrated. Likely, a strong internet connection is imperative. Pause and think critically about what you need in life, and make sure your destination of choice has it.
The best benefit about traveling and living in different countries is how your perspective widens. You become conscious. You will have new life experiences to treasure and a life many people are not courageous enough to venture into. The people you will meet are most interesting from whom you will learn new opportunities and ideas. You will eat better than you ever ate in Canada or the United States for a fraction of the price. All the new skills you will learn will prepare you for the future.
Make it your powerful mission to embrace finding a new destination to live and confidently embrace it. No one knows what you love but you. Let's try and find you a place to call home. 
The countries listed below have all had the courage to drop travel restrictions—no testing or injections required. Why not reward good behaviour instead of punishing it? Let's start with my community of choice right now, La Floresta, Mexico.
Why La Floresta?
Experience the Insider community that takes your international lifestyle to the next level. Download your FREE guide
"18 Steps to Implementing Your Plan B" instantly!
Photo by Charlotte Tweed
After landing in Ajijic in April 2022, we took the month to scope out the surrounding area and towns. The highlands area in Mexico already ticked off all our boxes. Mild, spring-like weather year-round. Affordable living. Freedom from the government thumb. English is common. Good shopping. Great food. And not just Mexican restaurants, but international cuisine. It's like someone from each culinary country of the world moved to this part of Mexico. Now, we needed to narrow down exactly where to stay on Lake Chapala. 
We wanted a quiet area (yes, this is possible in Mexico), a walkable area, and an area of beauty with landscaped yards and wide streets. The latter made the area feel more like a home than a vacation. La Floresta fits all three. Perfectly situated between Ajijic and San Antonio, La Floresta is highly walkable to both towns, restaurants, shopping, groceries, and the Malecon. The streets are wide with beautifully maintained homes and front yards brimming with tropical flower, palm trees, and poinsettias. Hummingbirds zing everywhere on patrol for their next sugary feast. La Floresta is also quiet because traffic is sparse, and the area has many retirees who roll up the welcome mats early. The vibe in La Floresta is peaceful.
Is La Floresta my Forever Home?
People keep asking if we are here to stay. I don't know. Right now, we love it here. Everything is great about the area—the people, the food, the cost of living, the weather. However, it's important to keep the door open for other opportunities. For now, La Floresta is our home base.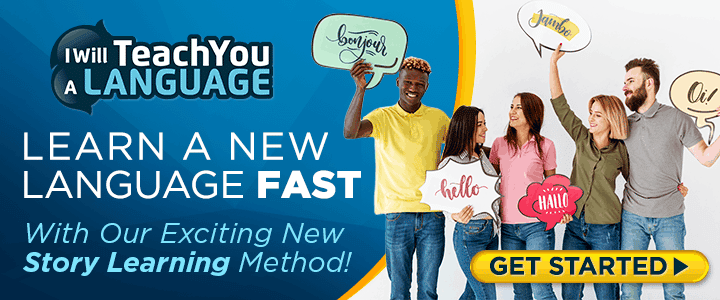 Can People Travel There In 2022?
Travel restrictions are being scrapped around the world. For this article, countries listed have the discernment to wade through the excrement and end all travel restrictions. Mexico is one of them. Zero travel restrictions was the #1 reason for us coming to the country. 
The world map is not flat, nor is the earth. Spin the globe 180 degrees and look at my favourite continent to visit…
Europe
Europe is one of the leading continents people pick as a go-to destination. The next question would be, where in Europe? Popular destinations include France, Spain, Italy, Turkey, and Germany. But do you happen to know there is a reawakening of what used to be a little-known country in Europe? Hint: Find a world map and put a pin on the country at the centre of it all. Portugal.
Here are some areas in Portugal where people rave about being remote workers. 
Caparica, Portugal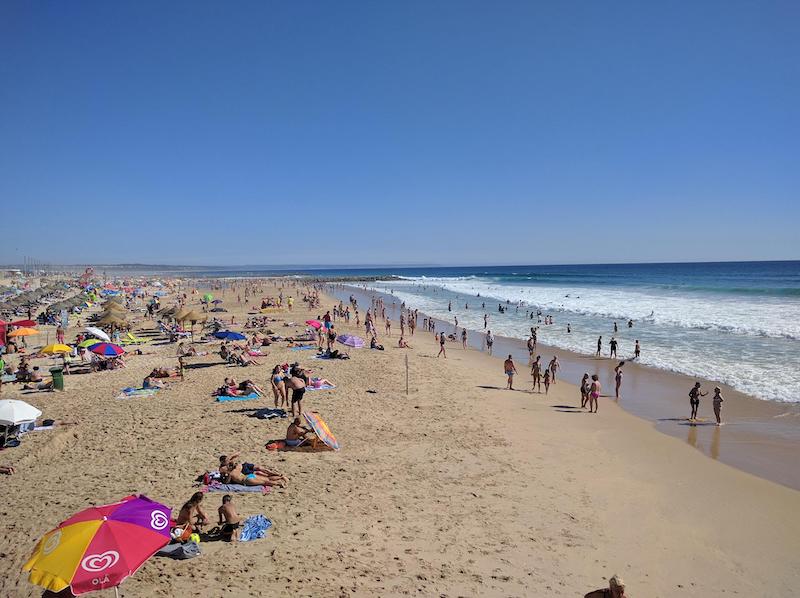 Caparica is flawless for those who seek ocean views. This tiny fishing village is only 20 minutes away from Lisbon. Caparica has a relaxed lifestyle with unbelievable sunsets, impeccable surfing, fresh food, high-quality accommodations, fast internet, and an exceptional local community.
For those seeking nature and beach, fast Wi-Fi (aren't we all), safe location, and vibrant community life, Caparica is for you. Its boardwalk and beach bars are well known. Caparica calls those who love nature but want to be close to a big city however not in it. The village has everything you need including grocery stores, restaurants, and coworking spaces. You will also find tennis courts and gardens if you get tired of the beach. Caparica = Simple Life.
Being a small village means there are some drawbacks you need to know about. To some, this won't be an issue. It depends on your lifestyle. There are no supermarkets or malls, meaning the small, independent grocers might have higher prices and less selection. Caparica is a summer destination, so you might get overrun with tourists in July and August. There is no direct metro line to Lisbon, and the bus ride can be dreary if you don't have a car.
Lisbon, Portugal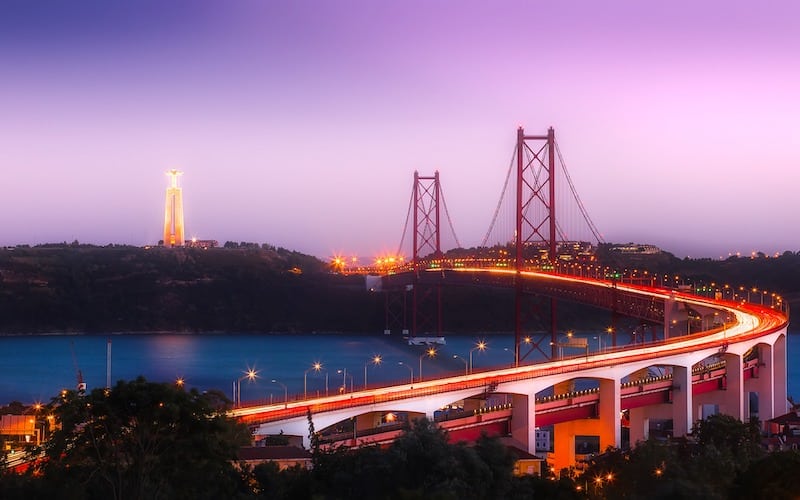 Orange blossoms, freshly hung laundry, and cinnamon sprinkled on hotcakes perfume the air in Lisbon. The capital of Portugal, Lisbon, is right next to the Atlantic Ocean. Lisbon is a lively, thrilling city for work and a textbook location for remote workers. Lisbon is a vivacious city with an ancient story, incredible food, delightful people, and everything you need to live a happy life. The growing remote work community and dozens of daily events will set you up for the time of your life.
Almost everyone can speak English in Lisbon. The city is walkable, and you don't need much public transport. With a population of just over 500,000, you have many options within short distances. Beaches, cities, and suburbs are near to each other. Add a mountain view and a lot of greenery… those perks are hard to beat.
Lisbon is considered one of the most affordable cities in Western Europe. The living conditions are wonderful, and you don't have to pay a hefty price for everything. Food is also inexpensive, especially vegetables and fruits. You can have a grand time in Lisbon without pinching pennies. Also known as one of the culinary capitals of the world, you can enjoy rich Portuguese cuisine at reasonable prices. If you enjoy good food and drinks, Lisbon is the place to be. You can enjoy a trip to a café and spend less than $5. You can have lunch below $10. Even a bottle of wine can cost you as low as $3.
Lisbon is drenched with almost 300 days of sunshine throughout the year. They have the best climate in all of Europe. Taking long walks, going to the beach, reading, sitting in a park, or enjoying their famous coffee blend, Bica, will fill your days when you are not hard at work.
Lisbon is Europe's safest capital. It has the lowest crime rate among all European cities and the lowest number in terms of residents being a victim of any crime. That doesn't mean crime is non-existent, but rather crimes committed are petty compared to other cities of the world. In Lisbon, you can have the coveted sense of security and roam free while exploring the city. 
Madeira, Portugal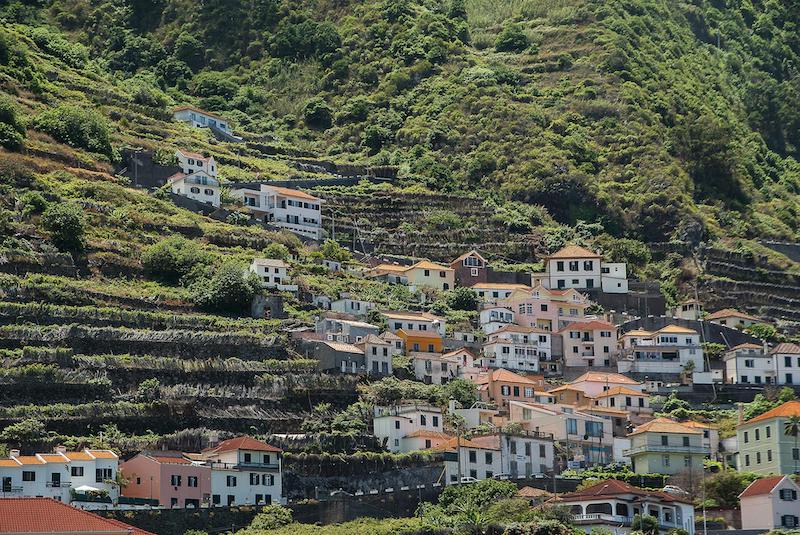 Welcome to the Madeira Islands. A place where you can work with the loveliest ocean and mountain views. Besides attractive landscapes, mountains, and the sea, Madeira also has incredible temperatures and air quality all year. Madeira Island is also a great option for remote workers due to its safety, sound infrastructure, and fast internet.
Local restaurants, pubs, coffee shops, and most prominently, the gorgeous ocean bay where you can witness striking sunsets make their mark. 
Fun Fact: The first Digital Nomad Village in the world was created in Madeira. The pilot project emerged in February 2021, in Ponta do Sol. 
The island has been recognized multiple times as the "World's Leading Island Destination", by the World Travel Awards. In Madeira, people speak Portuguese, but most of the inhabitants have a healthy grasp of English thanks to it being a popular tourist island. The cost of living is similar to Portugal's mainland, which is still one of the cheapest economies in Western Europe.
Due to the mountains stretching across the island, there is a big difference between the weather in the northwest (wet weather) and the southeast (dry weather). The weather is best on the south coast, but either way, Madeira's location on the Atlantic gives it warm weather year-round. The water temperature is always between 17 and 24ºC (63 and 75 Fahrenheit), and you have almost 300 days of sun every year, just like Lisbon. Every time of the year is the best time to be in Madeira.
Madeira is known as the mini-Hawaii of Europe with incredible hiking, mountain lavadas (aqueducts) along hiking trails, waterfalls, banana trees in the south, and some famous personalities such as Cristiano Ronaldo (football – or soccer – player born on the island). Madeira is also known for some elements of its gastronomy as Bolo do Caco (a flatbread resembling an English muffin), seafood, and Madeira Wine. It is also known for its Guinness World Record New Year's fireworks and other famous annual events. Madeira's traditional costumes and Bailinho da Madeira folk dance are also well known.
Porto, Portugal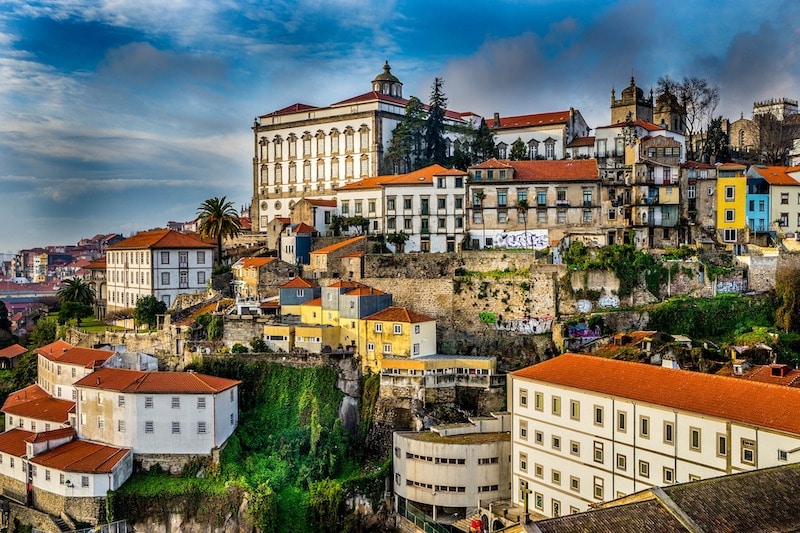 Porto has a great feel. You'll find a like-minded community, plenty of remote work friendly cafes and co-working spaces. As an added bonus, Portugal is truly a scenic country to discover on your days off.
Porto is becoming the second favourite remote worker destination after Lisbon. Porto is smaller than Lisbon, offering more appeal for those not wanting the speedier life of a city. People come to Porto for a peaceful life. A common theme emerging in Portugal is how widely English is spoken; the same goes for Porto. 
Porto has an artsy, hipster vibe. Design and tech start-up companies are popping up here. With all this, Porto maintains its medieval history and culture without feeling too big. The city is super safe and comfortable to explore on foot. The digital nomad and remote worker community is active, making it easy to meet people and build a support network. Coworking spaces are more affordable than in Lisbon. 
The city boasts an efficient and extensive public transportation system, making car ownership unnecessary. If you stay close to the city centre, you increase your walkability and access to getting around. Plus, when you are on foot, you see the city better than on public transport. You can meander the winding cobblestone streets and gaze at the colourful buildings.
The Azores, Portugal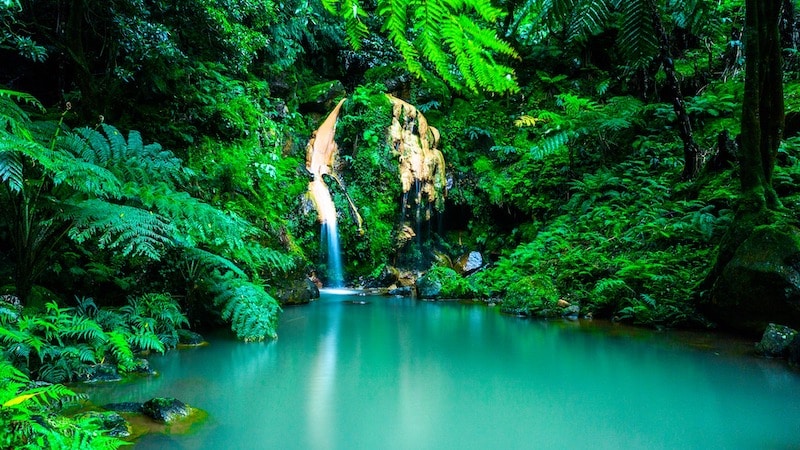 When I say I'm going to the Azores, people look at me strangely and say, "Where?" 
The Azores are a remarkable chain of islands located around 1,300 kilometres (808 miles) from Portugal's mainland in the Atlantic Ocean. The archipelago consists of nine larger islands and several smaller ones forming an autonomous region Portugal owns. Some of the smaller islands are 100 kilometres (62 miles) apart.
Remote workers seeking a secluded location will want to pay attention to the Azores. The Azores is quite mysterious, but the islands have recently become popular amongst Europeans. Flights to the island are extremely affordable. 
Each island has its character, making this an attractive area to explore for days with island hopping. The islands are known as the "Hawaii of the Atlantic Ocean". The climate is cooler than the mainland, and you can wager more affordable than Hawaii.
What type of remote worker will love the Azores? Someone who has no desire to live in the hustle and bustle of city life. A person who prefers solitude and quiet. If you can't take the scorching heat and humidity of the tropics but want the palm trees and year-round spring climate, consider the Azores.
In particular, consider the island of Sao Miguel, the largest island in the Azores. The main city on the island is Ponta Delgada. The internet is great, and the island has plenty of coworking spaces. If you are a writer, you will have ample inspiration from the rising volcanoes, beaches, and hot springs. 
Other areas in Europe stand out, too.
Warsaw, Poland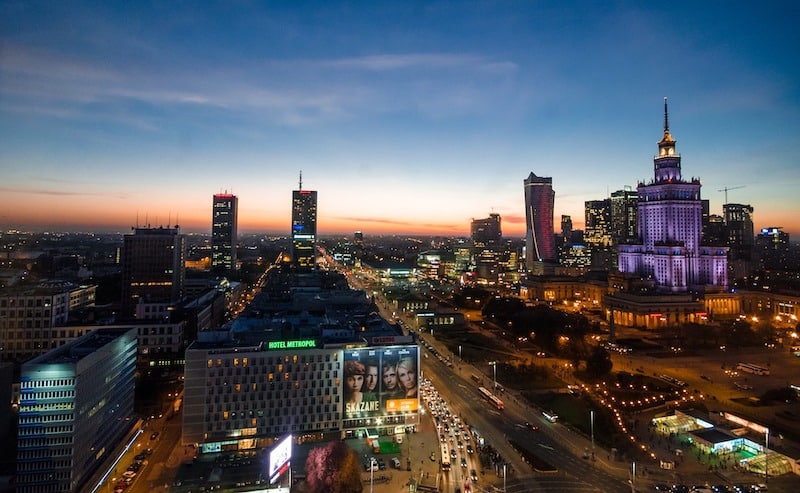 Warsaw is a safe, cosmopolitan city. Poland's capital is situated in eastern Europe with its north coast on the Baltic Sea. Known for its medieval architecture, hearty cuisine, and Jewish cultural heritage, Poland is a popular vacation destination for Europeans. The level of English overall is excellent.
Warsaw, Poland's largest city, is home to the Warsaw Stock Exchange and is an alpha city, or global city, for its considerable impact on the world economy and culture. Poland has the strongest of the post-communist economies and one of the fastest growing economies in Europe.
In Warsaw, the cost of living is low compared to other European countries, which is a nice bonus. It makes it easy to take advantage of everything without constantly watching your wallet.
Just what kind of remote work can you find in Poland? I came across this posting:
Senior Game Designer: Play a senior role on a creative design team pitching game concepts for diverse genres, platforms, and global hit franchises. Create high-level designs for engaging gameplay, metagame systems, exciting content, and more… I had to pay for the rest of the job description, but you get the gist.
Skerries, Ireland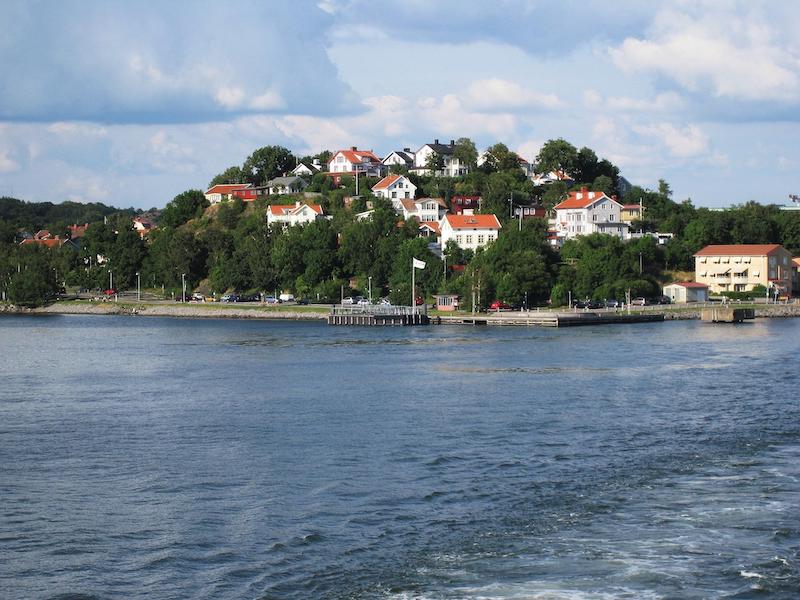 Work, play, rest, and stay in Skerries for a better quality of life. Rather than being forced back into the office by your boss, who just doesn't get you anymore, why not head to Ireland and set up shop there for a while? 
This year, Ireland´s government drafted the bill for the right to request remote work. Public consultation was undertaken with significant engagement for both employer and employee representative groups. Currently, the legislation is under revision.
Skerries has a delightful coastline, charming pubs, cafés and restaurants, and a rural village feel while being only 25 minutes from the Dublin airport and 45 minutes from the center of Dublin. 
Now You've Got More Ideas for the Best Places for Remote Work
Some new options have presented themselves so let life begin. Write our your needs and reach out to us with any questions regarding setting up your business in a new country, or, the most critical element, earning citizenship by investment, so you can stay longer in that special new place you can now call home. Let the quest begin.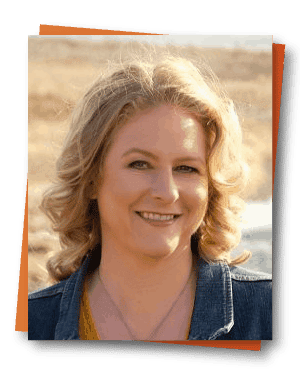 Charlotte Tweed is an adventurous soul with a goal to take you on a journey where you don't just visit—you live it. Graduating with a Travel and Tourism Honours diploma, Charlotte began her expat journey on June 15, 2021. After travelling through multiple countries, Charlotte now calls Mexico home. Reading, writing, and researching the best expat destinations in the world are how she fills her days. As a published author, her mission is to transform your life with expat travel—one destination, one adventure, one story at a time.


Like Our Articles?
Then make sure to check out our Bookstore... we have titles packed full of premium offshore intel. Instant Download - Print off for your private library before the government demands we take these down!