Many people wonder, "What will I do if I move south of the border?" After all, we have to do something for the 16 hours a day that we are awake.  This is a great question, and one that more people should give serious consideration to before they set sail and head off.
While the idea of living strictly R&R sounds appealing, some folks, like me, are probably not able to just relax on the beach all day. But others are, however, and this is an important self-knowledge to know. That said, people do change, and what might be right today could morph into new interests in the future.
In this week's article, I take the stories of two expats who have moved to Nicaragua to engage in "work" activities, as we would traditionally define them. In future articles, we'll look at people who have come to the region and jumped into service work, spending their days working in the community, as well as folks who have stepped back from it all and enjoy relaxing, reading, beachcombing, golfing, horseback riding, and other recreational activities full time. All are possibilities, as is some combination of the three.
But before we get to the story, check out these two really interesting charts about GDP and happiness/life satisfaction. It is interesting how money and satisfaction have correlation, but not as strongly as we in North America like to believe.
Read: Our World in Data
Nicaragua Ranking in 2005:
Nicaragua ranking in 2014 – GDP changes minimally, but satisfaction jumps greatly: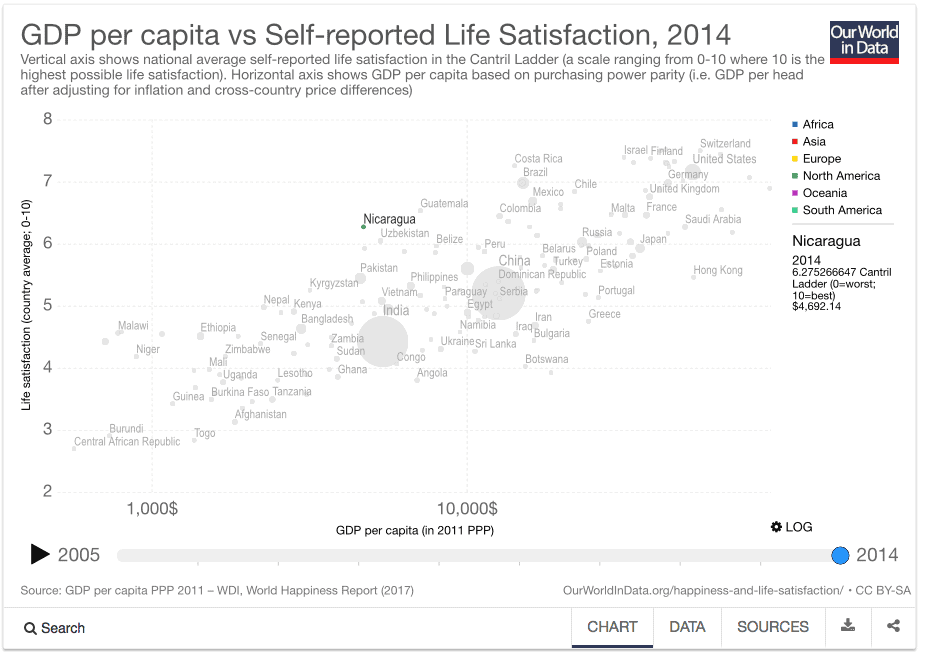 Big Bob's Story:      
"Margelly" (aka Edith Zuniga Mendoza) was working at Gran Pacifica Resort in 2009 when she met "Big Bob" (aka Robert Price). He was living at the resort then and is now currently on staff as the Chief of Security. When they first met, Margelly didn't know a word of English, but that didn't stop their relationship from flourishing. This was quite a fortuitous meeting, because since then, they both have had a big impact on each other and their local communities.
The couple eventually married and moved to the community of California, where Margelly is from originally. She will jokingly tell you that half of her neighbors are her relatives! Margelly and Bob have a daughter, Sophia, who is now four years old and loves running around the family restaurant, "Burrito Bandido."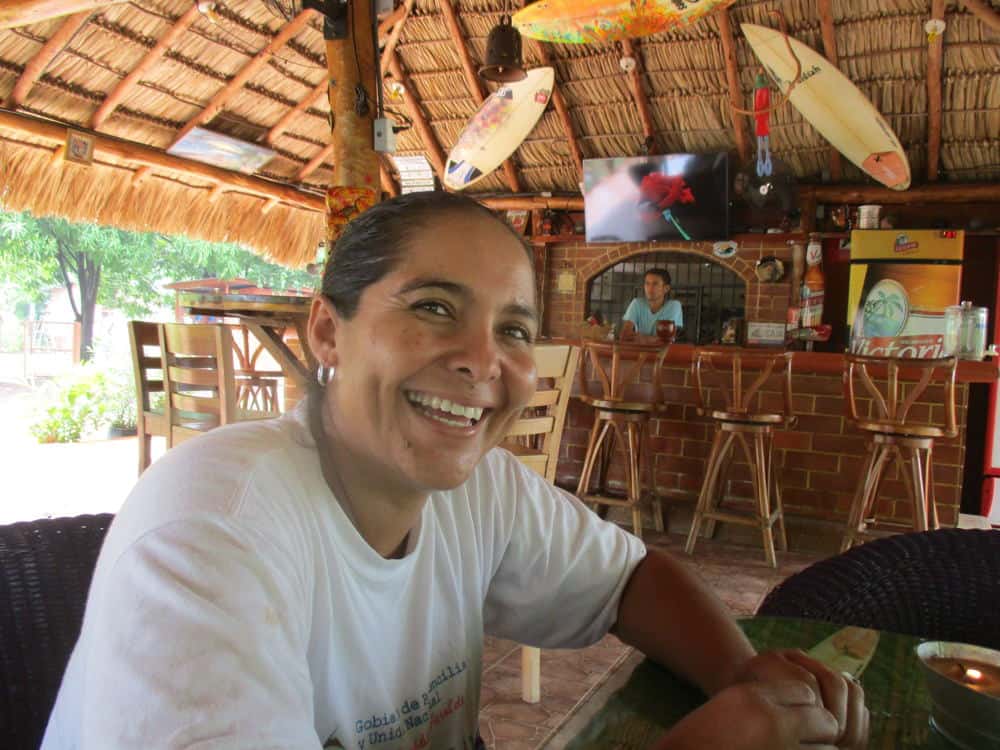 FREE GUIDE! Get Essential Information on Protecting Your Assets
18 STEPS TO IMPLEMENTING YOUR PLAN B
Big Bob and Margelly have continuously worked with residents of Gran Pacifica to give back to the local communities. She said, "It is not just me and Bob, the residents of Gran Pacifica are a big help too." Bob's construction business helps support 45 families in the area, and both of them are always looking for more ways to help others.
These two overachievers have already donated: 12 days of labor to help install the California Baseball Park; $1,000 every year for their local police, sports uniforms, and school equipment; and funding for the annual Christmas party, with presents for 150 children and dinner for 45 elders.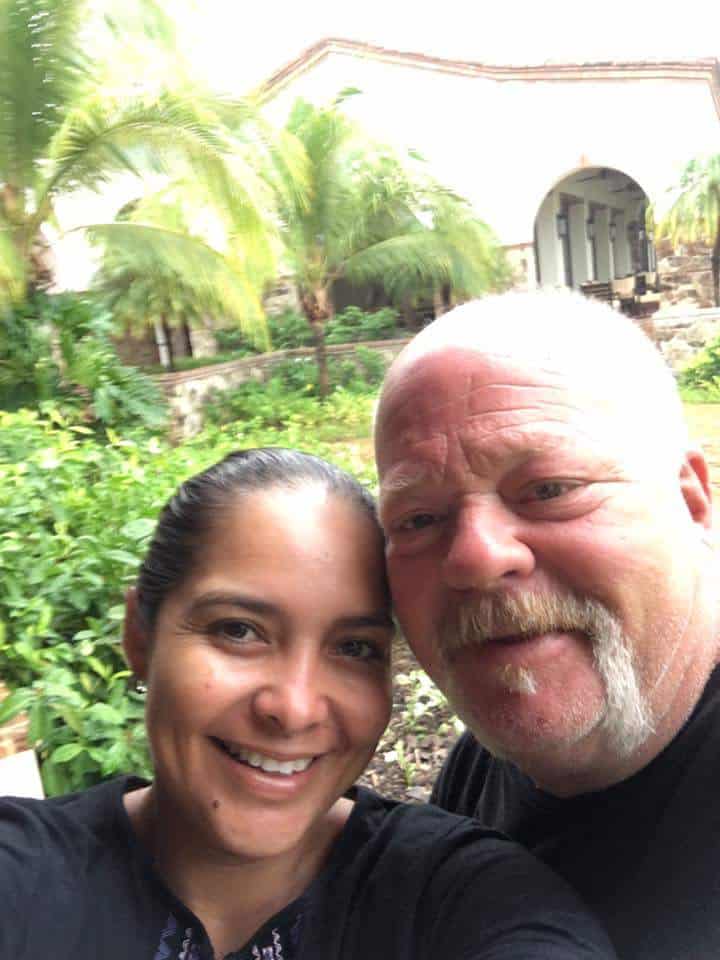 In July of 2016, Margelly and Big Bob, with the help of Gran Pacifica and local property owners, installed a new water pump for the community of San Diego and donated $6,000 of materials and labor to build new bathrooms for a school in California. It was Margelly's idea to place the children's brightly colored handprints on the doors. Everyone loved the artwork and the new bathrooms! They also just completed a playground installation in California with the help of Dinh Nguyen, another resident of Gran Pacifica, and the charitable organization Help Them Help Themselves.
There are always new projects on the horizon for Big Bob and Margelly. With the help from Gran Pacifica staff members, they are now beginning work to improve Asuchillo Beach. This will include building bathrooms, showers, and a Palapa to provide more shade – and last but not least, a food truck for cool drinks and snacks.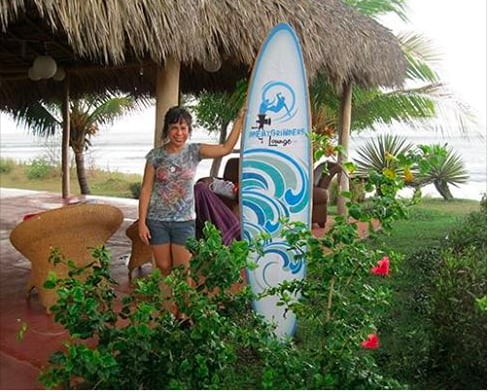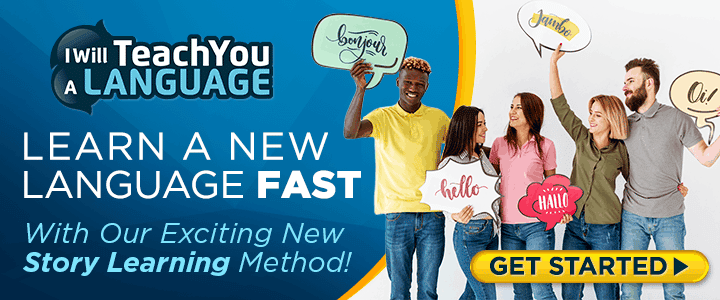 Margelly and Big Bob are really excited about their next project arriving in August 2017. They will be hosting youths from the United States, through an organization called Travel to Do Good with Roslyn Parker. The group will be exposed to various work projects in local communities around Nicaragua. Hopefully, it will be a fortuitous meeting for all of them.
"Coming Home," Mercedes Somarriba:
Mercedes Somarriba is coming home, home to her native country of Nicaragua. She is very happy to be returning to her beautiful land and to be able to give back to its people. This is the story of the many paths she took on her way back home.
Mercedes was born in Managua. After the devastating earthquake of 1972, her family relocated to a farm where she, her younger sister, and younger brother were raised by their single mother.
As a teen, Mercedes said that she needed to stop being a burden to her mother and support herself. Their father, who had been a Somoza supporter, abandoned them when she was 10. He divorced their mother and, during the war of 1979, moved to Costa Rica with a second wife and a son that he had with her.
Mercedes had quit school in the 10th grade, but she had learned some English by winning a scholarship. She also took a short course in typing to learn a skill, so at 17, she applied for the Sandinista Army, earning 2000 Córdoba a month. After 2 years of working for the army as a secretary, she was enticed by her father to go to Costa Rica, where he had applied for his family and her to immigrate to Australia.
She left the army and went to Costa Rica, only to find that her father was already gone, leaving her behind with $20 USD and a Nicaraguan family to look after her. When picked up at the bus station by the family, she started crying, not understanding what had happened. She was 19, with no money, no job, and in the unfamiliar city of San Jose.
Mercedes is a persistent and smart woman, so having the application turned down by the Australian Consulate, she then applied on her own – but was still denied. At this point, she was working at a bar in San Jose, where she learned, by word of mouth, that Canada was accepting applications. This was 1984.
Mercedes poured out her heart to a young lady with blond hair who spoke broken Spanish at the Canadian Consulate during her interview. Mercedes told her, "I deserted the Army. If I go back to my home country, I will be put in jail, and if you do not accept me, then I will have to save money and pay a 'Coyote' to get me to the United States illegally."
After a few months, in 1985, she and a small group of other people from El Salvador and Nicaragua were given a one-way ticket to Canada. She was welcomed by a Canadian Immigration Officer, presented a document that accredited her permanent residency, and a 1-year stipend to learn English (as a loan). She wanted to develop herself and finish school, but because she spoke some English, was placed in a factory in Windsor, Ontario.
As life events occurred, school was put off because she got married, got pregnant, and had two children. She left the factory to complete her high school education, having to do only 4 credits in Math, Business, English, and Typing and Computers at age 26. She left an abusive marriage, raised two kids, and paid back all of the loans to the Canadian Government. She continued pursuing more education as the years went by and attained a college degree in Accounting & Payroll Administration.
Mercedes says it was a very positive experience all around. She is 53 now, and her dream was always to come back home, have a beach house, and "do something for my country. I wanted to work for a company that would give me the tools and opportunities."
As it would happen, Mercedes had a significant dream recently when her mother, whose name was Angela, appeared to her. She had been looking for vacation spots in Nicaragua and decided to look into the job market there. She spotted a job posting online from Angela Smetana, at Gran Pacifica Resort,1 hour west of Managua. She applied. Angela and Mercedes used Skype to interview, and she was offered a position to serve as support for the accounting department in the office.
Mercedes is very happy to be back in her home country, although it is a very different place now. Despite Nicaragua's progress, she says the country was scary in her youth. The war is long past, however, and there is a new generation here, people born in the 80s. She is proud of her sister, who is now Dean of the faculty in Natural Resources and the Environment at UNA (Universidad Nacional Agraria). Her sister and her family look forward to spending more time with her.
Mercedes has had a long journey getting home, but she is back and ready to help. She would like to see "expat tourism expand, especially to the north," and will enjoy the beach at Gran Pacifica Resort!
Job Posting:
ECI Development
Vice President of Accounting and Finance
Ambergris Caye, Belize
Specific Duties:
Development of appropriate and timely financial statements, budgeting, latest estimate development, and tax reporting.
Management of banking and banking documentation.
Cash management, including moving money between bank accounts.
Management of corporate member and director resolutions and related documentation.
Development, review, and storage of all ECI contracts with consultants, contractors, referral and real estate agents, and other third parties.
Development of near-term, mid-term, and long-term financial strategies.
Appointment and management of external auditors.
Establishing accounting standards for all ECI companies.
Working with Georgetown Trust, Caye Bank, and others relative to due diligence documentation.
Ensuring policies and procedures are in place for procurement, expense management, and budgeting.
Other appropriate duties as assigned by the COO and/or Board of Directors of ECI.
Executive leadership in Belize.
Supervisory/advisory role in Belize, relative to accounting and property management.
Qualifications: Certified Public Accountant license. Advanced financial management or accounting degree, or Masters in Business. At least 5 years experience in Financial Management in a related accounting or business discipline, and 8 years relevant work experience. Experience managing and motivating people. Position is full-time and relocation to Belize is required.
Send Resume, Cover Letter, and Salary Requirements to: Jobs@ecidevelopment.com
ECI Development is a 21-year-old business serving North American consumers with a residential resort product in four countries of Latin America. ECI is a leader in the industry and positioned to serve large segments of the North American expat marketplace. Current assets of ECI Development include over 4 miles of direct beachfront real estate, comprising over 4000 acres in Belize, Nicaragua, Panama, and Costa Rica. The company is headquartered in Belize.
Conclusion
I hope you enjoyed Bob's story: Expats in Paradise
Here's a few great articles I know you'll love:  Tourism in Nicaragua: a Growing Trend
A Trip Around Managua: Nicaragua's  Captivating Capital
If you're not aware, Nicaragua's official language is Spanish. It's always a great idea to learn a few phrases before you go OR, learn the language completely. You can talk to my buddy at ICanTeachYouALanguage on his Spanish course.  We've had hundreds of happy clients take the course!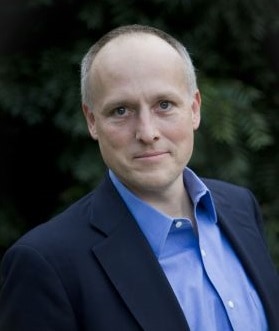 Michael K. Cobb is the CEO and co-founder of ECI Developments which has properties throughout Latin America. He speaks all over the world on international real estate and is a board member of the National Association of Realtors.


Like Our Articles?
Then make sure to check out our Bookstore... we have titles packed full of premium offshore intel. Instant Download - Print off for your private library before the government demands we take these down!