My 2021 Language Routine & Resolutions – Continuing My Journey To Fluency
Last year I made some massive strides in my language skills, I had a detailed plan of attack for study and it worked for a while. Obviously, with the stupid covid lockdowns, I had to modify my plan quite a bit. Still, I do think this is a very solid plan for learning a second language, especially as a beginner.
At the start of 2020, I was able to have some medium level conversations and could function living in a Spanish speaking country to an okay level. I still noticed people had a hard time understanding what I was trying to say and my comprehension when listening to individuals on the street was pretty bad. But all and all it was okay and I could live my life peacefully.
My Language Skills Today on Jan 1, 2021
Well fast-forward to today, a year later, and I can have full-on conversations about challenging subjects. I can use tenses and conjugate most of my verbs correctly and masculine/feminine are natural and come without effort. My accent has improved dramatically, this is in direct relation to switching any of my downtime to watching Netflix in Spanish. This year I watched the following shows 100% in Spanish language with Spanish subtitles (don't judge me on my taste in programs haha):
La Casa De Papel – 31 hours (excellent show!)
Elite – 24 hours
The Great Heist – 4
Monarca – 7 hours
Ingobernable – 7 hours
La Gran Hotel – 66 hours
Boliver – 10 hours (Currently watching this series)
Remember, I am doing this to practice the language, not just for the enjoyment of the content; so I made a decision early on I didn't want to just want to watch programs like El Chapo or Narcos, although they might be entertaining, I am not interested in having my lexicon just filled with violent and aggressive things. Therefore I mostly chose to watch things with a lot of drama, I want programs with a lot of human interaction and dialogue (La Gran Hotel was excellent for this).
Yes, a lot of the programs I watched were from Spain and not Latin America where I live, so I am bound to pick up a lot of their mannerisms and tones, however, I just found the calibre of the programs as well as the writing to be so much higher quality, that I would actually stick with a program longer and would finish the series.
What Am I Still Having Trouble With
There is still a lot of work to do until I will be satisfied with my Spanish language ability. Some of the things that I am really having trouble with is past tense, and specifically, conjugating my verbs in the past tense. I also want to focus on bulking out my vocabulary a little more, yes, I do know several thousand words and can use them in the right context without thinking, but often I know one word for one thing, and as we know, there are many different words for the same thing.
For example, we put up new curtains at the house last week and I had a handyman here to assist me. He asked me for "la pluma", a pen. However, I had never heard this word before, if he had used the words bolígrafo, lápiz, or lapicero, I would have understood him, instead, this took a solid 5 minutes to figure out. So I will be working on adding to my vocabulary of words that are used in everyday situations, yes it would be nice if people would just use the most common words when speaking with you, however expecting others to conform to your needs is a recipe for disaster (just look what is happening all around us in the world today).
Reading and Comprehension
In 2020 I picked up reading in Spanish, this was not at all an easy task for me but the reward was great. Reading in Spanish exposed me to tons of new words that I otherwise would not have had a chance to encounter (continuing with reading will also assist in my above-mentioned problem of vocabulary). It was slow going at first but it was worth the effort. I used my friend Olly Richards books on Kindle and worked through them with my language tutor, I worked on these books:
Olly does books teaching all the popular languages and you can pick them up on Amazon for cheap, they are an affordable way to get some good reading practice.
Using A Private Tutor
In 2020 I also spent a lot of time with private tutors. This was a solid way to get lots of practice in actually speaking the language, and considering the whole world was in lockdown, it supplemented my time that I would normally be conversing with people in the streets. I used several different platforms for working with tutors but by far the best has been iTalki. In 2020 I did about 200 hours of private classes on iTalki at about $10.00 USD an hour, so around $2000 for the year, which I think is extremely reasonable.
One of the biggest strengths of working with private tutors was accountability. Once I paid for a class and it was blocked off on my calendar then I was doing it. Having the responsibility to another person, know that they were sitting down waiting for me was a huge motivator. No matter what level you are at I recommend signing up for at least a couple of sessions on their platform, you can even get your first $10 dollars of credit for free by signing up with this link.
Online Programs
I still love all of Olly Richards's programs from I Will Teach You A Language. I have used a ton of his material and he is a dear personal friend of mine. If you are a beginner or intermediate then I highly encourage you to pick up one of his Uncovered Courses. You've probably heard me mention them before, they are high quality and actually get results, they also add some good structure to any language learning routine. The nice thing is these are all based on his Story Learning Method so they are actually fun and entertaining and you are not sitting around memorizing grammar all day long.
FREE GUIDE! Get Essential Information on Protecting Your Assets
18 STEPS TO IMPLEMENTING YOUR PLAN B
An Alternative To Private Classes
My Mother has also been studying Spanish this year, she lives in Panama with us and helps us take care of our daughter. She is 63 years old and has been using a company called Lingoda. Basically, it is an online school with very small group classes; she has told me a class will have a max of 4 other students in there with you but on average it will be you and 2 other students.
They follow a European framework for learning languages with very structured lessons and she loves the experience. The entire program is digital and done through Zoom, so it is very familiar and easy to navigate. Personally, I tried it for 4 sessions and found it too organized, I stopped going to school when I was 12 years old and don't do well in such structured environments. The nice thing is they gave me a full refund so it was zero risk for me. They do several different languages for their programs including, Spanish, French and German. They have a discount going on at the moment and when you sign up for one of their monthly programs you can get a €50 discount on your first purchase with this discount code.
Recommendations For You
If you are someone who likes a lot of structure and actually enjoyed a class environment then I would recommend signing up for Lingoda.
If you are a little more like me and looking for more freedom in your language learning then I recommend one of these software programs from Olly Richards and supplement the speaking aspect with iTalki private tutoring.
And in both cases, I recommend picking up some good books to work through, especially ones with lots of back and forth dialogue like these ones.
My Plan For Language Learning In 2021
This year my routine is going to be a little different than last year. I am fully in the intermediate, or upper intermediate phase of Spanish so need to do things differently than when I was a beginner.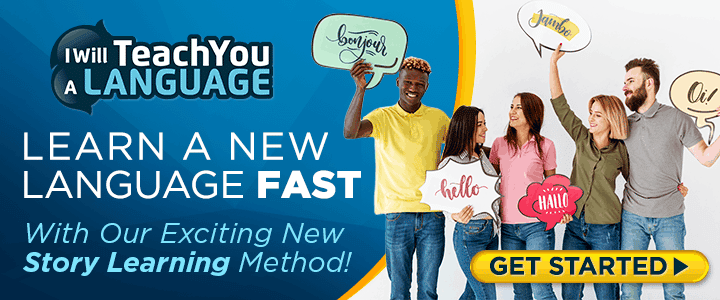 First is I will continue with iTalki and my tutors (I have found a couple of individuals I really get along with and have become close friends and buddies over the last year). I will aim for 6 hours a week in iTalki, that's 1 hour a day for every day except Sundays which is just dedicated to my family.
Netflix I will aim for about 10 hours a week as long as I can continue to find interesting programs on there. We also subscribe to Disney+ but the translated version of the cartoons on there doesn't match the subtitles at all so it is useless.
If you have good recommendations for Spanish programs you think I should watch on Netflix then join the discussion in our private Expat Facebook group, I would love to hear what you are watching.
I will continue to work on my reading skills and am going to try for 30 minutes a night, so about 3 hours a week of focused reading in Spanish.
Putting It All Together:
In 2020 I did 452 hours of Spanish studying (including my Netflix binge-watching), and yes, I track this stuff and write it all down, it's the only real way to know if you are properly following through.
Let's add up all the hours I plan on doing in 2021:
312 hours of private tutoring
520 hours Netflix
156 hours reading
TOTAL: 988 hours of study time.
Kinda sounds like a lot… but please keep in mind about half of it is also entertainment time and as my language progresses it will be more and more natural and doesn't take much effort.
Hours Needed To Learn A Second Language
There have been studies that to go from absolute beginner to fluent (meaning you can speak the language and have normal everyday conversations in the street) take roughly the following hours based on the target language (this is assuming you are coming from a native English level):
Level One Languages – 575 – 600 hours of study (easiest for native English speakers to pick up):

Spanish
French
Italian
Portuguese
Romanian
Dutch
Swedish
Afrikaans

Level Two Languages – 750 hours:
Level Three Languages – 900 hours:

Malaysian
Indonesian
Swahili

Level Four Languages – 1100 hours:

Vietnamese
Russian
Turkish
Hindi
Polish
Tagalog
Persian

Level Five Languages – 2200 hours:

Chinese
Japanese
Korean
Arabic
So keep all of that in mind when planning out your 2021 routine and New Years Resolutions for learning a second language.
Final Thoughts
Do you need to do everything I am doing to get to a good level in a second language? No, absolutely not, with even minimum effort you can really improve your experience as an Expat in a foreign country. For me, I want to get my language skill to a level that there are zero difficulties switching between these two languages and I would like to be able to function at the same level in Spanish that I can in English.
Will I get to this level in 2021? No, but I need to continue to put the time, effort, energy and money into it and take responsibility for my own outcome. At some point, I am keen to pick up my study of Mandarin again. I have a firm base in this language, my motivation is being able to speak more fluently with my Mother and Father-in-law or understand what my wife and daughter are gossiping about haha.
Last thing I will mention before wishing you success in your own language learning journey is this. If you have any false belief pattern that says you can't learn a new language because you are too old, don't have the talent, not enough time, no motivation, etc., it's all rubbish. You can do this, and my hope is that what I have written today will show you exactly how you can do it. Follow what I have laid out, invest in yourself, and believe you can do this; because you can.

Like Our Articles?
Then make sure to check out our Bookstore... we have titles packed full of premium offshore intel. Instant Download - Print off for your private library before the government demands we take these down!