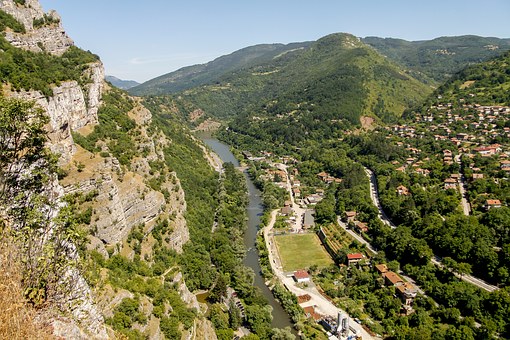 Fast Facts
Capital: Sofia
Language: Bulgarian
Area: 42,811 square miles
Population: 7.2 million
Currency: Lev (BGN)
Introduction
Bulgaria is one of the most overlooked countries in the European Union. Located in southeastern Europe, the country is bordered by Romania to the north, Serbia and Macedonia to the west, Greece and Turkey to the south, and the Black Sea to the east.
The history of Bulgaria begins in the Neolithic period, passed through by Thracians, Greeks, Persians, Celts, Romans, Goths, Alans, and Huns. The First Bulgarian Empire was formed in 681. Bulgaria gained independence from the Ottoman Empire in 1908 and the current constitution was ratified July 13, 1991. In 2007, Bulgaria joined the European Union.
The quiet country offers geographic diversity, with mountain ranges, plains, and access to the Black Sea. The people of Bulgaria are also kind and accepting. Bulgarians enjoy spending time with friends.
You won't find yourself bored while in Bulgaria. Though the country is quiet, there is adventure around every corner. If skiing or hiking on the mountains, or swimming in the Black Sea aren't enough to attract you, consider visiting the Tsarevets Fortress, Bachkovo Monastery, or the numerous monuments and museums.
Most of the population (72%) lives in urban areas. In fact, one sixth of the total population lives in the capital city of Sofia.
The country is slowly improving after years of corruption. This means that infrastructure, waste management, healthcare, and education are all on the rise. With all this improvement, many sectors are beginning to appeal to foreign investors. One of the easiest tracks to residency is through investment.
Regions
North Bulgaria

Southern Dobruja

Black Sea Coast

Strandzha

Upper Thracian Plain

Rhodope Mountains

Pirin Macedonia

Bulgarian Shopluk

Balkan Mountains
Climate and Geography
One of the many draws to Bulgaria is the scenic mountains located next to a sunny seaside, a view that you can't get in most countries. Imagine going from the Alpine forests of Borovets in the morning to an early afternoon swim in the Black Sea.
Topographical features:
Danubian Plain

Balkan Mountains

Thracian Plain

Rhodope Mountains
The climate is perfect for enjoying a variety of activities all year long. Many love the idea of spending their days in a year-round summer, but others miss the changing seasons. Bulgarian winters are cold and snowy, while summers are hot. In between sits a pleasant spring and autumn.
Cost of Living
Compared to other EU countries, Bulgaria is a very inexpensive country to live abroad in. This is due to low salaries compared to other European countries. Working in the country would easily equip you with the resources needed to live comfortably.
Real estate prices are some of the lowest in Europe. Sofia, the capital city, is the cheapest capital in the European Union. A 900-square-foot apartment on the higher end of the price range sits at around $550. Utilities each month are around $100.
Food is also inexpensive in Bulgaria, especially when eating out. In Sofia, where most expats gather, there are plenty of restaurants and bars. Groceries are also inexpensive but stay at prices that are comparable to the rest of Europe.
In bigger cities, there are many public transportation options. You can buy a monthly pass for the metro system for around $30 USD. Taxis are also affordable. If you want your own car, be prepared to drop around $1,800 USD for something reliable. A liter of gas only costs a little over a dollar.
Residency Options
Many expats find that Bulgaria is a simple, quiet, and inexpensive place to live overseas or retire abroad in. Though many people do not choose Bulgaria as the most exciting place for expats to relocate, the low cost of living and access to the rest of Europe are two good reasons why someone may seek residency or even citizenship in Bulgaria.
Extended Residence

–

Those granted extended residence have all the rights and obligations of a Bulgarian citizen. The permit is valid for one year and can be renewed. The permit holder may change his or her place of residence and leave and re-enter the country.

Long-Term Residence Permit

–

Long-term residence permits are issued for one year for non-EU citizens and can be renewed. As a non-EU citizen looking to obtain long-term residence, you must submit your application in your home country to the Bulgarian consular representative.

Permanent Residence Permit

–

After five consecutive years of long-term residence, you can apply for permanent residence abroad in Bulgaria. This earns you the same rights as a Bulgarian citizen, other than the right to vote. You will need to submit your application to the National Migration Directorate in Bulgaria no later than 60 days before your long-term residency permit expires.

Citizenship

– In agreement with the EU, citizens of Bulgaria have unrestricted access to live, work, and study and Europe. You can also own land in the EU. Having citizenship in Bulgaria can be an inexpensive tool to live out your other European dreams.
"The 15 Questions You Should Ask When You Buy Properties Overseas"