A Secret Island Getaway in the Caribbean – Little Corn Island
With the Eastern U.S. coming out of record cold, 3-week arctic blast, there are a lot of folks wondering how to escape to someplace warm…RIGHT NOW. And for the adventurous souls who like to read this column, I've got just the place for you to put on a shortlist: Little Corn Island.
Little Corn Island is a tiny island in the Caribbean that only receives about 11,000 U.S. and 2,500 Canadian visitors per year. And yet, it's close and relatively easy to get to. Now "relative" is a relative term, and given how much I travel, you might not agree with me, but having taken kids of all ages and other families there a few times, it's doable without too much of a stretch.
The article today brings contributor, Amanda Cobb, back to tell us about this secret gem. You should also take a couple of minutes and watch an awesome video produced by Raquel Martinez, Amanda's friend from Selva Negra, the cloud forest coffee plantation and eco-resort near Matagalpa. The video is a fast-moving, fun snapshot of lots of activities and adventure you can enjoy while on the island – and it stars the Cobbs and some close friends. Thanks, Raquel, and well done. Check out the video here.
Also, you'll read a great story about Scot and Kristine, the owners of the Little Corn Beach and Bungalow Resort. It's where we stay when we visit. Their trip to Paraguay landed them on this out-of-the-way island where they've remained for 9 years. Serendipity is phenomenal when you let it happen.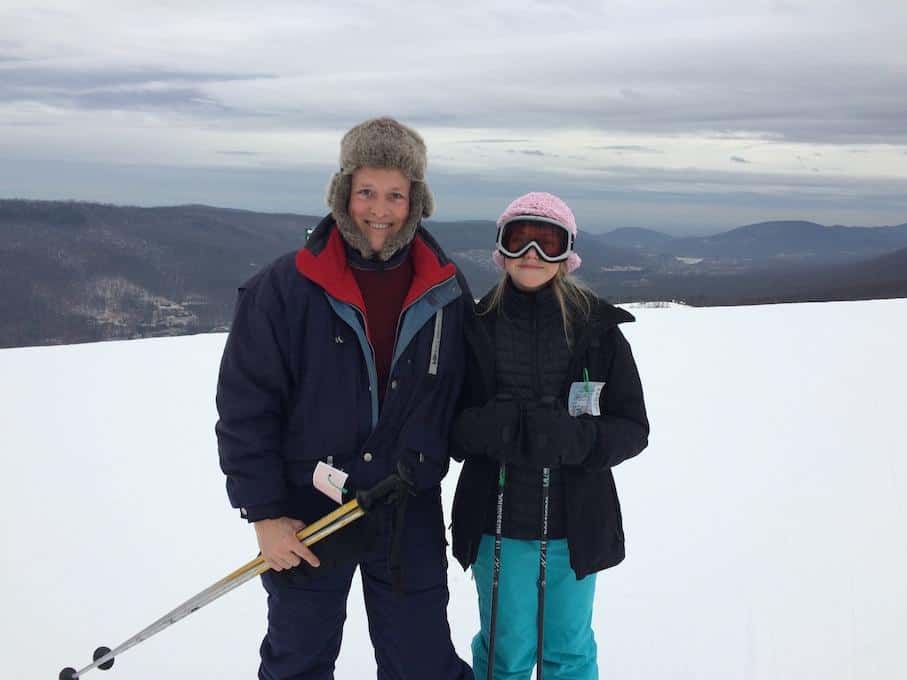 Skiing with Emily at Whitetail while Amanda wrote an article about a secret tropical island.
A Secret Island Getaway  –  by Amanda Cobb
Little Corn Island Nicaragua, is a tropical paradise. White beaches and crystal-clear water surround this tiny island scattered with coconut trees. My personal favorite vacation spot is in a hammock, under the cool shade of a palm tree, with a coconut in one hand and a good book in the other. Although Little Corn Island is a popular vacation spot for Nicaraguans, only a small number of foreigners ever visit it. The beaches are secluded, giving one the luxury of a private stretch of sand for as far as the eye can see; very unlike the overcrowded beaches in the U.S., Little Corn Island is the perfect place for a fun and relaxing vacation in the sun, either alone or with the whole family.
Getting to Little Corn Island is not a simple affair, but it is well worth it once you make the trip. From the airport in Managua, the capital, it is a short flight to Big Corn Island, with a short stop in Bluefields, costing around $200 round trip. Once on Big Corn, you have two options to get to Little Corn: the barge or the "panga." The price is $6 each way for either boat.
The first time I went to Little Corn Island, we took the barge, which is a relatively large boat…however, this boat is not always available. The ride is about an hour and the boat runs once a day. The other times I visited the island, we rode the "panga," which is a small open boat, similar to a large inflatable raft. Inside, wooden slats are placed lengthwise for seating. As makeshift covering from the waves, a large clear tarp is rolled over the boat that each person must clutch to keep it from flying away. To be honest, the ride is usually rough, and you will be drenched and seasick by the time you get to the island.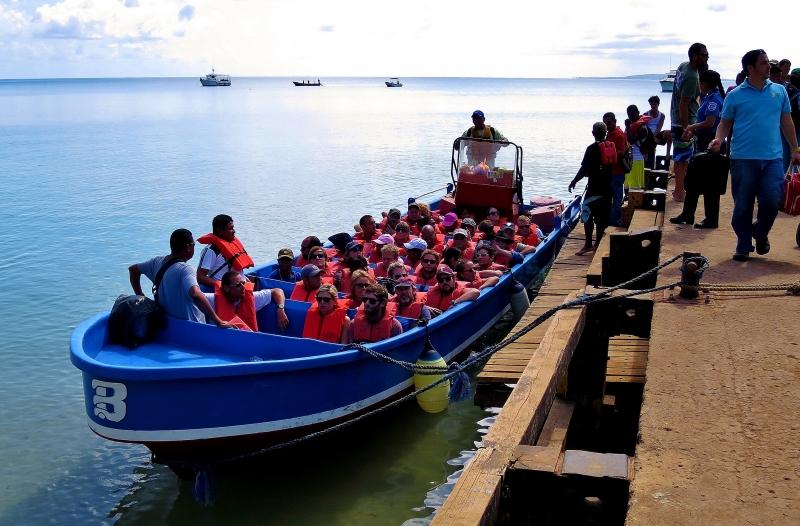 The Panga – Ready to Depart from Big Corn to Little Corn
Riding the panga is an adventure in itself. Bouncing from wave to wave in a low boat, with saltwater splashing your face is either terrifying or fun depending on your perspective. When the ocean gets particularly violent, they will stop running the pangas, which otherwise make the trip twice a day. This happened to my family and me once, meaning we had to spend the night on Big Corn.
Experience the Insider community that takes your international lifestyle to the next level. Download your FREE guide
"18 Steps to Implementing Your Plan B" instantly!
The next day, eager to get to Little Corn Island, we jumped on the first panga before they could stop us. The water was rough and choppy, with massive waves jostling our boat. The ride was unforgettable and terrifying. Each time a wave rose before us, we would climb the steep incline only to reach an even steeper plunge down. Water poured onto the tarp at every bump and swelling. It felt like at any moment the boat would either be flipped upside down or filled with too much water and sink. After forty-five minutes of wild excitement and fear, we safely arrived on Little Corn Island, drenched, exhausted, and more than a little seasick.  (A short clip of the ride is included in the video link above.)
Little Corn Island is only 1.5 miles squared. There are no cars, motorcycles, or roads on the island. The only means of transportation are bicycles and your feet. Nearly 800 locals live on the island, speaking Creole English as well as Spanish. The weather is always warm and can range from 68 degrees Fahrenheit on a cool January night to 95 degrees in May.
Like the rest of Nicaragua, the Corn Islands experience both dry and rainy seasons. The rainiest times are from June to November. The drier months are from December to May. The island has a very Caribbean and laid back feel, unlike the uptight hustle and bustle of Managua. Although both Nicaragua's capital and Little Corn Island share much of the same tropical climate, it is so easy to forget that you are still in Nicaragua on Little Corn.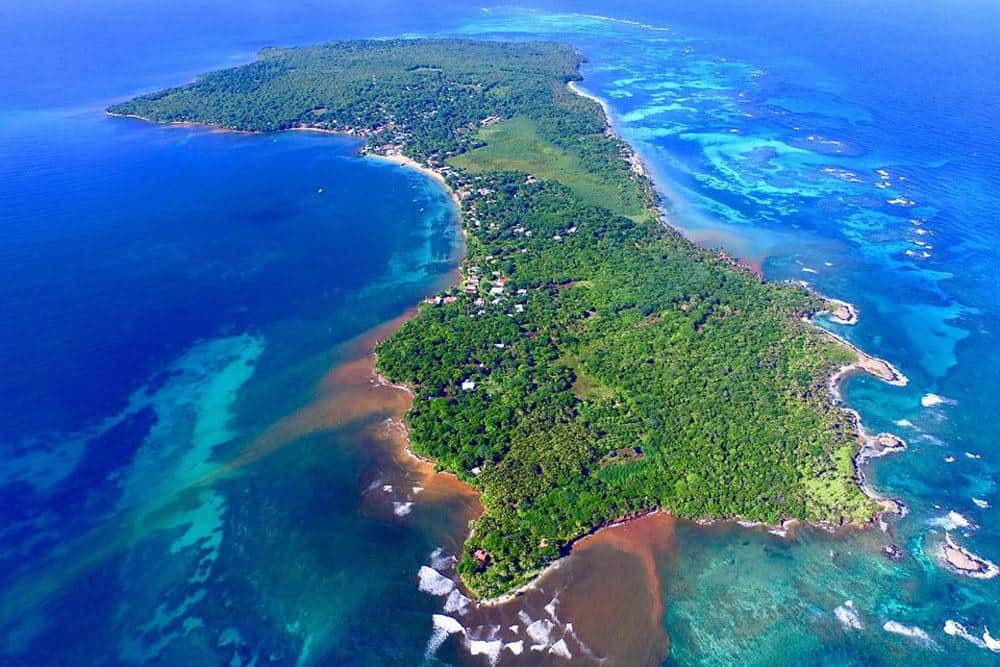 Little Corn Island – Well Worth the Panga Ride.
There is a wide variety of accommodations on Little Corn, ranging from upscale hotels to youth hostels. Among the countless options, some of the most popular include Little Corn Beach and Bungalow, Ensuenos, the Lighthouse, and Los Delfines. Little Corn Beach and Bungalow is by far the best option for those looking to be steps away from the ocean, be able to relax in beachside hammocks during the day, and sleep in beautiful, thatched cabanas at night. They have a restaurant which serves meals all day, and they provide yoga classes and spa services. Prices for a private cabana range from $100 to $200 a night for 2 people. There are a number of youth hostels and other more affordable options as well, such as Stedman's at $10 a night, Shell Hostel at $10 a night, and Elsa's at $20 a night. A more upscale option is Yemaya, a luxury resort on the north end of the island, costing $300 a night.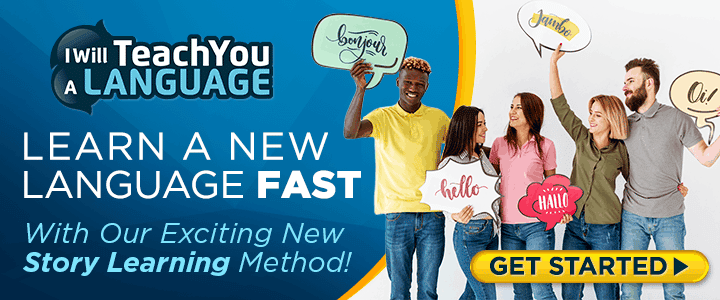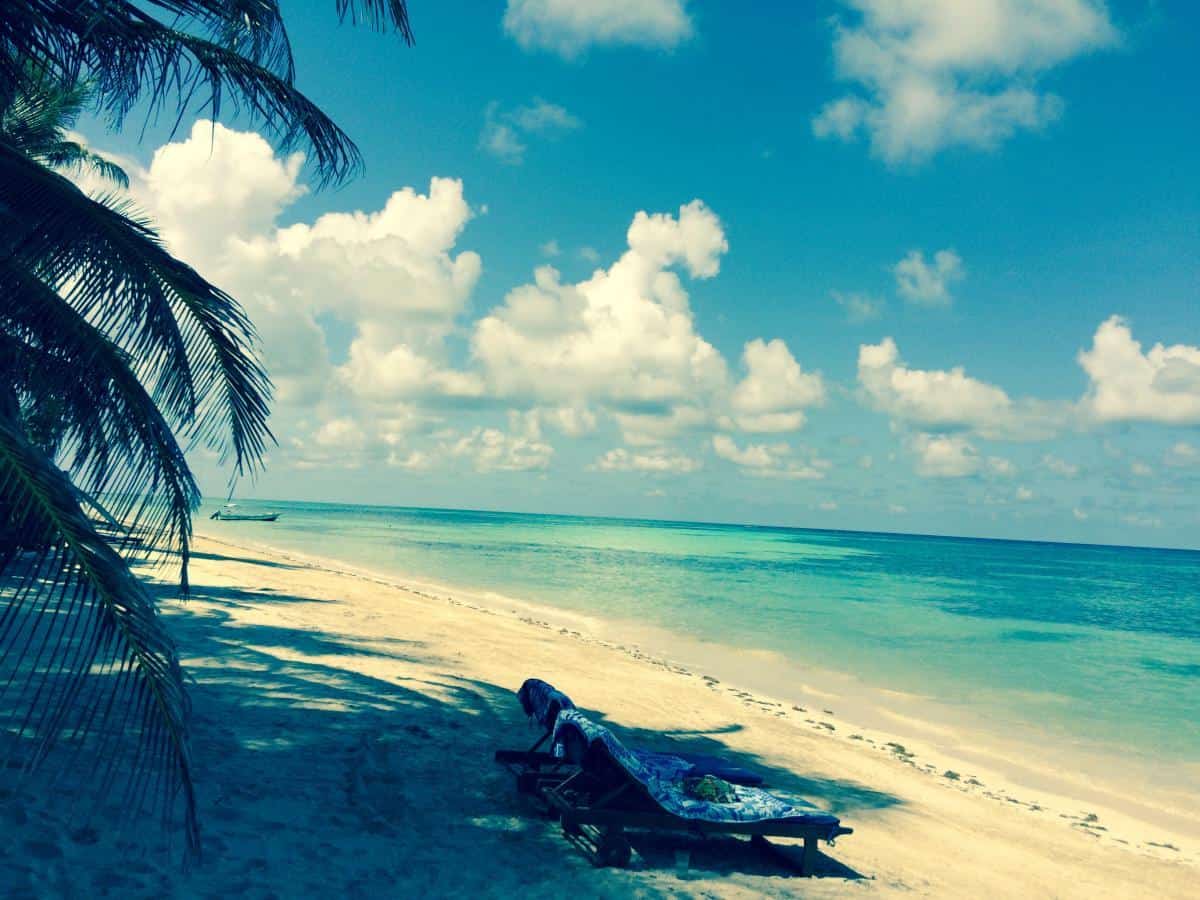 Sandy Beaches for Strolling and Close Coral Reefs for an Easy Snorkel.
There is a wide variety of restaurants on Little Corn Island – that being said, most food supplies are delivered by boat once a week. Fresh seafood and fruit like mangos and coconuts are native to the island, but the rest of the food must be sent from the mainland. This means prices are more expensive than in the rest of Nicaragua, and the island often runs out of specific food items.
Enjoy this podcast from The Expat Money Show – JohnnyFD who talks about moving from the USA and living in Bali and Thailand.
Some popular restaurants include: Cafe Desideri, ranging from $6 to $18 a meal, is a great dinner option serving Italian inspired fare; Tranquilo Cafe, ranging from $4 to $12 and serving great lunches and the best smoothies on the island; The Turned Turtle, located at the Little Corn Beach and Bungalow, serves delicious four-course meals ranging from $9 to $17. In addition to these three favorites, there are many other restaurants serving everything from seafood to pizza, generally ranging anywhere from $3 to $20 a meal.
The Turned Turtle – Great Food and Drinks
How it Happened:  Scot and Kristine – How We Ended Up On Corn Island
Change your life? That infamous siren call.
What started as a vacation trip to Paraguay ended in a life-changing decision that brought us to the wonderful, challenging reality of Little Corn Island, Nicaragua.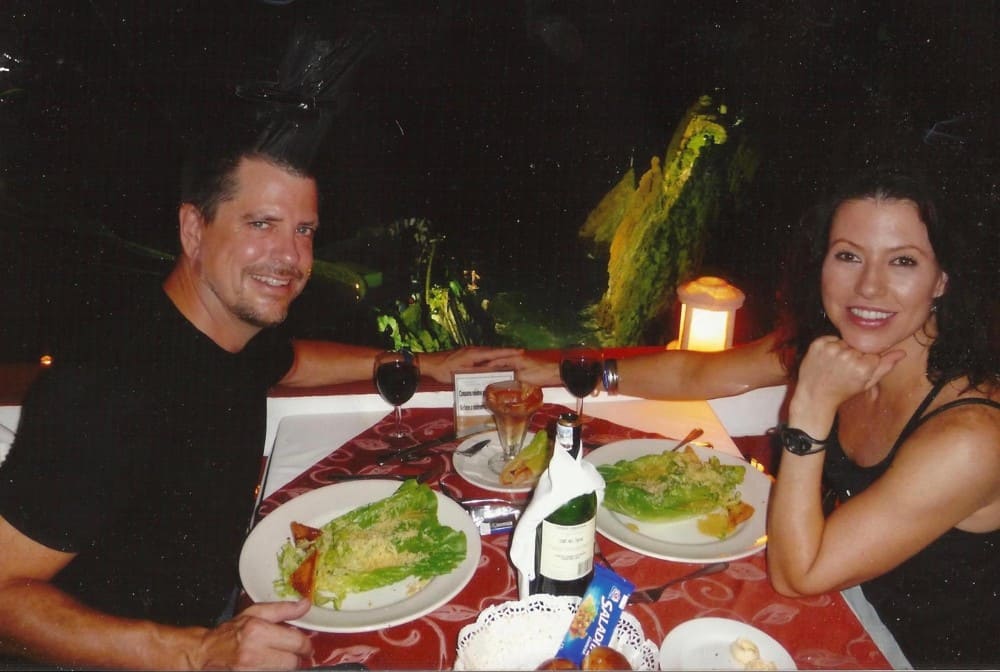 Scot and Kristine on the way to Paraguay, in Acapulco, watching the cliff diving.
Nine years ago, a redirected vacation trip that led us to Nicaragua and Little Corn Island (LCI) turned into our short-term desire to help this little island's animal kingdom and, through them, the residents. Seeing the dire need of the typical third-world dog and cat population on LCI, we raised money to support (we ended up paying for half of the new school house, too) and organize a group of incredible volunteer veterinarians and techs who came and donated their time and efforts to help this little island. The success of that first clinic has since led to 9 more years of free spay, neuter, and treatment events that have fundamentally changed LCI.
It fundamentally changed our lives, too! We ended up purchasing land on the beach, building a hotel and restaurant, and employing up to 30 local island residents to help us run Little Corn Island Beach and Bungalow. We have found great rewards, greater challenges, and some success in the ensuing years. Guests that have visited us have been a wonderful part of the "remote tropical island experience" that has all but disappeared in the Caribbean, but surprisingly still remains part of the mystique of Little Corn Island.
Beware of the "siren call," for you may hear it too when you visit Nicaragua and the Corn Islands.
On Little Corn Island there are endless things to do, see, and explore. To be honest, my favorite thing to do in Little Corn is to relax. It is the perfect place to forget your life and lie in a hammock by the ocean all day long. I am not joking here, when I visit Little Corn Island I spend most of my time doing nothing – and it feels amazing! If you get bored of not doing anything, however, there are a number of activities that can keep you busy.
The easiest activity would be to go swimming, and I promise you it won't disappoint. The water is crystal clear with very few waves and is never too cold. Snorkelling and scuba diving around the coral reef that surrounds the island are also fun activities. You can even go swimming with hammerhead sharks! Other activities include fishing, paddle boarding, walking along the beautiful beaches, and exploring the island. One of my favorite activities is to walk around the entire island – easily done in a few hours. Yoga classes, massages, and spas are also available at many of the resorts.
Like in the rest of Nicaragua, there are many customs and cultural aspects that make the Little Corn Island unique. Colonized by the British, the Corn Islands were pirate bases for centuries. The culture is very different, from a historical perspective, from the mainland – yet many things are the same. For one thing, the people are friendly and helpful no matter where you go in Nicaragua, and that includes the Corn Islands.
People are far more laid back on the Caribbean coast, however, and time has even less value than it does in Managua. If you expect someone to be somewhere at a certain time, expect them to be at least 30 min late. People are not nearly as formal or uptight on the islands as they are in the rest of Nicaragua. The people are accustomed to the casual appearance of tourists and dress fairly casually themselves.
The national currency is the córdoba, but the dollar is also accepted as long as it is not too wrinkled, torn, or damaged in any other way. Credit cards are rarely accepted, so it is highly recommended to bring plenty of cash. Another thing to keep in mind is that the tip is included in your check, whether you want to tip or not, under "Propina Voluntaria," meaning "voluntary tip," which is ironic because it is not voluntary.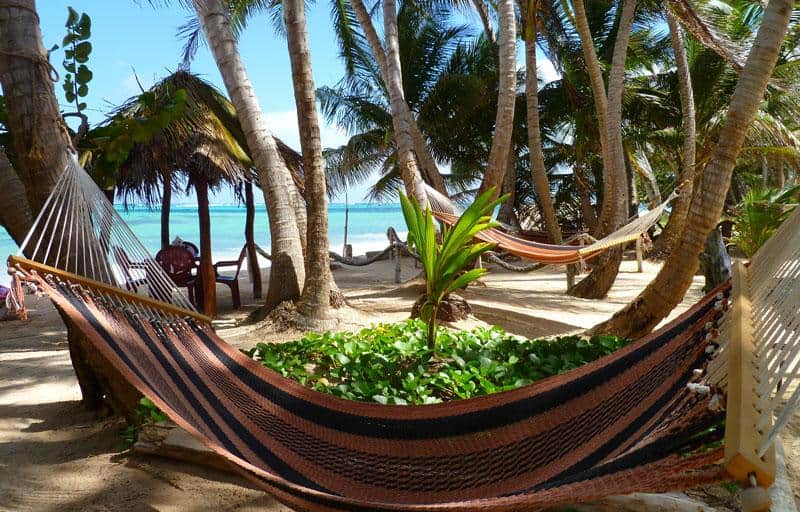 A Relaxing Hammock at Little Corn Beach and Bungalow Resort
Little Corn Island is an undiscovered paradise. The little quirks only add to its charm. You don't know true calm and relaxation until you have spent time on this tiny, beautiful island. There is something about spending time surrounded by white sand beaches, sparkling turquoise water, and the peaceful environment of Little Corn Island that makes everyone's experience unforgettable.
Little Corn Island is a great place for a solo getaway, family vacation, or honeymoon. With limited WiFi and cell service in some areas of the island, it provides a great way to unplug and truly allows you to get the most out of your vacation. Little Corn Island, although magical for those who visit, is not for everyone. You have to be prepared to face some discomfort, including water and power outages, wild panga rides, and unexpected weather. If you are flexible and prepared to face some bumps in the road, however, you can fully enjoy what Little Corn Island has to offer.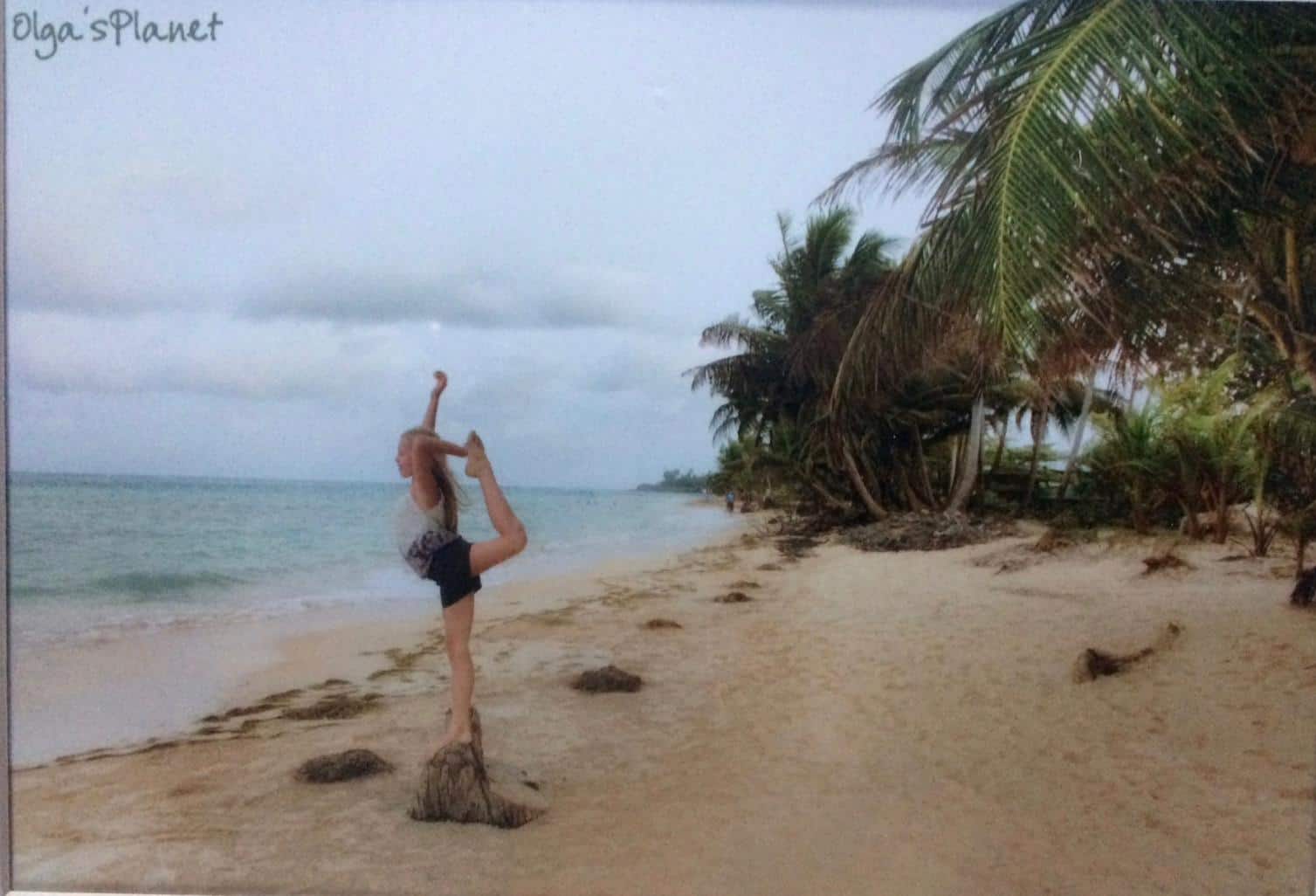 Amanda Cobb Enjoying the Beach on Little Corn Island
Here is probably the most extensive ebook on Everything You Ever Wanted To Know About Eliminating Your Taxes, Protecting Your Assets And Regaining Privacy Over Your Life And Investments. It is called The Ultimate Guide To Going Offshore.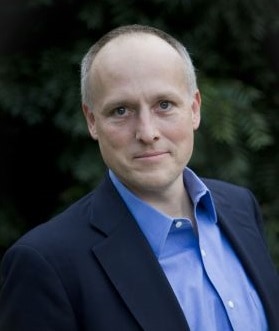 Michael K. Cobb is the CEO and co-founder of ECI Developments which has properties throughout Latin America. He speaks all over the world on international real estate and is a board member of the National Association of Realtors.


Like Our Articles?
Then make sure to check out our Bookstore... we have titles packed full of premium offshore intel. Instant Download - Print off for your private library before the government demands we take these down!