No Limitations: A 2018 Outlook on Global Travel for the Physically Disabled
This article was published in the Escape Artist Weekly Newsletter on September 05, 2018. If you would like to subscribe to the newsletter, please click here.
Travel is one of the most intellectually, spiritually, and emotionally stimulating experiences a person can undergo in their lifetime. The ability to leave your comfort zone and immerse yourself into a new culture or perspective is invaluable when it comes to both personal growth and open-mindedness. And with every passing year, the world becomes smaller and smaller – as technology makes traveling quicker and easier.
However, for the physically disabled, the joy of travel often comes with the anxiety of worrying about whether a desired location will have the infrastructure in place to meet their specific needs. Does the restaurant have a wheelchair access ramp? Will the airport taxi be able to fit your equipment? Does the hotel have a working elevator and wide enough door frames? These are the kinds of details that the physically disabled have to deal with while planning any supposedly relaxing vacation.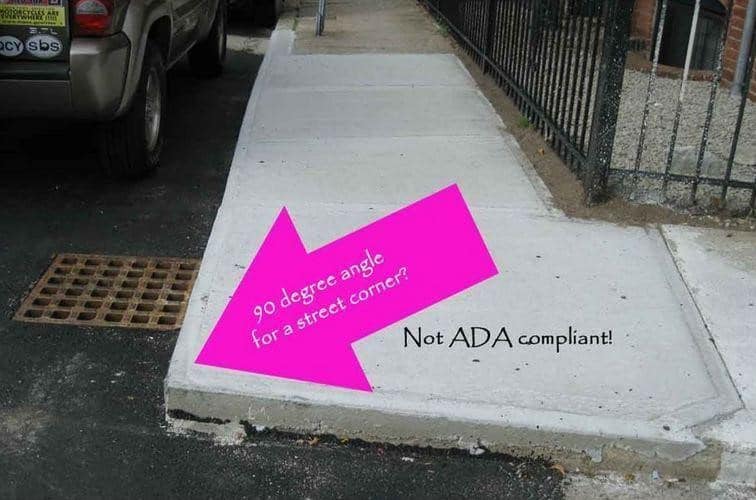 The challenges and unpredictability of destinations for the physically disabled.
One of the sad realities is that most of the developing world has little in the way of infrastructure to allow for the ease of mobility for the physically disabled. Few resorts consider the kinds of simple solutions that make accessibility possible. The small cost in dollars to build ramps and access have huge payoff for individuals who require them, offering up options and alternatives in vacation experiences. Something so simple means so much.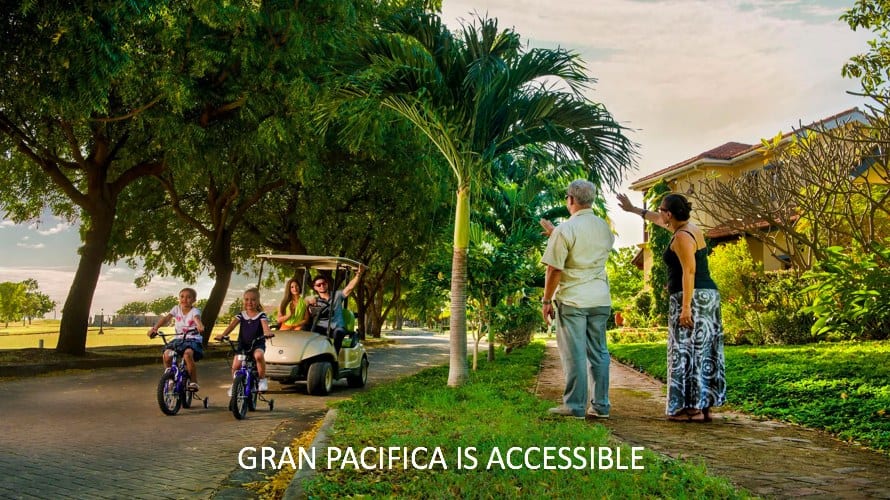 One of Central America's few standouts with sidewalks, ramped curbs,
and paved streets.
Travel is wonderful when people can access it. According to the Marshfield Clinic in Wisconsin, people who vacationed at least twice a year were significantly less likely to suffer from depression – which is an extremely common affliction among the disabled. Similarly, a Cornell University study revealed that planning and anticipating an upcoming trip had a direct correlation to increased happiness and self-worth.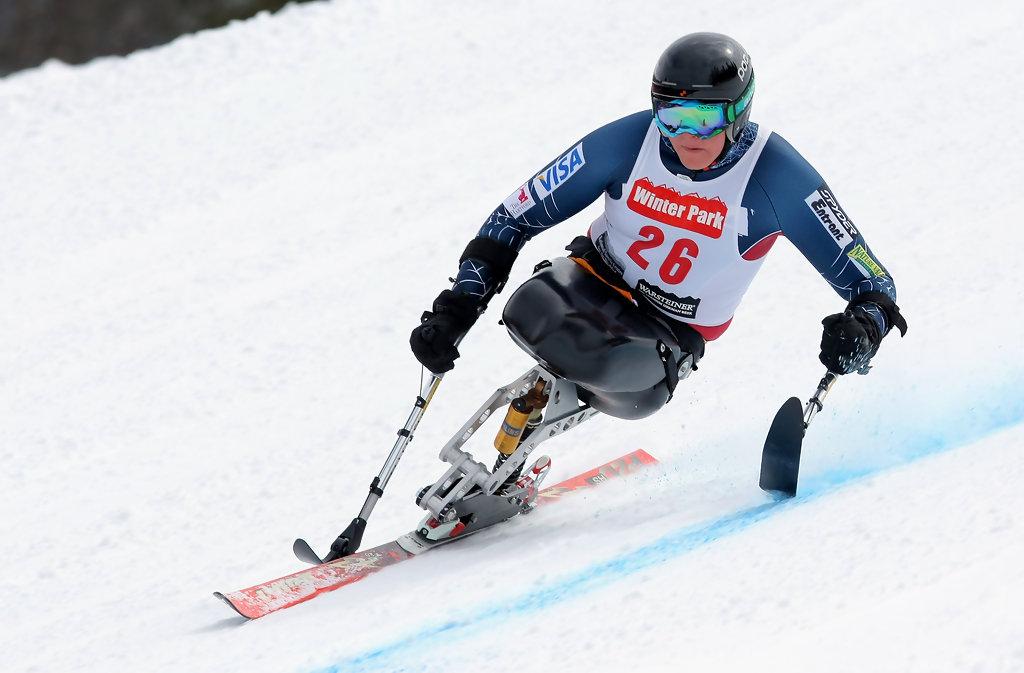 Access to the slopes, desire, and determination – The Formula for Fun!
The list of medically-proven benefits to travel is seemingly endless, whether it be improved creativity, lowered stress, increased motivation and energy, and even lowered the risk of cardiovascular disease. A joint study by the Global Commission on Aging and the Transamerica Center for Retirement Studies showed that people who didn't vacation at least twice a year had up to 20-30% higher risk of cardiovascular death or heart disease than those who made regular time to travel for leisure.
So, not only is travel stimulating, but it is also crucial in staying healthy and happy – something that hits incredibly close to home for the physically disabled. While the perks are clear, the sad reality is that much of the world is not prepared to welcome people with physical disabilities. This is especially true in many historical tourist centers, since the preservation of old architecture means little margin for handicapped-friendly infrastructure.
By the Numbers
There are around 60 million adults in the United States with some form of physical disability. Like never before, this portion of the population is taking to the skies and traveling at surprising rates. In fact, the "accessible travel" tourism market is growing at a rate of 22% per year.
According to the Open Doors Organization, a non-profit based in Chicago, 2015 and 2016 saw 26 million Americans with physical disabilities take 73 million trips for business and pleasure. These disabled travelers spent $17.3 billion on their trips and accounted for an economic impact (since many traveled with companions) of over $34 billion (as reported by TravelPulse).
Half of all baby boomers over the age of 65 are mobility impaired, and yet this group is traveling at an increasing rate annually, shattering travel statistics of previous generations. As medical technology advances and people live longer, the market for disabled or physically-impaired travel cannot be underestimated.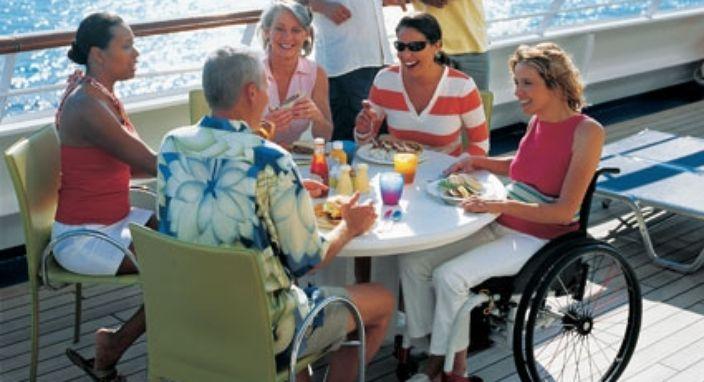 Traveling with mobility issues is more common now than ever.
What Does Accessibility Mean?
What exactly makes a location handicapped-accessible? That obviously varies depending on the exact type of disability and the desires of the traveler, but objectively there are a few key things to look for:
Widespread paved sidewalks and streets with dropped curbs or inclines in central areas.
Regular availability of taxis or public transportation capable of wheelchair transport.
An abundance of handicapped-friendly toilets.
Accessible bars and restaurants with wheelchair ramps/lifts.
Handicapped-friendly tourism sites, such as museums, landmarks, and events.
Widespread availability of accessible rooms in hotels and rentals.
Resources available from tourism offices, such as maps with handicapped-friendly denotations.
If you or someone you love is physically disabled, there is still plenty to be excited about! Every year, the scope of accessibility widens – and there are so many fantastic and diverse locations around the world that have infrastructure in place to make sure your trip abroad is stress-free and unrestricted:
Berlin
Berlin might just be the poster-child of the shift towards a more accessible and inclusive world. City officials have implemented a comprehensive disability policy to make the city barrier-free for all. In fact, Berlin won the 2013 EU City Access Award for its transformation into a more handicapped-friendly metropolis.
Almost all touristic centers, events, landmarks, theaters, and museums are wheelchair accessible, and most of the bars, cafes, and restaurants are following suit.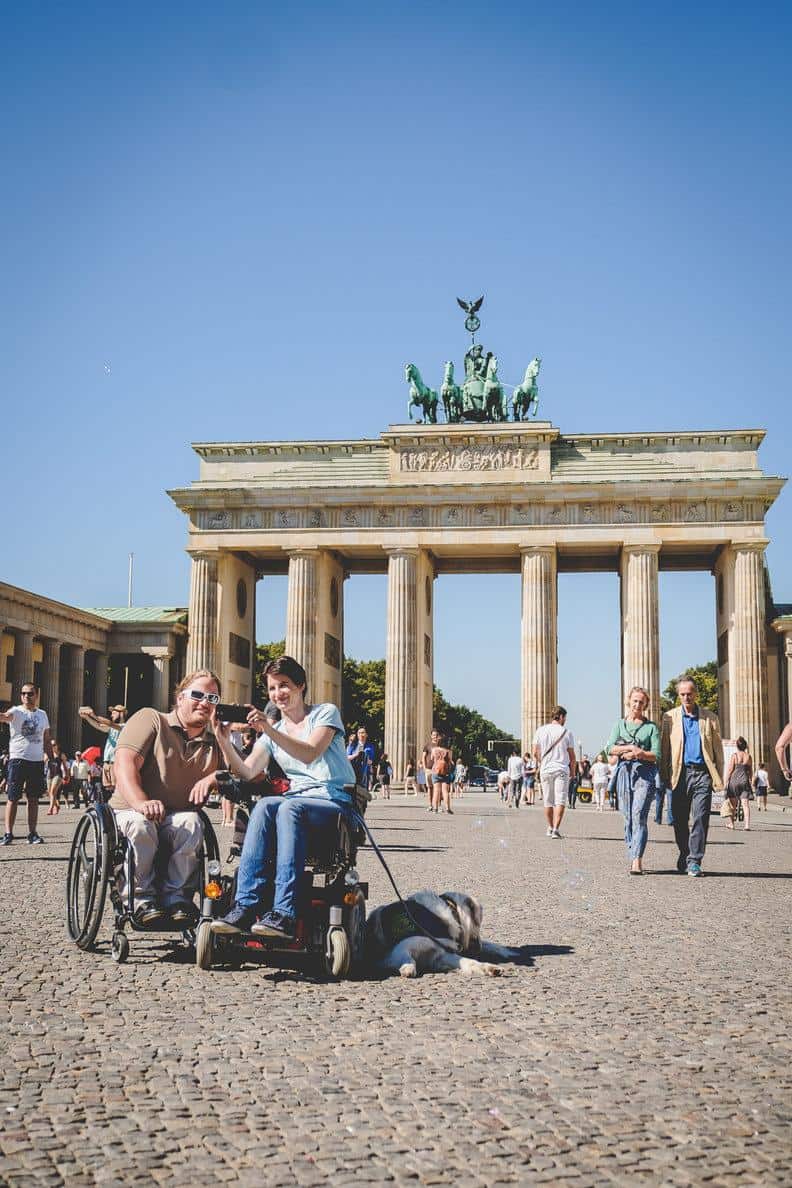 Berlin's Brandenburg Gate and an accessible city.
Milan
Italy's fashion capital was the 2016 winner of the EU Access City Awards, modeling itself after the accomplishments of Berlin. The highlights of Milan's offerings include a vastly improved public transportation system with an emphasis on wheelchair accessibility, a renewed commitment to overcoming architectural and sensory barriers, and fostering engagement with disabled residents and visitors.
Tel Aviv
Almost 100% of the city's public bus line is wheelchair-accessible, and many of the vehicles are equipped with modern technology for the visually impaired. Zoning codes require all new construction on buildings and restaurants to have ramps and be wheelchair accessible.
According to goodnet.org, "All banks and public offices offer services for people with sensory disabilities and a new law even requires all Hebrew-language websites to be optimized for screen reading software. In addition, Tel Aviv is host to a range of hotels with special handicapped-ready rooms, equipped with extra-wide doors, special bathtubs, and panic-buttons in the bathrooms."
Barcelona
Like other cities on this list, almost all public transportation (buses, metro) in Barcelona is wheelchair accessible. What sets this Spanish city apart is the extra infrastructure it has put into place for leisure activities. There is a handicapped-friendly beach with wheelchair-accessible walkways to the water, a lifting crane, adapted changing facilities, and even an assistance program for lifeguards to support wheelchair users as they enter the water.
In addition to these great cities being overall accessible to the physically disabled, there are great handicapped-friendly travel tours popping up all over the world. Playa del Carmen, Sydney, Vienna, Ljubljana, and Reykjavik are just a few of the global cities, previously discouraging for the disabled, to become radically accessible and even run a series of sightseeing tours geared solely towards those with special needs.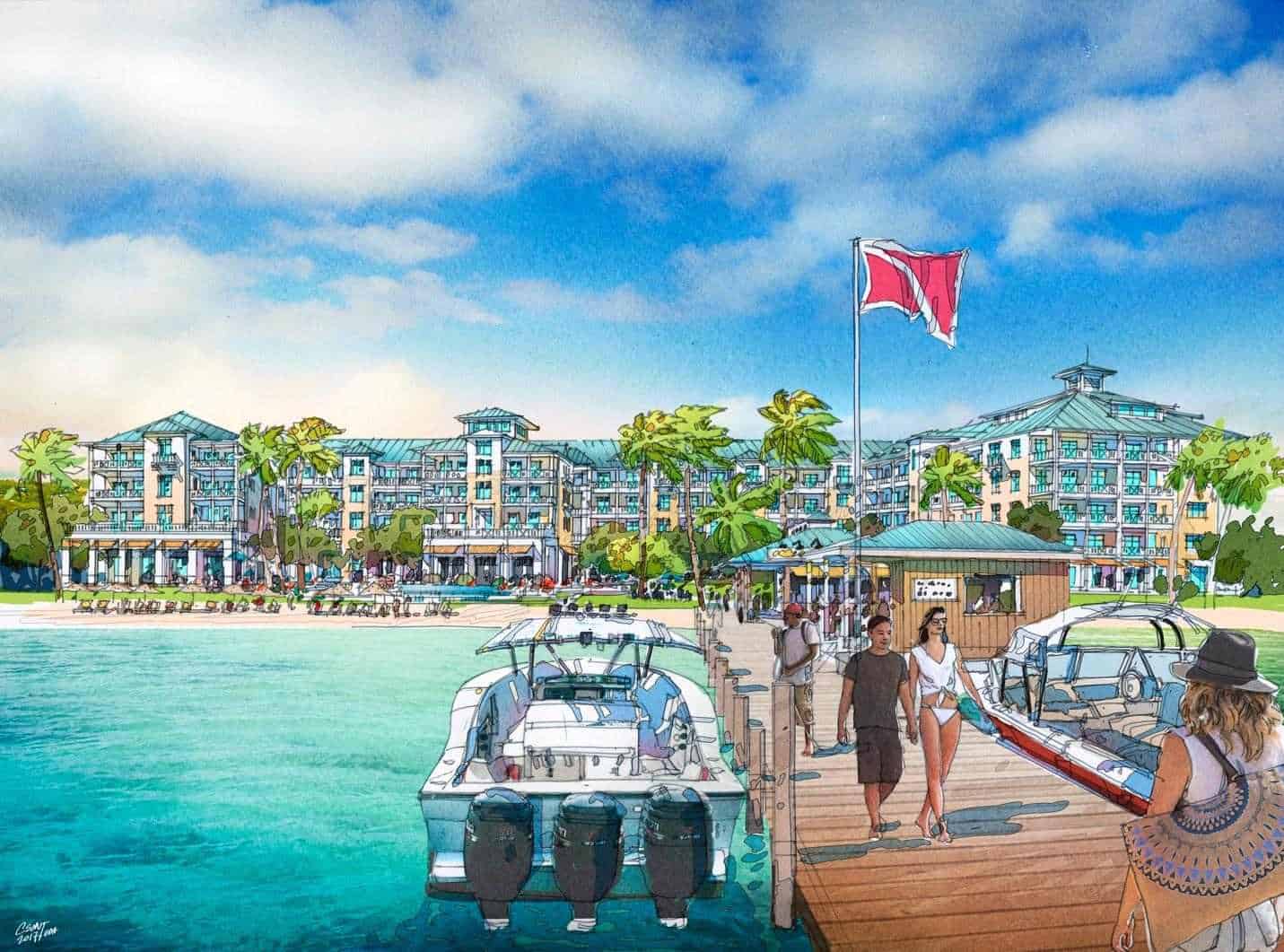 ECI's Ambergris Caye Belize Marriott Residences will be ADA compliant.
ECI is a developer priding itself on building sidewalks with ramps, access to buildings, and with its Ambergris Caye Marriott Belize Residences, ADA suites and accessible dive facilities on property. Truly, I'm not sure why more developers don't build resorts that accommodate the physically disabled. It's refreshing to see a change in this attitude, but there's a long way to go.
Resources for disabled travelers:
Wheelchairtravel.org – A platform for disabled travelers to connect, share their experiences, and rate locations on accessibility. Includes resources to help plan your trip and individual city rankings on ease-of-travel for handicapped people.
Wheelmap.org – An interactive map that shows handicapped-accessible locations in any given city. Includes accommodations, banks, food, leisure, transportation, and shopping.
Brettapproved.com – A one-stop-shop in searching for accessible hotels, restaurants, and entertainment, coupled with user ratings/reviews and professional trip planning assistance.
Wheelchairworld.org – Find peer reviews of international cities written by wheelchair-using travelers.
Don't let anything stand in the way of your dreams to travel the world! Do it for your soul, your health, and your happiness. If you have the resources, you can. But let's also remember that we in the developed world are extremely fortunate. Our cities and countries have the financial resources to build the necessary infrastructure to permit the easy use of wheelchairs and other mobility devices. Sadly, throughout the developing world, even a basic mobility solution is beyond the means of many, or even most.
For example, wheelchairs are in limited supply. Creativity keeps ancient wheelchairs in service long after they'd be trashed in the U.S. or Canada. The simple state of having a wheelchair is, in many cases, the difference between life as a shut-in and access to the outdoors and travel around the home and neighborhood. The WheelChair Foundation founded by Ken Behring, former owner of the Seattle Seahawks, is making a huge dent in the need with over 1,000,000 wheelchairs delivered around the world to date.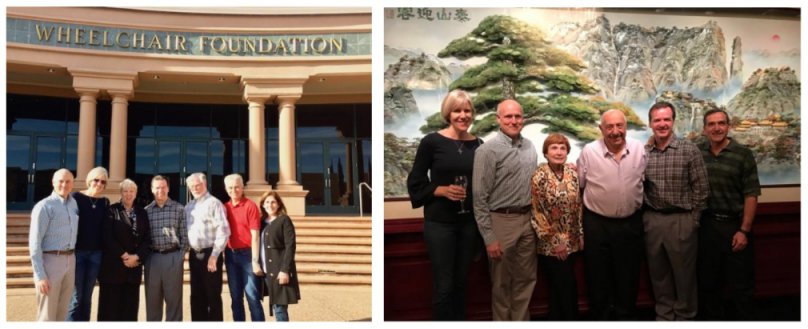 The WheelChair Foundation headquarters and some time with the Behring family in their home.
This is one of the reasons I have been so involved in the WheelChair Foundation's efforts in Latin America. A chair costs only $150 delivered to a recipient and changes a life forever. A container of 280 wheelchairs is
$42,000, and last year we delivered our second container of wheelchairs to Nicaragua. Not only does this change the life of the recipient, but also the lives of their entire family, freeing them all from the chains of immobility and bestowing a new freedom.
This Friday, I am once again attending the Chair the Love annual gala to raise funds for wheelchairs. I am honored that my friend and colleague, Glen Mather, President of NuView IRA, the leading self-directed IRA firm in the U.S., has asked me to say a few words. He and his commitment to delivering containers of chairs on an annual basis are profound and changing lives in a significant way.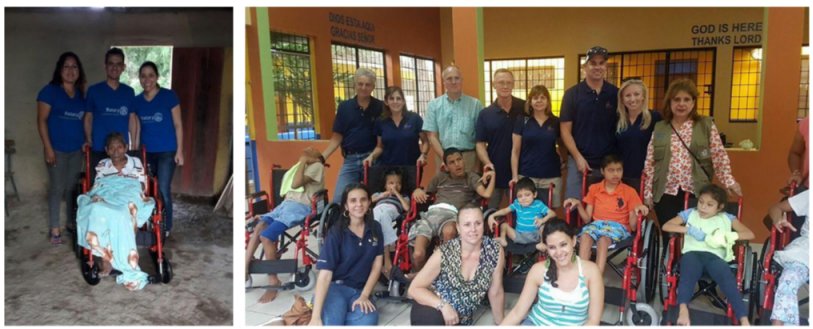 Their first wheelchairs.
If you are within an easy drive of Orlando, FL, come to the event. If not, consider a donation and then plan to travel with the container for the in-country distribution. If you haven't had a good cry in a while, seeing people light up with perhaps their very first chair and the recognition of what it means to them, their life, and their future, will wet your eyes with joy for sure.
This article was published in the Escape Artist Weekly Newsletter on September 05, 2018. If you would like to subscribe to the newsletter, please click here.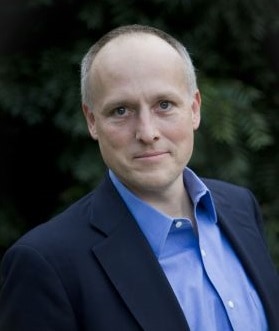 Michael K. Cobb is the CEO and co-founder of ECI Developments which has properties throughout Latin America. He speaks all over the world on international real estate and is a board member of the National Association of Realtors.


Like Our Articles?
Then make sure to check out our Bookstore... we have titles packed full of premium offshore intel. Instant Download - Print off for your private library before the government demands we take these down!