After living in Nicaragua for a long time, the chance to test my convictions was at hand. As many of you know, I have been raving about the health care in Nicaragua for more than a decade. I even subjected my then 10-year-old daughter to the knife here for some foot surgery. But alas, my time came and I had to have some work done; and what I had been preaching for so long was proven true in a personal experience. Let me start at the beginning of the story.
A few weeks ago, I had a leg cramp in the night, a particularly severe one. I almost passed out and had some cold sweats. I took an aspirin and looked up the symptoms on WedMD, and they said to go to the emergency room, which is exactly what I did. I walked in and met with a check-in cashier where they took a deposit of $400 on my Amex.
The cashier pointed me to a nurse's station where I was weighed, measured and questioned about my symptoms. She took my blood pressure too. She then led me to a curtained off room and told me to wait for the doctor who appeared 2 or 3 minutes later. Same thing, back through the questions, listened to my heart and reviewed the data the nurse had collected. The doctor then ordered blood tests, urine tests and an EKG. The whole process of testing took about 2 hours, and in the end, I was pronounced fit as a fiddle, or something like that in Spanish. No anomalies in the EKG, blood or urine. I walked out with at least one point proven: health care in Nicaragua is fast and convenient.
They refunded my deposit, and ran my credit card for $159.17. I have no idea what that would cost in the States, but I'm guessing a whole lot more. But as Paul Harvey said, "And now the rest of the story," right after the picture of the receipt.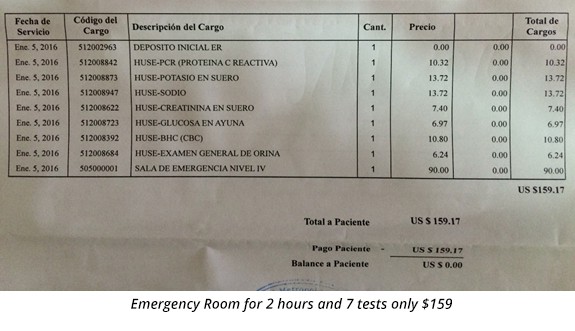 After leaving the emergency room, Carol and I were talking, both glad I had been cleared. But I had a nagging feeling that the incident wasn't just a normal leg cramp. I decided to go back to the doctor when I got back from next set of trips a couple weeks later for an EKG stress test just to make sure. Well, Thursday last week was the date, and I showed up to the hospital's cardiac center for the stress test in my gym shorts, Tevas, and a T-shirt. The nurses did all the normal tests like before, and then Dr. Arguello put me on the treadmill for the stress test.
After walking "briskly" for about 10 minutes, he shut it down and showed me an irregularity in the pattern. The doctor then did something like a sonogram and asked me to come to his office to talk. When seated, he said that he recommended a Catheter examination by one of his colleagues, Dr. Meneses. I agreed, and the procedure was set for 5:30 that afternoon. They also told me that if they found anything they would go ahead and put in a stent. I went to the cashier and they ran my credit card for a $10,000 deposit and checked me in. As far as medical care in Nicaragua goes, that is quite a bit steeper than average, but this had the potential to be a complicated procedure.
At about 5:00pm, they prepped me for the procedure. The procedure is amazing and straightforward, if you aren't too squeamish that is. They pushed a tube inside the artery running up from my right leg at the groin, and inserted a camera to look at the arteries. If they found blockages, they would put in a stent to reopen the artery to full size.
At 6:00pm, they wheeled me into the OR. For about 25 minutes they prepped the room and got me ready. Dr. Meneses came in and said, "Hi, Mike," then started to work. 15 minutes later he poked his head around the screen and said he was done. He had put a stent in one of my arteries, and that was that. Dr. Arguello gave me a thumbs up from the viewing room, and 15 minutes later they wheeled me out.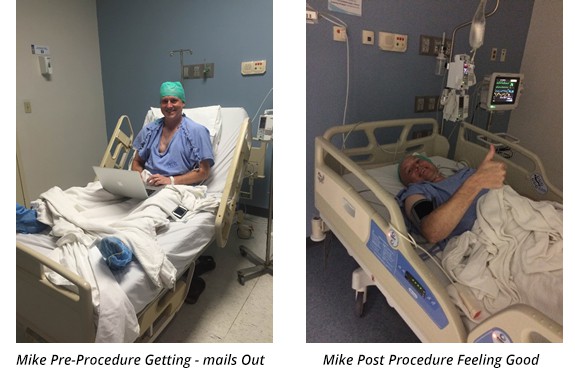 The staff was awesome. My care was top notch. The Vivian Pellas Hospital is world class, as expected. As a JCI Gold accredited facility, not something you'd necessarily associate with medical care in Nicaragua, they certainly lived up the standard in my book. Because it was already late in the evening on Thursday, I ended up staying two nights in the ICU, and was discharged Saturday around noon. Total cost: $15,546.47
My Gran Pacifica staff were super, and arranged to take me out to the beach to meet some clients and spend the night there on Saturday. I was walking per the doctor's orders by Saturday afternoon. No driving allowed, so I was chauffeured around, but I was up, active and feeling pretty good except for some tenderness in the groin area, which is to be expected.
FREE GUIDE! Get Essential Information on Protecting Your Assets
18 STEPS TO IMPLEMENTING YOUR PLAN B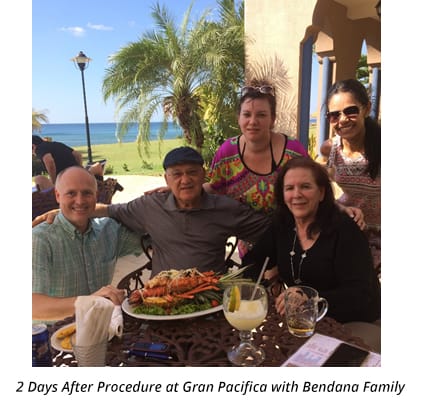 It is truly amazing the technology available today in all parts of the world, and yes, even in Nicaragua. Better yet are English speaking doctors who are US trained, and operating state of the art machinery in a hospital that was the 13th hospital in Latin America to get the coveted JCI Gold Accreditation. And yes, this is Nicaragua. Not the one you remember from the 1980's or from the urban legends of Indiana Jones wanna be's who don't let the facts get in the way of a good story. My Nicaragua is a Nicaragua filled with wonderful people, modern technology, and immense possibility.
For people who like to do their own thinking and see the facts first hand, a trip to Nicaragua will be an enlightening experience. If you are entrepreneurial, the possibilities are almost limitless. If you are ready to retire and kick back, a low cost, high quality lifestyle and affordable health care are the norm. Had I been a member of the Hospital's Health Club at $100 per month, all the bills would have been half price.
So to wrap up, for 13 years I have bragged about the medical care in Nicaragua, believing it was excellent. Now I know. First hand and up close. Health care in Nicaragua is world class and affordable. If you decide to come on one of our Discover Nicaragua tours, we always tour the hospital. Come see for yourself all that Nicaragua has to offer. You'll be glad you did.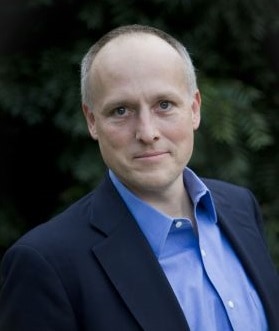 Michael K. Cobb is the CEO and co-founder of ECI Developments which has properties throughout Latin America. He speaks all over the world on international real estate and is a board member of the National Association of Realtors.


Like Our Articles?
Then make sure to check out our Bookstore... we have titles packed full of premium offshore intel. Instant Download - Print off for your private library before the government demands we take these down!