Don't Wear Red to an Indian Wedding: The Travels and Trials of a White Girl in India, Part 1
My story begins one evening in November on the sticky bar stools of a local pub in Manhattan.  The pub, known as Biddy's, was located just underneath my apartment.  Since moving into the neighborhood earlier that year, it had become somewhat of a tradition that, on our evenings off, Gabby and I would meet at this local watering hole for few drinks and a few hours of heightened conversation. While most of our friends preferred the vibrant rush and sense of relevancy one gains by frequenting the bars in the village or the lower east side, we were happy to spend the money we saved on cab fare for a few extra drinks before stumbling our way home through the quiet residential streets of uptown manhattan.  We were content to remain in the three-block universe we had created for ourselves, and to drink our nights away with the bartenders and regulars we had come to know by name.  It was hard to imagine that these two girls, so hard pressed to venture out of the upper east side, would leave Biddy's pub that evening with plans to travel much greater distances than a fifteen-dollar cab ride down the FDR.
We had become especially friendly that fall with one patron, a young Indian man named Guarav who shared our passion for trivia and cheap whiskey.  Guarav had just returned from a month-long trip to India and was newly engaged to be married.  This came as somewhat of a surprise, considering we had never seen Guarav with a woman, nor had he talked about any girlfriends he had left when he moved to America.  It was an arranged marriage, he explained to us, and the wedding would take place in two months in India.  He didn't have many friends in New York, but he wanted Americans to attend his wedding.  For what reason? This much was unclear.  But he was very intent that Gabby and I should be in attendance.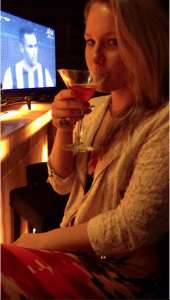 We liked Guarav, but by most standards we were casual acquaintances at best. What did we know: Guarav liked smoking marijuana, he had an adorable dog named Daisey (who occasionally joined Guarav on his trips to the pub), and he also played Janis Joplin on the jukebox with the extra coins that always seemed to be loose in his jean pocket.  We didn't know much, but for Gabby and me this seemed like enough information to accept the kind invitation to stay with his family in India.
It was after our third shot of Jameson that Gabby booked our flight.  A few taps on the cracked screen of her iPhone 4 and our destiny was set to explore an exotic land that had only previously existed in our imaginations. Perhaps it was fate, or perhaps it was my painfully low tolerance for whiskey, but we had just committed ourselves to two non-refundable roundtrip tickets to India, and it was exhilarating.
We left New York early on a Tuesday morning in January and didn't arrive in New Delhi until late Wednesday afternoon.  Our trip was divided into two six-hour flights: New York to London and London to New Delhi.  Gabby and I both had two large suitcases that we checked, as well as smaller bags that we carried on.  It was more luggage than I would usually pack for two weeks, but I couldn't decide what was appropriate to wear in India.  My solution was to pack everything, a decision I would later come to regret.  I read an article online that discouraged young woman from wearing tight jeans in public.  It also warned readers against short skirts and any blouses that would reveal a woman's shoulder.  I have a bad habit of trusting everything I read on the internet, so it didn't occur to me to conduct further research or double check my sources – so I blindly packed according to the author's advice.  I relayed my newly gained knowledge to Gabby and she packed the same way.  Both of our bags were stuffed to capacity with maxi dresses and a wide selection of pashmina scarves to cover our shoulders.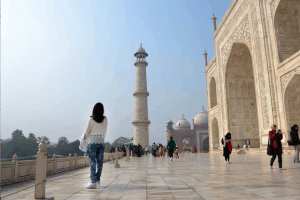 When we walked off the plane and into the New Delhi airport, it was not the scene I had anticipated after traveling almost 24 hours. Women were wearing the same tight-legged jeans that I had left folded in my dresser drawer, and the same shirts I had seen in the window of H&M on 86th street.  Of course, there were also women wearing traditional saris, but hardly any of these women were under the age of thirty.
We shared a shuttle from the airport to the Radisson hotel with an American couple who was also in New Delhi for a wedding.  They explained to us that January was wedding season in India, and that they had been invited to several weddings, but could only attend one because all of the ceremonies overlapped.  The woman, who was of Indian heritage, explained that summers in India were too hot and the odor that permeated the air was too unbearable to create a romantic wedding atmosphere.  Having spent several summers in New York, I understood the very real connection that existed between high temperatures and unpleasant odors, especially on the streets of heavily populated cities.  As far as I could tell, what the woman had described was accurate.  The city air was welcoming, and the only unusual smell I perceived was that of the spices that wafted from the windows of the businesses we passed on our way to the hotel.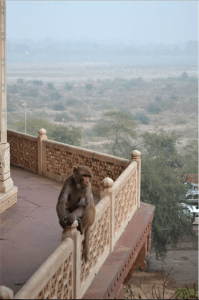 The Radisson was a mini-mall mecca mounted atop a collection of less impressive, run down structures.  The hotel itself seemed to emerge from a cluster of houses built so closely together that it was difficult to tell whether their foundation was on the side of a hill or if they had simply been stacked on top of another.  It reminded me of a painting I had seen in Hebrew school of King Solomon's temple in Jerusalem.  According to the Old Testament, Solomon commissioned the temple to be at the highest point of the city so that the Jews might be closer to God during prayer.  The comparison made me chuckle, when I considered a scenario in which Radisson contractors decided to construct the tower according to proximity to the Lord.  Ultimately, I decided it was more likely that the site's proximity to the airport, and not to the heavens, that made it an appealing location to build a hotel.
The first thing I did after we checked in and showered was try and plug-in my hair straightener.  While researching Indian climate, I read from yet another internet expert that I could expect high humidity during the month of January.  I anticipated taking a gross number of photos for my Instagram, and wanted to ensure that it would be the Indian landscape, and not my uncontrollable Jew-fro, that was featured most prominently in my shots.  This was when I faced my first big cultural dilemma – not only was I unable to plug my straightener directly into the outlet, but the outlet adapter provided by the hotel was also not conducive with my device.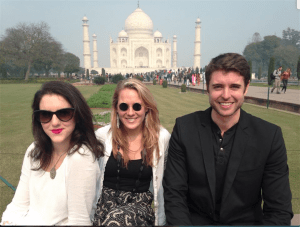 After several failed attempts to revive my lifeless electronic, I decided it was time to find another solution.  Luckily for me, one of the several perks of staying in King Solomon's Radisson hotel, was that there was a fully staffed beauty salon two floors below my hotel room.  Feeling empowered by my already turbulent adventure, I decided I would chop off the majority of my hair so that it would fall just above my shoulders.  This would be the shortest I had worn it since I was in middle school.  India had already made me bold!  I was pleased with the hair dresser's work, but I was even more delighted when the cost of my haircut came to $25 total.  This is a considerably lower price than the $200 cuts you'll receive from a salon in New York City.  Most people don't travel to India for a cheaper haircut, largely because the plane tickets alone more than make up the salon's difference in cost, but I was pleased all the same that my straightener refused to cooperate with an Indian outlet, and that I had waited to be on the opposite side of the globe to chop off my hair.
Guarav advised us not to explore New Delhi before we met up with Ezra, Gaurav's best friend and roommate from the States.  It was unsafe for two young American women to travel around the city without a male chaperone.  Unbeknown to me, there had been several incidents of rape through the city's cab and Uber services over the past year. As it was, we were exhausted from our journey and happy to remain in the hotel for our first meal in India.
We scheduled an early-morning trip to the Taj Mahal the next day, so our intention was to have dinner and go to sleep early.  But one cocktail became two, became five, became dirty martinis and cigars with our charming bartender, as he closed up shop for the evening.  Most women in India do not drink in public, and they certainly do not smoke cigars, so he was very interested in talking to the two American lushes that had found their way to his counter.
FREE GUIDE! Get Essential Information on Protecting Your Assets
18 STEPS TO IMPLEMENTING YOUR PLAN B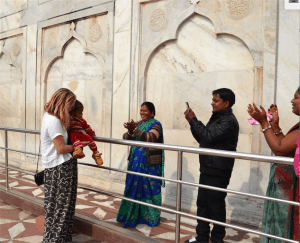 After some conversation, he told us that he worked as a bartender to expense his blossoming career as a recording artist.  He aspired to sing for Bollywood movies and was happy to give us a private performance.  His singing was unlike anything on the radio in America, but his skill was undeniable – even to my foreign ear.  I had never  heard so many notes sung so quickly, in a melody that didn't seem to follow any recognizable pattern.  Just when I thought I knew where the song was going, he would jump two octaves and back again in the space of one measure.  It was mesmerizing. It was through a haze of dirty martinis, in a trance brought on by the shrill timbre of his voice, that I first thought to myself, I am in India. 

Like Our Articles?
Then make sure to check out our Bookstore... we have titles packed full of premium offshore intel. Instant Download - Print off for your private library before the government demands we take these down!