The Hidden Opportunity Serving Global Boomers Right Now
How to Profit as Boomers Buy Property Overseas
The Convergence of Demographics and Scarcity
Creates Unique Wealth Opportunities in Real Estate
Note: If you are an accredited investor and would like to learn how you can participate and capitalize on this major demographic shift, send me a note and we'll email you a short summary of an exciting private equity opportunity.   
Imagine if you had a time machine. You could see the future. You could travel to the past. You would actually possess 20/20 hindsight, wouldn't you? Imagine that. Imagine the possibilities.    
If we could actually see what was going to happen in the future, we would develop products and services that everyone would want and need. And then, of course, we'd do very well for ourselves. It would be great…and you'd certainly make better investment decisions, wouldn't you?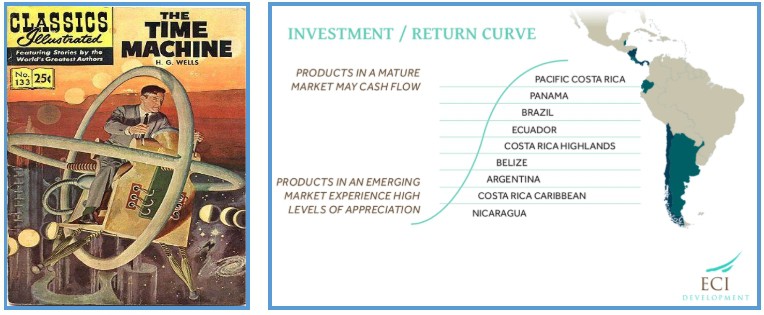 A Fantasy Time Machine Versus Latin America, a Real Life Time Machine          
While we can't go forward in time for a sneak peek, we can, in a way, travel back in time and let the future we already know catch up to us. Investing in developing countries is time travel. Here's how.  
We position ourselves in the "Path of Progress." We know how things developed in North America, which is like seeing the future. Because development patterns generally repeat, we can predict what comes next.
Investing in the developing world is really like being able to go back in time. With knowledge from our North American "future," we can predict and provide the next product or service coming down the road. This is real investment power.   
Now, add in a super-charger – the macro-demographic baby boomer generation that has, at every age, been a game changer for industry and investors in North America. Right now, the boomers are pushing a major retirement trend, the largest numbers in North American history.  
And some folks are already heading overseas. For a lot of reasons detailed below, more and more will. Get ready. There is going to be a lot of money made by somebody. Why not you?  
It Happened Before and I was Lucky to Be a Part of it
I was among those fortunate enough to be a part of the early computer wave of the late 1980s and early 90s. Now, truth be told, it wasn't foresight that put me there…just plain luck. But I was there, and it was a great time to be in the computer business.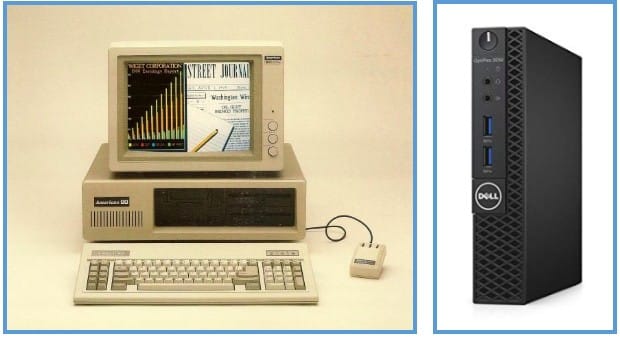 Dell Then and Now – 30 Years and 1000s of Times More Powerful
Experience the Insider community that takes your international lifestyle to the next level. Download your FREE guide
"18 Steps to Implementing Your Plan B" instantly!
The principal reasons the tech sector performed so well when it did was the union of two major factors, demographics and scarcity. It was a powerful convergence of these two factors that led to the great adoption of PCs and their massive, widespread use.    
Millionaires and Billionaires were minted with the convergence of demographics, demand, and scarcity.
The first factor was demographics. Baby boomers began moving into management positions in industry during the 1980s. They embraced change and the wonder of a computer they could use personally, not remaining dependent on some smart guys in the basement.  
The second factor was scarcity. The technology, speed, and software for the personal computer matured significantly, and the PC delivered useful value for individuals and corporations.   
But supply could not keep up with demand. The success of the PC and the fortunes made are a great example of the convergence of demographics and scarcity.
More people wanted PCs than were available for a significant period of years. It produced huge opportunities for investors and entrepreneurs. We know the famous names of the billionaires. Gates, Allen, Dell, Case, Jobs, and many others. Thousands of millionaires were created, too.  
Average investors, those reading the tea leaves wisely, saw the trends. Many invested in these companies and did well, too.  
Profits from computer and software sales were enormous because scarcity reigned. Consumers demanded a product, and production facilities were not in place to produce the quantity demanded.
It took about 10 years for the scarcity element to fade. By that time, thousands of factories had been built to supply the components needed to assemble the millions of PCs required each year. Prices and profits fell. The number of players in the market also constricted, leaving only the strong companies that produced a high-quality product.
Interestingly and importantly, the names of these successful companies are largely the same as those who entered the market first, like Apple, Dell, and Microsoft.   

The lesson? Those that arrive first, and perform well, stake a strong claim in the most fertile territory. They can serve consumers and deliver value to investors long-term.  
Note: The convergence of demographics and scarcity is happening again. This time in preparation to serve baby boomers as they retire.
Numerous sectors like healthcare are poised to do well, but much of that future success has already been priced into the market. In order to really profit from this convergence, one must "look under different sand," as my friend Steve Sjuggerud says.

 Look Where Others Aren't to Find the Best Opportunities
Find the opportunities others are overlooking. That is where the real prize awaits. One such opportunity is under our noses right now.
Products People Want – Sun City South-of-the-Border
The most successful retirement community brand in North America is Sun City. The developer, Del Webb, provided real community to active senior adults and then let the retiree decide which part of the United States made the most sense for them. He developed communities in the deserts of Arizona, along the coasts of Florida and California, in Texas and the Midwest, and the piedmonts of the East Coast.
Del Webb knew how to build the services and amenities that everyone wanted, and then clients could choose what type of climate and environment suited their needs and wants the best. Del Webb's success has been unparalleled in the industry.

Del Webb – A Genius for Integrating Demographics, Community, and Geographic Choice
The Sun City concept is now being advanced one step further. One forward-thinking company, ECI Development, has already created a menu of attractive lifestyle options in several countries to serve the millions now searching for retirement homes in Latin America. This is an already large market and it continues to grow quickly. However, once outside of North America, a new set of considerations becomes critical.
Today's consumers largely take for granted the basic comforts of reliable electricity, excellent water pressure, high-speed bandwidth for internet, access to top-notch medical care, and quality construction. In Latin America, many developers fail to provide even these basic services. They are often little more than a collection of barren lots with limited infrastructure. Many projects have few or no homes or residential products in place, because significant resources have not been invested up front. These "ghost towns" are likely to remain just that.

Lots on Beach Rarely Produces Community – Urban Planning Does
Boomer retirees want life, activities, neighbors, and community; something that the majority of these projects, sadly, cannot offer. Only a few developers actually deliver the excellent infrastructure and amenities needed for a high quality of life experience that North Americans have come to expect. A "Sun City of Latin America" would provide high-quality products in a variety of climates, like a home along the Pacific or Caribbean coasts, in the cool tropical mountains, or in the arid, high deserts of South America. Investors and companies who provide such a product are likely to do very well.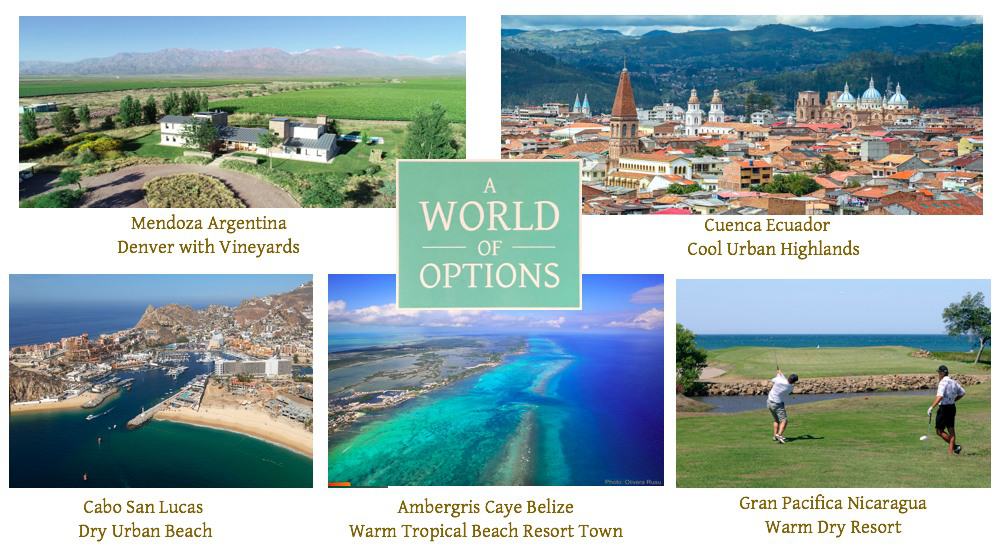 A Real Variety of Geographies Means Nearly Every Combination is Possible
The Demographics
The baby boomers represent more than 84,000,000 individuals in the United States and 9,000,000 in Canada. Over the last 60 years, almost everything that was popular with the baby boomers became a huge commercial success. They have produced a huge, disproportionate impact on the economy at each stage of their lives. Companies that placed themselves in the path of this "age wave" did very well. This wave of opportunity continues right now as they enter the age of retirement.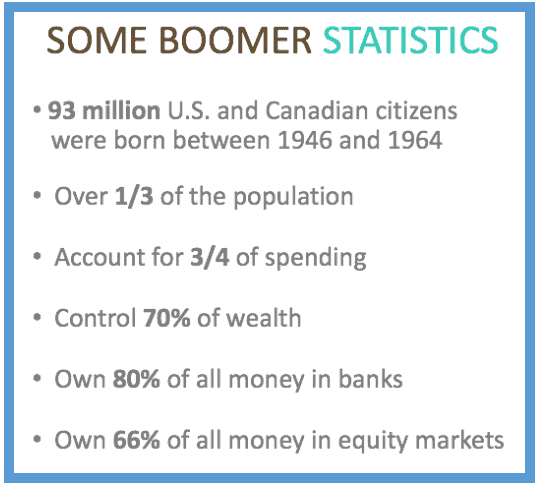 Today, over 613,000 U.S. retirees receive Social Security checks overseas. Many of these folks are people who were born before 1946 and are not part of the huge demographic bubble about to hit the market. The baby boomers proper, people born between 1946 and 1964, are entering retirement at a rate of 11,500 per day – and that will continue for the next 17 years. Many of these boomer retirees will be relocating and building warm-weather, retirement, and second homes in Latin America.
With over half a million already retired outside the U.S., the demographic data projected by surveys and studies is even more powerful. The Zogby Company surveyed 103,000 Americans and discovered that more than 26,000,000 have a desire to move or own property outside the United States. Of those, 4,500,000 listed Latin America as their first choice as a relocation destination.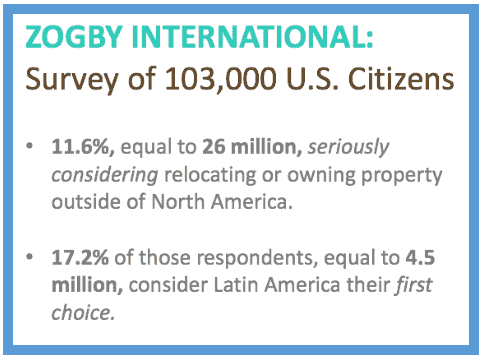 TD Waterhouse recently surveyed Canadian baby boomers, and 45% of those respondents plan to spend one month or more outside Canada in retirement. With 9.3 million Canadian baby boomers, this equates to over 4 million retirees who will be renting or owning property outside Canada in their golden years.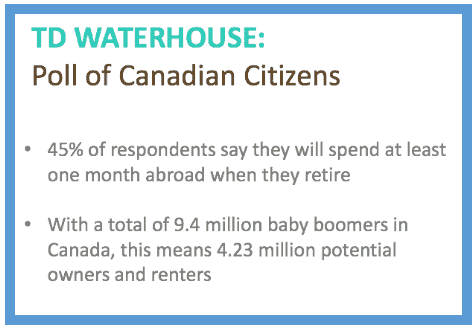 The bottom line is that baby boomer retirement will largely drive the overseas retirement home market for the next 20 years. The trend is in its infancy. As many new retirees look to the tropics for affordable, yet enhanced retirement lifestyles, phenomenal growth in these already large numbers is likely.
Why Latin America?
The region of Latin America is growing by leaps and bounds. Innovative policies on the part of the countries themselves have become fundamental in attracting foreigners, and hence their capital, to the region. More than 1,000,000 North Americans reside in Mexico part or full time, over 40,000 Americans have homes in Costa Rica, and more than 20,000 call Panama home for part or all of the year. Each country in the region has its own attractions and incentives that draw tourists and permanent residents alike, and they are all competing to provide excellent retirement packages.
But perhaps the most important reasons retirees are looking at Latin America are the "soft" factors like proximity to the U.S. and Canada, family, and friends. Flying in a north/south direction limits the time zones crossed to two or three, making travel and communications back home simple and easy. Safety, stability, and services are important baselines, but convenience is perhaps just as, or more, important in the end for consumer satisfaction.
Financial Factors and Emigration
Ernst &Young produced a study that predicted 60% of U.S. retirees would need to cut back on spending significantly in retirement or face the prospect of outliving their nest eggs. What will folks cut back? Food, medicine, heat? Imagine living your life every day wondering if you were going to outlive your funds. It's a scary proposition.
In addition, the U.S. Commerce Department reports that baby boomers are now saving almost nothing. For most boomers, there is simply not enough time to accumulate what was not saved. Today, almost half of U.S. boomer retirees (48%) expect to count on Social Security during retirement, and 15% expect to rely on it for most or all of their retirement needs.
This is a dire situation for many. Where can they have a high quality of life in North America on what they have saved and will get from Social Security? The ability to enjoy the kind that they've always dreamed of is simply not feasible in the United States on the limited funds they possess. More retirees will look elsewhere, many to Latin America, for ways to cut costs in retirement. Wonderfully, they will also discover that they can enjoy a higher quality of life on a budget that they can afford.
Capitalizing on a Crisis of Supply
There are plenty of houses in Latin America. So where's the shortage? It is when one examines the supply of high-quality homes in the region, one quickly sees the impending shortage. If one considers the amount of residential product with world-class infrastructure and amenities, the shortage is magnified immensely. Knowing why there is a shortage of supply is critical to understanding why investment in the region makes so much sense.
Most developers in the region sell a speculative type of product. It has also been called "cut and run." This literally means that a developer buys a large tract of land, adds the minimum infrastructure like dirt roads and electric poles, then sells the lots to speculation buyers. Many homes in the region are built to a standard we would not accept and enjoy. Cold water service is common in the region. I don't know about you, but I love a hot shower.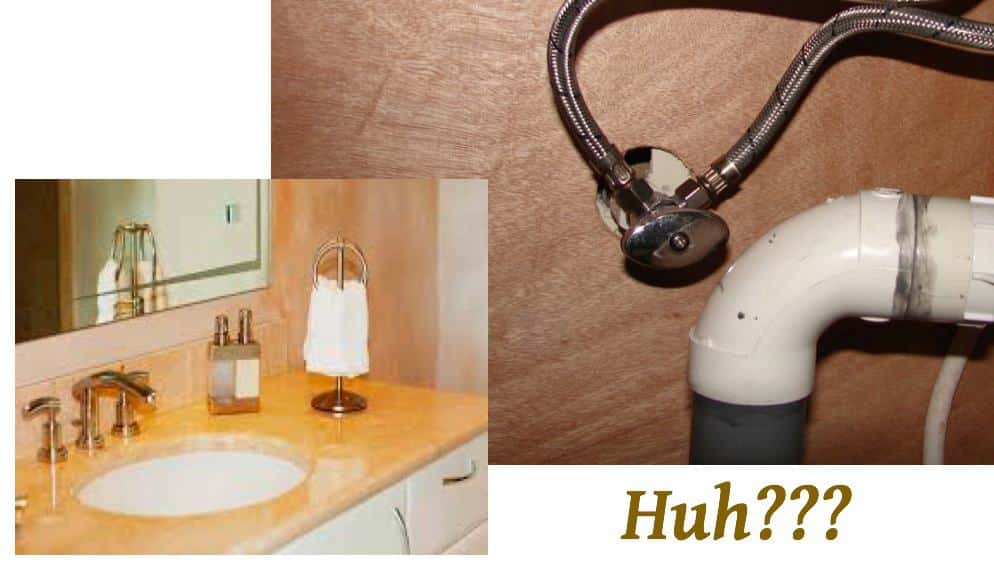 Not Up to Our Standards – Cold Water Service to an Otherwise Very Nice Bathroom
A 2009 developer survey by Christopher Kelsey & David Norden clearly points to the growing consumer demand for products with high levels of infrastructure, amenities, and "reality." Prior to the real estate and economic crisis in 2008, most consumers were willing to "bet on the come," and buy pre-construction and speculative product. Today, their attitudes are very different.
When surveyed again in 2011, developers agreed by an overwhelming 94% that consumer's expectations for clarity and commitment from the developer for the delivery of promised amenities would be greater. 92% agree that consumers will want to see the infrastructure and amenities complete before purchase. 85% see an increased trend by consumers to purchase completed homes and condominiums rather than vacant lots and pre-sales opportunities. Yet, very little of this product exists in Latin America designed to serve North American retirees. Hence the shortage and incredible opportunity to fill a huge and growing need in the marketplace.

High-Quality Construction and North American Standards
Consumers who are now retiring want and need something different, as the Norden survey and other research data suggests.  This next wave of property buyers in Latin America want a product that they are familiar with and one that meets their standards and expectations. ECI is one company that delivers what these clients expect.   
Retirement overseas is already happening with more than 600,000 receiving Social Security checks outside the United States. If the Ernst and Young State of Retirees report is accurate, then we will see this trend grow even faster as more people search for ways to lower their cost of living without giving up important quality of life issues.
The Sun City of Latin America
The baby boomers are entering their next stage of life with more time and many with more money than any other demographic group in history. As a result of longer life expectancies, these consumers know that they will have many more years of life after retiring than the majority of their predecessors ever did or do. With this time, they want to travel, continue working, and even start new careers. They want infrastructure, amenities, activities, neighbors, and community.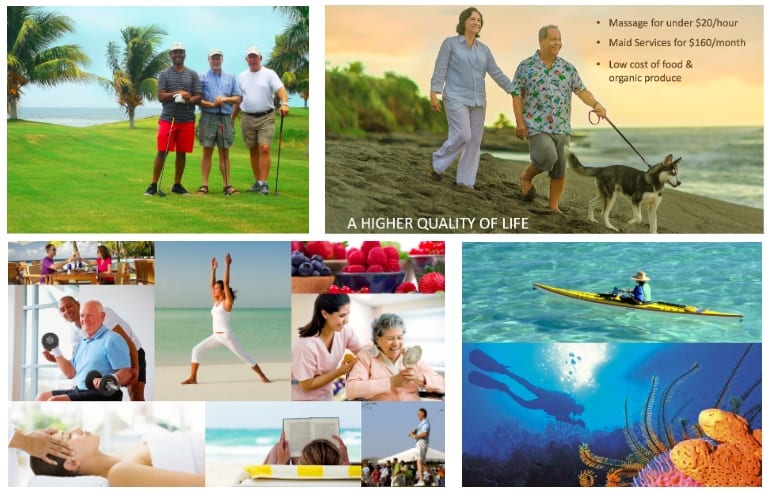 Fellowship and Community – The Hallmarks of a High Quality of Life
Latin America offers exceptional and diverse climates with a high quality of life at an affordable price. Our company, ECI Development is already serving this market, and is now positioned to capture an even larger segment as it grows and expands.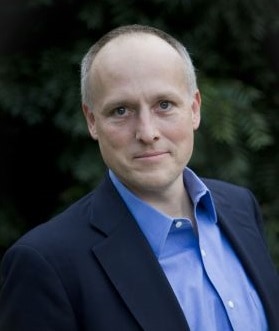 Michael K. Cobb is the CEO and co-founder of ECI Developments which has properties throughout Latin America. He speaks all over the world on international real estate and is a board member of the National Association of Realtors.