Global Mobility in 2019
The Future of Expat Employment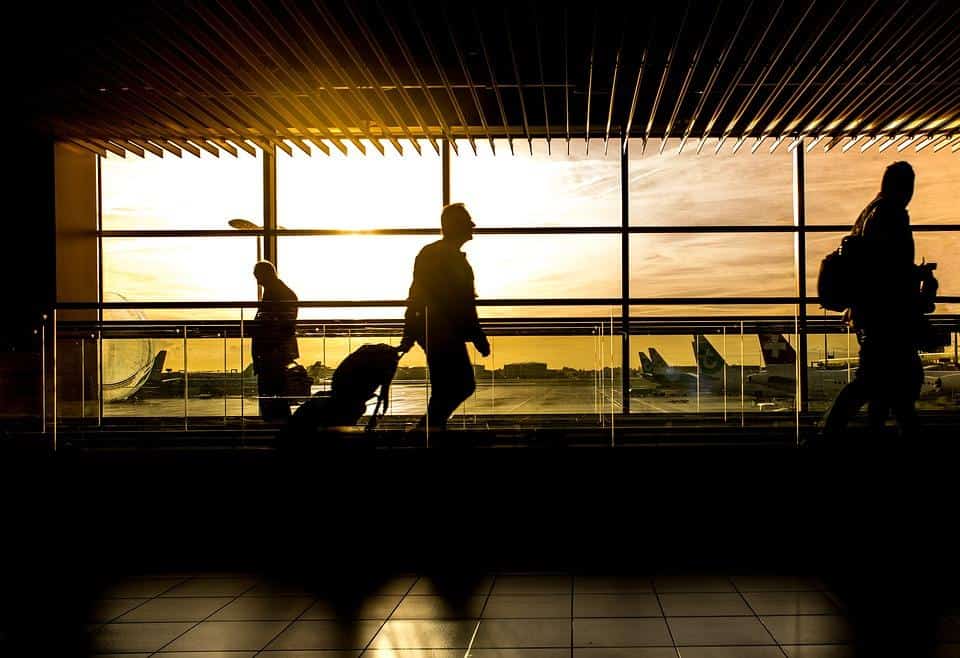 I've written exhaustively in the past about living and working as an expat, and also about the effect that younger generations are having on the international landscape, but I recently came across a great resource to put the entire scope of Global Mobility (the ease and ability for global or multi-national companies to hire and relocate talent internationally) in perspective.  
Learnlight is a global education technology company that provides language and skills training to expats and international transfers in the workplace. Each year, they release Global Mobility reports that analyze past data and project trends for the coming year. If you'd like to check out the literature for yourself, click here. They also offer a much more thorough, detailed manifesto on the general state of Global Mobility, which can be accessed here.
Today, I'd like to take some time to look at a few of the more interesting findings and trends about the expat workforce – particularly looking at the demographics, motivations, and expectations of today's expat labor market.
Is Global Mobility Gaining or Losing Popularity?
Forbes recently published that travel has replaced houses and cars as the most desirable status symbol for millennials, as they've consistently eschewed traditional career and life paths, placing a greater emphasis on freedom to travel and living independently than on the acquisition of hard assets. Freedom over materialism has been the war cry of this young workforce.
As ease of travel, communication, and cross-border functionality increase at lightning speed, are businesses sending an increasing amount of employees abroad?
According to Learnlight, every Global Mobility survey since 2015 has shown that companies expect to consistently increase the number of expat assignees each year.
"International assignments are
due to grow by at least 50%
over the next two or three years."
In decades past, the idea of being relocated to a foreign land was an anxiety-inducing proposition. This meant uprooting your family, leaving behind your professional network, and selling your home to move abroad.
In fact, a survey by French global market research firm, Ipsos, confirmed some of these concerns: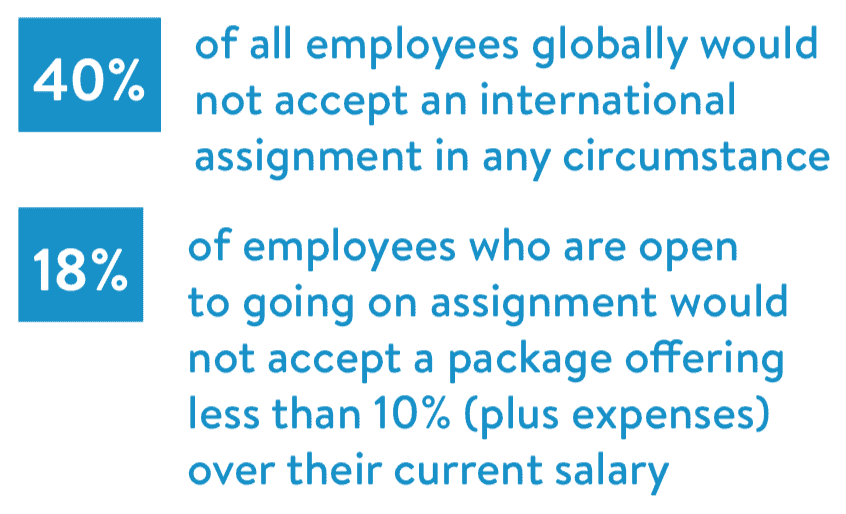 To counter this, many companies have turned their attention to younger, less experienced workers with high upside. Where many boomers and Gen-Xers turned down international opportunities, 20-and-30-somethings are primed for this kind of adventurous opportunity to springboard their careers.
Instead of moving established and expensive middle-aged professionals to overseas positions, employers are finding great pools of young talent unburdened by mortgages, marriages, and children who are willing to go abroad with shorter contracts and less commitment. This generation of burgeoning young professionals is "characterized by being early adaptors of technology; brand and employer loyalty has gone; impact and experience are as important as financial reward."
The Pitch
Traditionally, previous international experience has been a desirable trait when assessing talent for an offshore position. However, 2019 is seeing this perspective make a 180-degree turn, as companies turn their attention towards a younger and more enthusiastic expat labor market. The millennial desire for travel, immersion, and authenticity (without pressures to plant permanent roots) pairs perfectly with the somewhat unpredictable and spontaneous nature of working overseas.
One problem that companies have had in attracting top talent abroad is that many superbly qualified candidates have trepidations about committing to long-term employment contracts in countries they've never visited. In the last few years, however, amazing increases in communication technology has meant that traditional offices are losing favor. People are able to work much more effectively and efficiently from remote locations – using the entire world as their "office." As a result, employers are able to pitch shorter, less restrictive jaunts into expat work. Instead of committing to multi-year contracts, highly qualified workers will be able to take shorter, more experiential assignments, moving from country to country with less restriction or commitment.
The Modern Expat Worker: What Do They Look Like?
Learnlight has characterized a few overwhelmingly present traits in today's young expat worker. The breakdown is, as follows:
Easily Distracted

Craves New Experience and Knowledge

Constantly Mobile

Independent

Hard Working
The modern expat worker has a surplus of enthusiasm and a desire to truly immerse in their new surroundings. Even if only abroad for a short time, young expats don't want to see a new place through the eyes of a tourist. As Learnlight puts it, "This means being able to speak some of the local language, adopt (rather than adapt to) local culture, and then move seamlessly to the next country…the desire to travel comes with the desire to learn – to fill their heads with cultural knowledge and skills."
In today's expat employment landscape, technology is paramount. "Everything needs to be online, accessible and available 24/7. Self-service assignments, policies, travel arrangements. Millennials are much later to commit to personal relationships and families, so are most frequently traveling as single status – this lifestyle leaves them free to move at short notice and keep their social life in their backpacks."
What Do They Want?
Millennials are the highest educated, most informed, and most globally experienced generation in history. As a result, they have come to view expat work and international employment as a necessity for achieving their career goals.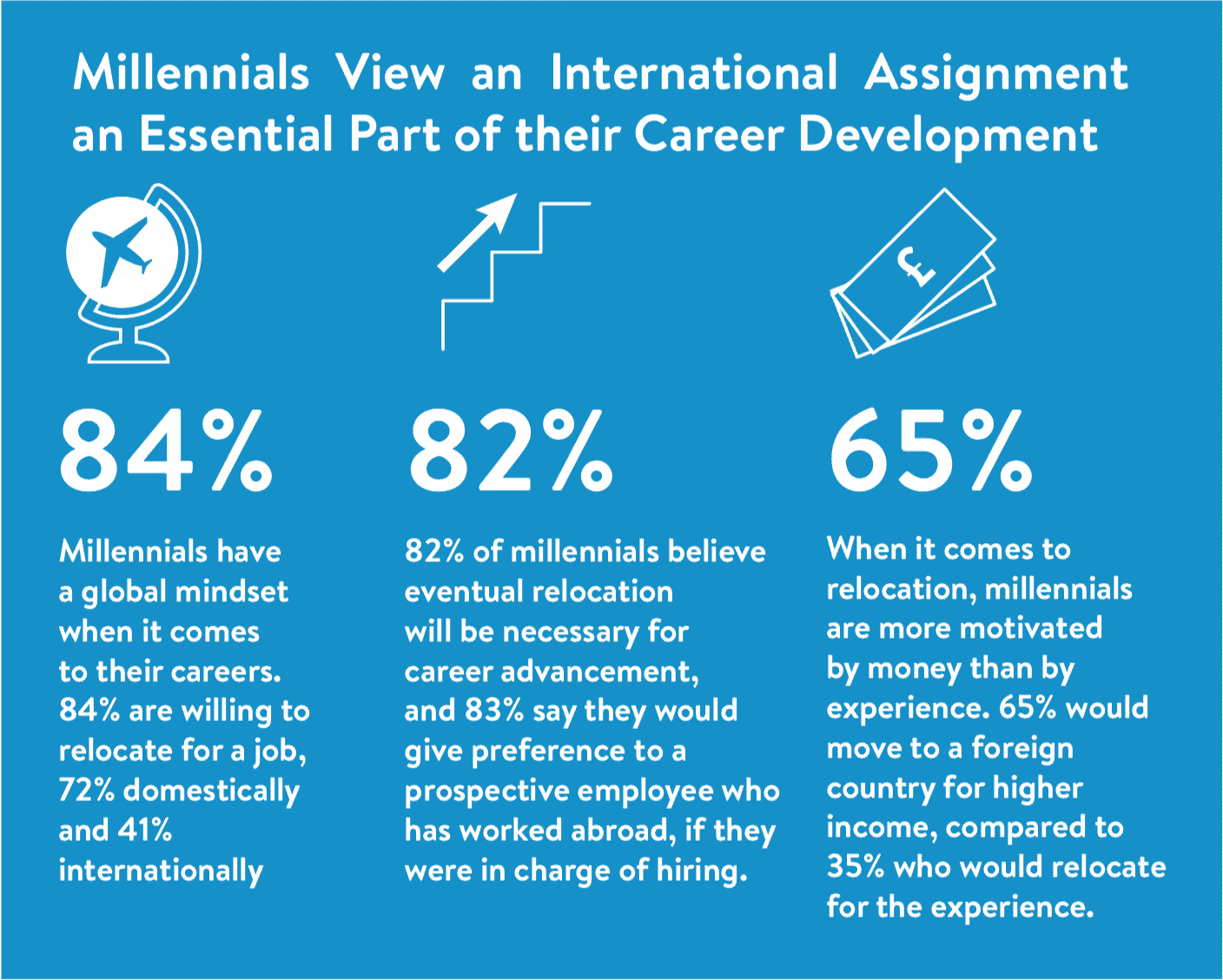 According to the survey, 71% of able working people between the ages of 25-35 expect to live and work overseas during their career. These are staggering numbers when compared to previous generations.
Why it's Important
If trends from previous years are any indication, the rise of millennial Global Mobility will also go a long way in restoring equality and diversity in the workplace. As the search for qualified and willing talent is intensified, unconscious bias will be replaced with the benefit of seeking undiscovered talent.
Gender and race imbalances in the workplace have always been less prevalent among younger, less experienced positions. As the rise of Global Mobility coincides with the lowering of the age of assignee, members of traditionally more "disempowered groups will have better experience, better international skills, and higher internal and external profiles. It will lead to more representative and inclusive leadership potential across organizations."
What it Means Right Now
People of all career stages and age brackets can take something valuable away from this data. For us internationally-minded folk, it means the future of the expat landscape is in young and capable hands, ready to expand the global markets to a degree never seen before. More young and tech-savvy people living and working abroad means a greater sharing of ideas, resources, and experiences across the globe.
This, perhaps, is the best version of a globalized world. Not one of watered-down culture at the hands of working "tourists," but instead, one of untethered and curious "citizens of the world." A priority on immersion, assimilation, and authenticity with the technological means to share their journey and motivate others to do the same.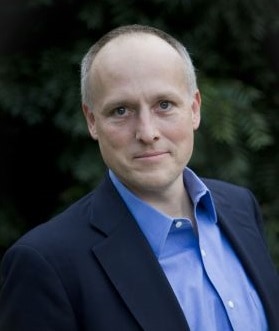 Michael K. Cobb is the CEO and co-founder of ECI Developments which has properties throughout Latin America. He speaks all over the world on international real estate and is a board member of the National Association of Realtors.

Like Our Articles?
Then make sure to check out our Bookstore... we have titles packed full of premium offshore intel. Instant Download - Print off for your private library before the government demands we take these down!