Exploring in El Salvador; Free Zone Park and Tourism Growth
For the second day of the conference, the PROESA folks scheduled a full day for tours. I selected the "Ruta de los Flores," a trip into the highlands west of San Salvador, near the border with Guatemala. This region is world famous for coffee production and artisanal crafts. On the way west, we stopped to visit a Free Zone park and have a tour
The Free Zone park is the American Industrial Park, and their manager, Moises Gómez, took the time to give us a tour. They currently host 26 businesses that manufacture and/or distribute everything from textiles to mattresses to plastics. Eighty percent of the businesses in the Free Zone are U.S. based.
The Free Zone park operates as a standalone utility provider including electric power back up, power conditioning, freshwater treatment, and industrial waste disposal. The site has a 2750m cu. Cistern (726,473 gallons), with a pressure ring system to keep constant pressure to the businesses who depend upon a steady water supply as a critical part of their manufacturing processes.
Additionally, the Free Zone park provides the duties and customs processing for clients, and they have a location to temporarily store up to three hundred 40-foot containers. The zone provided over 60,000 health care services to employees and their families in 2016, and they offer day care on site to employees and their families. This forward thinking and acting Free Zone business park is a great example of the modern transition from sweatshops to responsible industrial production in the region.
One of the Free Zone's major customers is George C. Moore, a 109-year-old textile manufacturing company from the U.S. The George C. Moore Company operates on an international level, with clients all across the globe. They expanded operations into El Salvador 11 years ago and now produce elastic bands for Fruit of the Loom and Under Armor, among others. Carlo Melara (GM) and Elisa Torres de Suárez (Marketing and Innovation Manager) pointed out that while taking photos in the factory was prohibited, I did receive permission to pull some photos off their website – they are included here: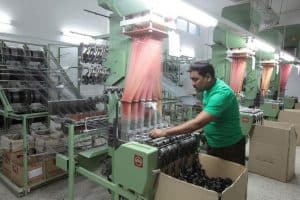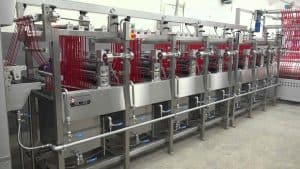 From there it was off to the west to head into the mountains and explore the coffee producing regions and artisanal communities that adorn the ridges. One such town is Ataco, located 1400M (4600 feet) above sea level. The town is a collection of cobblestone streets, old adobe-style construction, and an incredible collection of murals on many walls. The Catholic Church holds prominence in the main square, inaugurated as a sanctuary in 2003, and maintained throughout its 14 year history.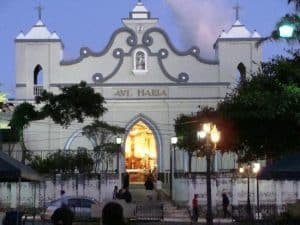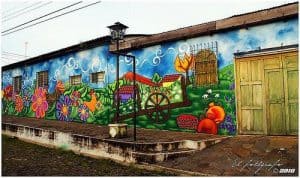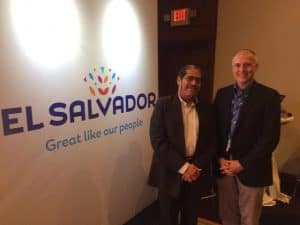 As a sector, tourism is a healthy and growing part of the Salvadoran national economy. The direct contribution of Travel & Tourism to GDP in 2014 was $1.021 billion USD, representing 4.1% of GDP. The direct contribution of Travel & Tourism to GDP is expected to grow by 2.4% to $1.288 billion USD, which will be 4.1% of GDP, by 2025.
A main geographic feature is that the country is small. It is possible to travel by car from one end to the other, on the best roads in Central America, in under 3 hours. It is also possible to travel from the highest elevations at 2,730m (8,957ft) to swimming in the warm Pacific Ocean in less than 2 hours, giving visitors the maximum experience with very little windshield time.
The tourism sector is growing rapidly. Salvador registered over 2,000,000 overnight visitors in 2015, of which 1.3M are foreign nationals. The international airport receives 470 flight arrivals per week, including direct flights from Europe. True tourism arrivals were nearly three times the rate of arrivals for business. The country sported a 4% increase in traditional overnight tourism in 2016, with hotel occupancy rates at 55% in 2014, growing to 59% in 2016. The number of hotels grew 18% between 2013 and 2016, and the country offers guests a choice between 465 hotels with 9,461 rooms.
That said, for entrepreneurs examining the possibility of opening a tourism business, domestic tourism is a growing segment of the industry generating $191M in expenditures, posting a growth of 216% since 2009. With 12,000 doctors in the country, medical care (if needed) is usually close at hand. More importantly, medical tourism is a growing sub-sector of the tourism industry, of which investors need to be aware.
Major reasons abound for tourism growth in El Salvador. The most boring, but critically important, is the Law of Legal Stability. This is a contract that investors sign with the government which provides legal stability on income taxes, duties, exemptions, and immigration for 20 years. Investments of $1.2M and higher qualify for this program. Additionally, since 2005, a tourism law specifically provides incentives to investors including exemption from land transfer taxes, exemption from import tariffs, no income tax, and 50% discount on municipal taxes for five years.
The sexier reasons are the incredible natural beauty and warmth of the people. El Salvador is blessed with volcanoes and crater lakes, one of which changes color to a deep aqua blue once per year because of a very specific algae bloom. There are miles and miles of pristine beaches to explore, like Costa del Sol and La Libertad.      For the young at heart, El Zonte and El Tunco are major surf breaks with both beach breaks and professional point breaks. El Salvador is proud to host the major international surf competition held each year by Quiksilver, in the town of Punta Roca.
Experience the Insider community that takes your international lifestyle to the next level. Download your FREE guide
"18 Steps to Implementing Your Plan B" instantly!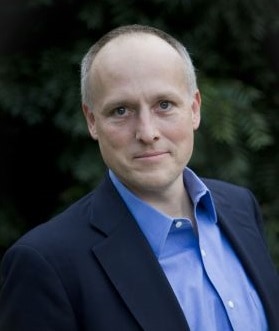 Michael K. Cobb is the CEO and co-founder of ECI Developments which has properties throughout Latin America. He speaks all over the world on international real estate and is a board member of the National Association of Realtors.


Like Our Articles?
Then make sure to check out our Bookstore... we have titles packed full of premium offshore intel. Instant Download - Print off for your private library before the government demands we take these down!