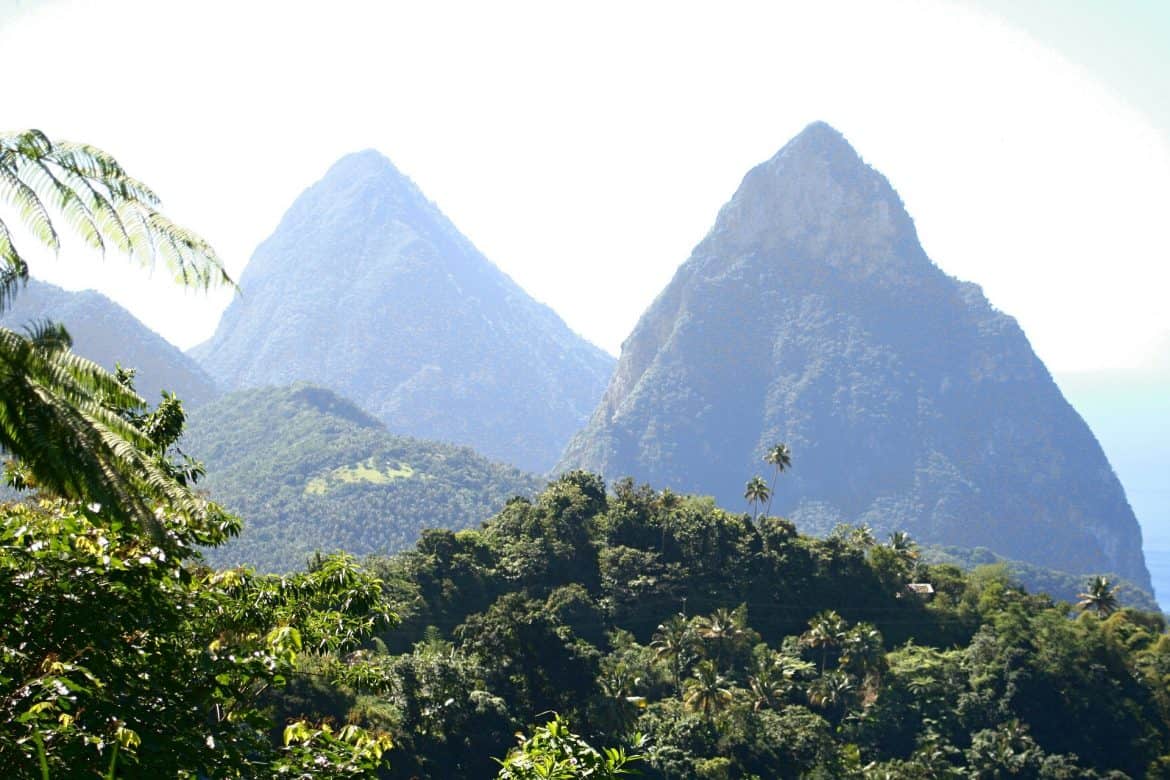 The Eastern Caribbean nation of St. Lucia, in the Lesser Antilles region, is a tropical island getaway popular among both tourists on holiday and expats looking to relocate to a permanent lifestyle of higher quality and lesser price.  
Things to Do in St. Lucia
Because of the natural landscape, there is so much to do in St. Lucia. From the Piton Mountains (a UNESCO World Heritage Site) and rainforests to beaches, cities, and volcanoes, this small island offers a mix of leisure, culture, and adventure around every corner. The capital city of Castries has many shops and restaurants offering local specialties and artisanal products, and there is great diving and sailing opportunities just off the coastline.
One can only hike, explore, shop, swim, and lie on the beach for so long before needing to refuel with a bite to eat. Luckily, the island has some great culinary offerings that can be had at a great price.
The food of St. Lucia is heavily based on West African, European, and East Indian cuisine. Think chicken stews, fish soup, and lots of potatoes, coconut, cornbread, and spicy scotch bonnet peppers. The national dish of St. Lucia is green figs and salt fish. This involves boiled green bananas (known as green figs on the island) and salted cod shredded with cooked onions and peppers.
Residency Options in St. Lucia
You can visit St. Lucia from the U.S. or Canada for up to six weeks without any form of documentation apart from your passport. It is possible to extend this timeframe by applying at the Immigration Department in St. Lucia. After extending this form of temporary residency for a two years, expats living abroad in St. Lucia can apply for permanent residency. Citizenship through naturalization can be had after seven years. Extending your stay in St. Lucia usually takes the form of one of the following options:
Longer Stay Visas
Single Entry Visa

– The single entry visa allows foreigners to stay for three months abroad in St. Lucia. This visa will cost around $46 USD and takes about 5 weeks to process. Holder's can study or live abroad in St. Lucia with this document. They will, however, need to

apply for a work permit to seek employment in the country.

Multiple Entry Visa

– The multiple entry visa allows expats abroad in St. Lucia to live up to a full year in the country. This costs about $70 USD and takes up to a week to process. Holder's can study or live abroad in St. Lucia with this document. They will, however, need to apply for a work permit to seek employment in the country.
Citizenship by Investment
Individuals looking to fast-track the process of attaining citizenship abroad and a second passport in St. Lucia can do so through certain overseas investment endeavors. This can be done in one of the following ways:
1. Monetary Donation to the NEF (National Economic Fund)
           a. Single Applicant Requirement: $100,000 USD
2. Investment into St. Lucia Real Estate
           a. Minimum real estate investment of $300,000 USD
3. Investment into Government Bonds
           a. Single Applicant Requirement: $500,000
4. Enterprise Project Investment
           a. $3.5 million enterprise endeavor creating 3 new jobs, or two investors creating a joint enterprise of $6 million USD and creating 6 jobs.
This citizenship through investment program allows visa-free travel to the Schengen Area countries of the EU (26 nations in total, including Switzerland), Hong Kong, and the United Kingdom. Spouses, children dependents under 25 years of age, and parent dependents over 65 years of age can be added to the program for a reduced fee within the same single investment.
Retiring in St. Lucia
There are many reasons to choose St. Lucia for your overseas retirement. From leisure to adventure to culture, there is enough on this small island to keep you busy all year long. If you do get island fever and need a break from paradise, however, there are regular direct flights to Europe and North America.
While there is no specific "retirement visa" with perks for pensioners (they will need to obtain one of the standard single or multiple entry visas to reside beyond 6 weeks), the cost of living abroad in the country is still much more affordable than in the U.S. or Europe. A single-bedroom apartment in downtown Castries would run you about $382 per month. A three-bedroom in the city center will cost around $925 per month. Basic utilities for an 85 sq.m apartment will cost about $120 per month.
Safety for Expats
As a whole, St. Lucia is a rather safe nation for expats. As with most Caribbean nations, petty crime is common in the populated city centers or during festivals. Common sense will be your best friend in St. Lucia. Stay away from unpatrolled beaches and dark streets when alone at night, always be aware of your surroundings in large crowds, and don't keep excessive amounts of cash or valuables on your person and you'll be just fine.
The real main safety concerns for expats traveling abroad to St. Lucia are the limited medical resources for serious injury, natural disasters such as hurricanes, and the Zika virus (especially dangerous for pregnant women). While these are the main threats on the island, they should not present a prevalent enough issue to deter you from visiting St. Lucia.
St. Lucia National Stats
Official Language:

English

Pupulation:

178,015

Population Growth:

0.33%

GDP (Purchasing Power Parity):

$2.083 billion USD

Total GDP:

1.428 billion USD

Passport Power:

37th in the world, visa-free access to 121 countries, including the Schengen Area, Hong Kong, and the UK

Capital City:

Castries

Currency:

East Caribbean dollar ($1 USD = $2.7 XCD)

Total Area:

616 sq. kilometers

Age demographics:

0-14 (20.35%), 15-24 (15.88%), 25-54 (42.97%), 55-64 (9.58%), 65+ (11.22%)

Ethnic Groups:

Black (85%), Mixed (10.9%), Indian (2.2%), Other/Unspecified (1.7%)

Religion:

Roman Catholic (61%), Protestant (25%)

Government Type:

Parliamentary Democracy under a constitutional monarchy and Commonwealth realm
Author Bio:
Tyler Sorce is an American writer and digital nomad currently living in Lisbon, Portugal. In a past life he was a chef in Manhattan and Paris, follow his travels and favorite dishes on Instagram.
"The 15 Questions You Should Ask When You Buy Properties Overseas"
"Interested in Living, Working, Investing, or Retiring in the Caribbean? Click here!"