This article was published in the Escape Artist Weekly Newsletter on March 07, 2018. If you would like to subscribe to the newsletter, please click here.
Today's article is a reflection on the business of writing and talking about living and investing overseas. I admire any organization that tells it straight and offers up some of the thorns you will encounter when working, living, and investing internationally. It's important. Just know that some publishing groups do, and some don't. Nothing is ever perfect, and that's the way of the world. For people headed overseas, knowing and expecting challenges ahead of time is valuable for a successful transition.
A good friend of mine, Kathie Peddicord, asked me to write a few columns for her organization recently. And I agreed… for many reasons. A big one is her commitment to being straight up and straightforward. "Tell them the good and the bad, Mike," she said. And she knows I will, because I sit on many of the panel discussions at her conferences. She hears me tell the audience the good, the bad, and the ugly. In fact, I think one session is actually called that.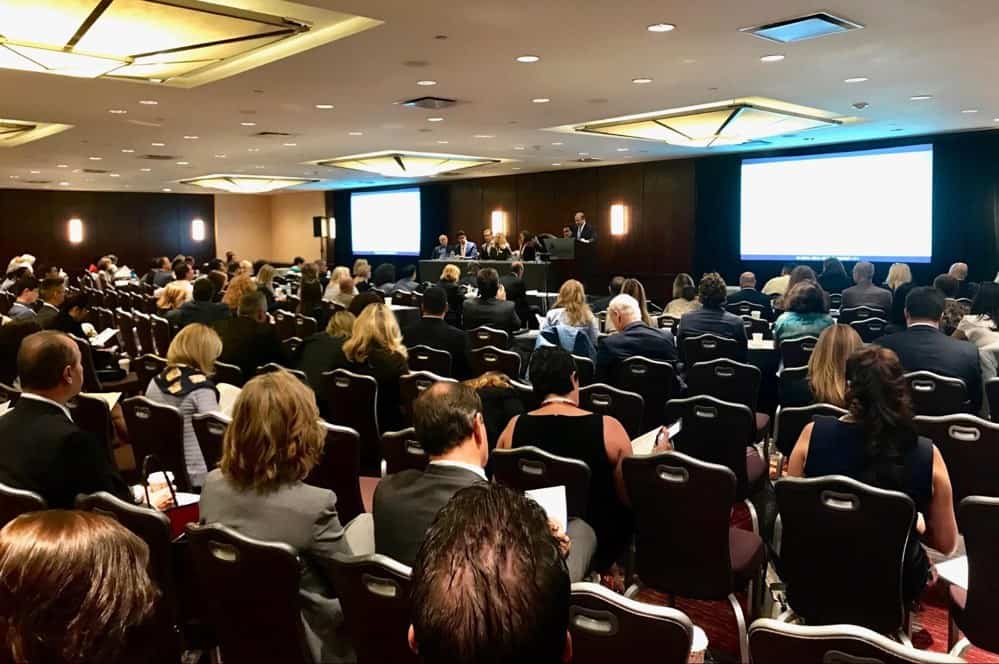 On a Global Panel in 2017 Sharing the Good, the Bad, and the Ugly
The reality is that living, investing, or working in the developing world isn't right for a lot of people. In fact, it's probably not right for most people. But for whatever part of the folks for whom it is a good choice, knowing the facts (good, bad, and everything in between) is critically important. So is keeping adventure eyes. More on that later.
As a weekly columnist, honesty and integrity are vital. That's why when I received this feedback letter last week, I took the time to write back to the reader. I wrote back because Mark had a good point about safety and how we measure it. It was a great exercise for me because it forced me to dig into some new data about safety in the region and Nicaragua specifically. In the response to Mark, you'll see those statistics I was able to dig up and present to him.
Also, in this week's column, you'll read two other excerpts from people who became expats. One is a U.S. citizen from Michigan who moved to Nicaragua. The other is a citizen of Singapore who moved to Vietnam, because expats, no matter their home country, all share some similar characteristics and viewpoints.    They share their experience with us to pass along to other folks thinking about heading south.
Now, let's look at what Mark wrote.
Mark's Letter:
Dear Michael,
 I just read your Escape Artist newsletter about how safe Nicaragua is, and find it very misleading. It may be true for select areas, but certainly does not truthfully represent the whole country.
I say this because I have missionary friends in the country that I get regular emails from. They live in a poorer, rural area of the country, and periodically report on armed robberies, death threats, etc. Robbers come into the house, hold everyone at gunpoint, go through the house and help themselves to whatever they want, AND demand money. If they don't get what they want, they torture and abuse the missionaries till they produce money. The police won't even come and investigate when these events are reported. It's assumed that the police are paid off by the robbers.
And several months ago, the local police snatched an American citizen off the road at the request of the U.S. authorities. He was not a wanted criminal, and was never charged with a crime, even after being brought back to the U.S. His wife and family didn't even know where he was or what had happened to him for several days. But the Nicaraguan police allowed the U.S. authorities to literally break Nicaraguan and U.S. laws. Of course there was money involved.
So you lose a lot of credibility with me when you try to say how safe and wonderful Nicaragua is. This is probably not happening in the area you are selling real estate in, but it's everyday life in some parts of the country.
Sincerely,
Mark
My Response:
Mark,
 Thanks for the note back. I am truly sorry to hear about the experience your friends are having and offer my services to have someone from my office look into it. It is truly horrible, and I'm sure very scary for them to be experiencing these kinds of issues. It's not right either. 
 My article on Nicaragua is about my experience and how when living in Managua, the capital city, for 14 years, we never once had an issue of violent crime. We had a few things go missing, but we lived a normal life that one would in any U.S. city, driving around, eating out, going to the movies, etc….and felt safe while there. At Gran Pacifica, likewise, one hour west of Managua in a rural area on the coast, we've had some theft of unlocked items left on the beach or around the community, but no violent crime in 12 years. 
 Crime is relative. Safe compared to what? Statistics are raw data that prove nothing in and of themselves. But as a comparative tool, they have meaning. Nicaragua's stats hold up very well when compared to any other Central American country, and they even do well when compared to most U.S. cities. If you feel that Pittsburgh, Miami, LA, or San Francisco (and a host of other major cities) are safe, then Nicaragua is also safe by comparison of stats. 
 As for anecdotal evidence, the maps below show gun violence and deaths in the U.S. since the beginning of the year. It's horrible, too. The recent mass shootings let me get my hands on this data pretty quickly.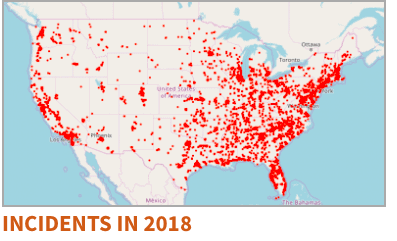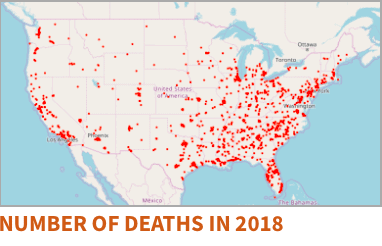 http://www.gunviolencearchive.org/charts-and-maps
The general data does show that residents in the U.S. are generally safer from murder as a country than any other country in the Americas, save Canada. However, Nicaragua sits right in the middle of its neighbors for murder rates. Again, comparison of statistics is key. Perhaps living in Central America is relatively unsafe compared to the U.S., but many folks do decide to live there – so then the comparison of the countries in the region becomes the issue. For absolute safety, Andorra, Monaco, Liechtenstein, and San Marino are the best choices worldwide with zero murders.



 https://en.wikipedia.org/wiki/List_of_countries_by_intentional_homicide_rate
 The bottom line is that I'm not sure any of us is safe anymore in an absolute sense unless we move to Andorra. But relative safety is the key. In my experience and those of many other expats I know living in Nicaragua, we feel safe. But the truth is that I feel safe most places I go. If I feel unsafe, I move on quickly. 
 Facts and statistics aside, crime is horrible and when it affects you or someone you love, even more so. As I said above, if your friends want to reach out to me I will ask our legal officer to look into their situation. Sometimes a nudge from the outside can make a difference. Let me know, and thanks for the concern enough to write. 

– Mike
The experience that Mark's missionary friends are experiencing is horrible and I in no way want to diminish this fact. And the story about an American snatched off the streets is equally scary. But let's be real here. In 2016, 963 people were shot and killed by police in the United States. Of that number, 48 were unarmed. To the best of my knowledge, no U.S. citizens, armed or unarmed, were killed by police in Nicaragua, Costa Rica, Belize, or Panama in 2016 (or 2017).
Other reports by large international institutions report similar data to support an assertion that Nicaragua is a relatively safe country. To quote Otaviano Canuto, an Executive Director at the International Monetary Fund in a recent report,
"Nicaragua – with 10 murders per 100,000 inhabitants – sticks out as an oasis of peace and security in the region…with the lowest budget per cop and lowest per capita income in the region." The report goes on to state, "In 2011, according to the last available statistic from the UNDP report on crime, Nicaragua ranked third (only after Paraguay and Panama) in having the lowest robbery rate per 100,000 inhabitants in Latin America. While places like Argentina had 973, Mexico 688, Chile 468, and Costa Rica 400, Nicaragua had only 71 robberies per 100,000 inhabitants."
The raw data, as well as the comparative relationship to other data sets, shows that Nicaragua is "relatively" safe. Again, a person's feelings about safety play into the equation and, in fact, is probably the only thing that matters in the end. Anecdotally, there are horror stories everywhere – and in the days of 24-hour news, we hear most of them. The chart below is fascinating.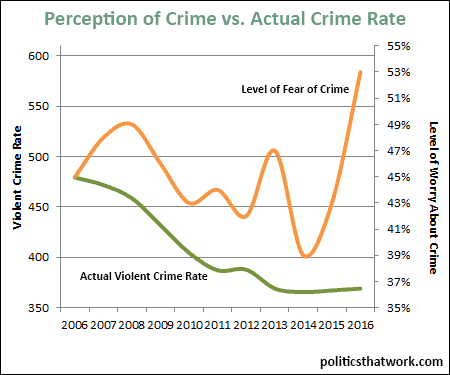 http://politicsthatwork.com/graphs/crime-rate-dropping-fear-rising
Again, the perception of crime is growing while actual crime is diminishing in the U.S. I don't have the trend lines for crime in Nicaragua, but the perception of crime is generally far greater than actual crime there, too. Expat, Jack C., from Singapore, offers some thoughts about Vietnam, a country equally misunderstood halfway around the globe. Some of the "bad" is exposed in his comments:
Name something you wish you would have known before coming, in regard to being prepared to move abroad?
I would say please always remain curious or always feel like you are a tourist. Why? It makes you stay positive and it produces the inner strength to carry on in this "marathon."
Did you make any big blunders you'd want others to avoid?
You will tend to spend more than you planned when you first try to settle down, due to meeting new friends and many other events that you think you should join. So please, plan a bigger budget!
Name one thing you would tell anyone looking to move abroad that they may not want to hear, but is very true?
Please remember that you will feel alone or alienated for a period of time and this is the most crucial period for you to fight mentally. Never give up, eventually the negative thoughts will disappear!
Another Jack C. (a different one), an expat from the U.S. living in Nicaragua, responded interestingly to a few questions:
What compelled you to choose the country where you live now?
The people. After bouncing around Central and South America, I always ended up back in Nicaragua because of the people. They are kind, thoughtful, helpful, curious, and really want to learn new things.
What do your friends and family at home think?
When I return from Nicaragua, they always say, "I see you made it back safe." My 86-year-old mother is who I call first, because she is always the most worried. It is that old-school thinking. My friends say the same thing, but I always ask them if they have ever been there and, of course, they say no. Then I ask them how they can judge with no firsthand experience and, of course, it's, "Well, I heard it on the news or the internet."
What advice would you give someone who is just exploring living abroad?
Do it. Go there and get your feet on the ground. Do not listen to the news or internet. Also, when you like someplace, make sure you stay there during the country's different seasons. And stay longer than a week. An example would be the difference between dry season and rainy season. Because when it rains in Nicaragua, it rains!!!!!!
It's great to see multiple perspectives on moving, living, and investing overseas. The strong advice is to move slowly. Take your time and perform heavy due diligence. Our Consumer Resource Guide is an excellent place to start. It provides 3
general parameters and 15 specific examples of items you must consider when buying property, working, or living overseas. Click here to get a copy right now.
One last parting thought is a concept I came up with a few years ago when I heard folks complaining about life in their overseas country of choice. What I found interesting was that these same people, a few years before, were in love with the place. What had changed?
Well, nothing much in the country had actually changed. What changed was how they viewed the reality on the ground. Something between their ears changed, and that was their perspective.
This realization prompted me to come up with a concept I call "adventure eyes."
Example: When we arrive at our new home, the young man or woman who slowly makes your coffee in the morning is cute and charming. A year later, you may be griping about how long it takes to get a coffee around here. Again, only your perspective has changed.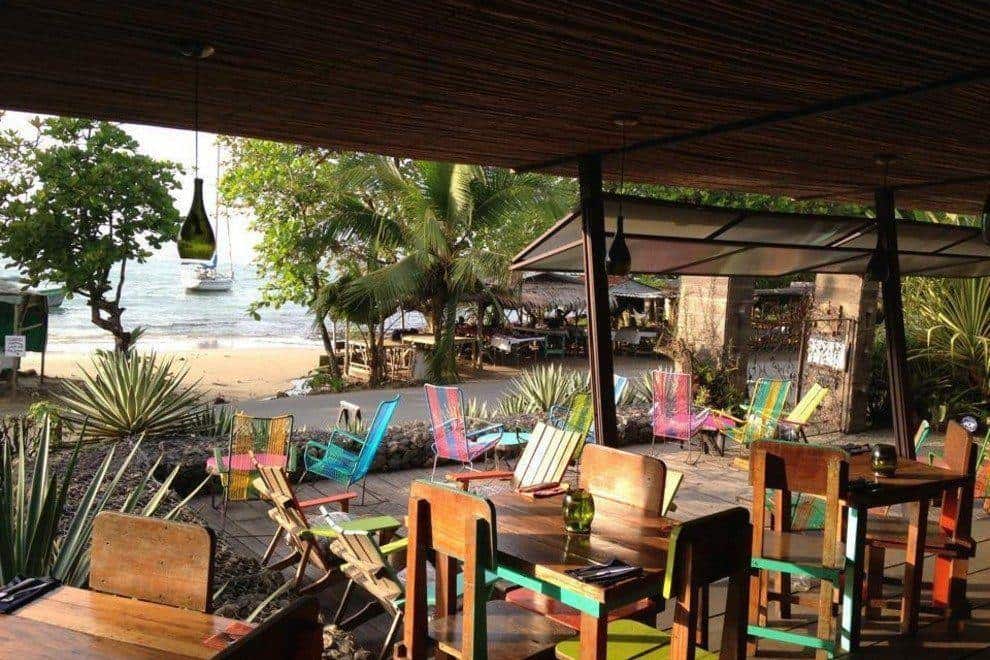 Waking Up to Coffee on the Beach in Costa Rica
As Jack in Vietnam says, "Always remain curious or always feel like you are a tourist. Why? It makes you stay positive and it produces the inner strength to carry on in this 'marathon.'" This is adventure eyes said another way. Remember this powerful and profound insight for a wonderful and long lasting overseas experience. The honeymoon never has to end.
This article was published in the Escape Artist Weekly Newsletter on March 07, 2018. If you would like to subscribe to the newsletter, please click here.