An unique opportunity. Traditionally built houses with 8000m² land in the heart of the Peruvian Amazon, a total of 5 buildings each constructed with durable sustainably sourced materials.
The main house is constructed in 3 floors with a total of 6 bedrooms.
There are 3 large areas on the first and second floors with areas for dinning and relaxing, plus 2 more areas with stunning views of the jungle on the 3rd floors.
There is a short bridge connecting to the 4x6m kitchen building, plus a 30m bridge connecting to an 8m diameter Maloca (traditional ceremonial building).
A small 3x5m building in the front of the land currently used for storage, plus a second new built 2 story private lodge of 6x6m with balcony.
The land borders a small fresh water river which feeds the Ucuyali allowing access by boat directly to the land and also perfect for swimming and water supply.
The property is situated in the outskirts of the village Genaro Herrera, located next to Pacaya Samiria national reserve on the Ucuyali river, one of the tributaries of the Amazon river.
The closest city being Iquitos in the region of Loreto, a 4 hours speed boat ride away.
All tools, equipment, and 2 boats included. The property has been run as a 15 bed guesthouse so also includes all mattresses, bedding and furnishings.
Property Id : 36205
Price: $ 75,000
Property Building Size: 450.00 m2
Property Land Size: 8,000.00 m2
Rooms: 15
Bedrooms: 7
Bathrooms: 3
Year Built: 2014-12-08
Garages: No
Available From: Now
Basement: No
External Construction: 4x6m storage building, 8x8m maloca (traditional ceremony building) 6x6m 2 story house with balcony
Roofing: Traditional Leaf roof
back yard
balcony
deck
fenced yard
front yard
lake view
owners closet
recreation
security
storage
Contact Me
Schedule a showing?
Similar Listings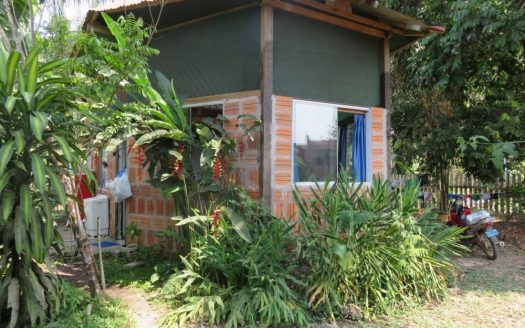 $ 40,000
On offer is a beautiful piece of land with a rustic house. The land is 800m2 (20x40m) and is fully fenced. There is
[more]
On offer is a beautiful piece of land with a rustic house. The land is 800m2 (20x40m) and is fully fenced. There is
[more]
$ 350,000
Beautiful and modern house built in 2015 in the middle of the highland jungle but with all the comforts needed toda
[more]
Beautiful and modern house built in 2015 in the middle of the highland jungle but with all the comforts needed toda
[more]
$ 50
Beautifully located on the outskirts of the tranquil village of Chirapa (rainbow in Quechua), just 10 km from Tarap
[more]
Beautifully located on the outskirts of the tranquil village of Chirapa (rainbow in Quechua), just 10 km from Tarap
[more]