Beautiful Retreat-Costa Rican Mountain Paradise! $199,700.
This beautiful retreat, called Goshen Lodge, is nestled in the mountains and cloud forest of nature filled Costa Rica. As you walk through the front door you are met with over 100 ft long by 12 ft tall landscape murals valued at over $12,000 of nature scenes located on this farm. The beautiful fine art landscape murals were done by international landscape artist Paul Hoffman. (He is available to do additional murals if desired). Murals are filled with scenes of waterfalls, rivers, trees with exotic birds, monkeys, orchids, sloth and a beautiful turn of the century chapel on a resort seen from this mountain. (See pictures below).
This house is located about 12 miles north of San Ramon in the Central Valley of Costa Rica, 1.5 hours from the beautiful hot springs of Arenal and 1.5 hours from the Pacific Ocean beaches. Elevation about 3800 feet. The farm is located on 1.5 acres of land and there is adjoining land available for purchase. This farm development is a total of 600 acres.
House built in 2013 and additions in 2015 and is 5300 sq feet large. 8 bedrooms with 4 baths and 3 large 30×10 family suites or dormitories, for a total of 11 rooms. 2 additional large baths plumbed and ready to be completed for the suites or dormitories, just need walls, tile, tub and showers. This property is perfect for a family compound, eco lodge farm, bed and breakfast, missions property or hostel.
The house is laid out in a circular form with (4) 2 bedroom apartments each having 1 bath for a total of 4 baths. Plus 3 large suites/dormitories and a large storage room. There is a commercial kitchen and commercial stove purchased from Brazil worth more than $8000. The island is 12′ long and 5 feet wide. Plenty of storage and pantry space. Beautiful Costa Rican wood cabinets. As the temperature is approximately 72 degrees with 80 being the high and 60 being the lowest at night, there is no need for a large heating or air condition system. If smaller room systems are desired, they can be installed individually but surely not necessary.
Adjacent to the house is a large 80′ round by 15′ deep water cistern that collects rain water from a French drain system that flows into this cistern. It is about 80% completed just needs the pump and the concrete top constructed to close it off and make an outside rancho for grill and outdoor fireplace, etc. The house is built with 40′ high ceiling with skylights that keep natural light in the house for 14 hours per day. There is an air filtration system that has also been built into the house that just needs the pump to make it operational. The house is built into the side of the mountain on one side and is built 6 feet down into the earth. It has 30 inches of concrete on the outer walls and about 30 inches of concrete foundation. Built to withstand a 9.0 earthquake. Commercial septic system. 30×10 ft underground monolithic dome/bunker that is completed on the inside with 2 bedrooms and one bath.
The center gathering area of the main house is 40×40 feet around and currently has a beautiful large Costa Rican wood table for 8 people and large custom sectional sofa. The entrance has a small wooden crafted sofa and two wooden cushioned chairs as well as local art work. This retreat has over 100 feet long by 12 ft high murals throughout house done by an international landscape artist. Landscape Murals bring the cloud forest, mountains and wildlife into the house. 3 bedrooms are furnished at this time. The house can be turnkey, (negotiable) with furniture, appliances, stove, dishes, glasses, pots, pans, serving dishes, wine glasses linens etc. just bring your suitcase and you are ready to move in.
This property is located 1 mile from the highway and 1.5 miles from a very small village. This property is part of a 600 acre farm where there are 3 houses located on the farm and a full time worker to manage the farm. Beautiful river La Balsa and a gorgeous 60' ft waterfall on the larger farm. Jungle hiking trails and birds, sloth, toucans and exotic birds. The outer part of the farm has 70 head of African water buffalo and 6 horses that belong to my neighbors that graze by the river. Solar panels and wind energy would be a perfect fit for this property as well as hydro electric. The water source is currently a well however the cistern can be completed to be the main water source as well as city water that is piped up to the front gate. Just needs pipes run to the houses if desired.
A real one of a kind beautiful retreat and refuge for a large family or a perfect bed n breakfast.
Why Not Costa Rica would love to show you this unique home in the country.
Address: Alajuela Province, San Ramon, Costa Rica
Zip: 20202
Country: Costa Rica
Open In Google Maps
Property Id : 26564
Price: $ 199,700
Property Building Size: 492.00 m2
Property Land Size: 5,000.00 m2
Bedrooms: 11
Bathrooms: 4
Year Built: 2013
back yard
front yard
laundry
mountain view
owners closet
recreation
security
storage
washer and dryer
Contact Me
Schedule a showing?
Similar Listings
$ 135,000
Newly constructed home with Pacific Ocean view with a budget in mind and located less than one kilometer from the P
[more]
Newly constructed home with Pacific Ocean view with a budget in mind and located less than one kilometer from the P
[more]
$ 75,000
Newly constructed home with Pacific Ocean view with a budget in mind and located less than one kilometer from the P
[more]
Newly constructed home with Pacific Ocean view with a budget in mind and located less than one kilometer from the P
[more]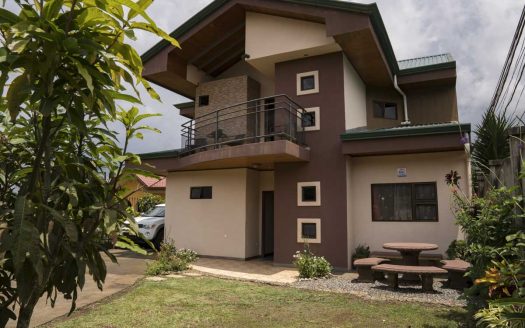 $ 195,000
This modern gem located in the heart of Santiago is now available and first time on the market. Santiago is known f
[more]
This modern gem located in the heart of Santiago is now available and first time on the market. Santiago is known f
[more]