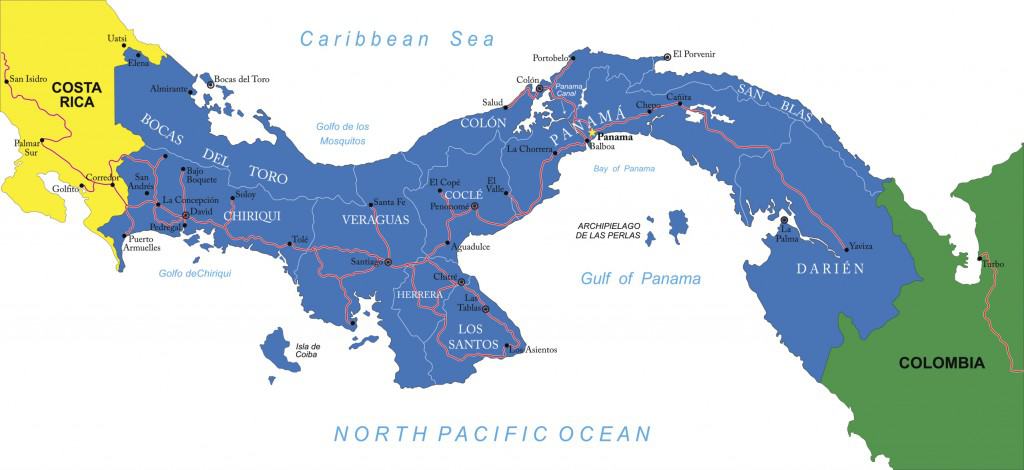 Panama Overview for Teak Investing
Panama is the isthmus linking South America with Central and North America. The country, which is bisected by the Panama Canal, is bounded on the north by the Caribbean Sea, on the east by Colombia, on the south by the Pacific Ocean, and on the west by Costa Rica.
The population of Panama is about 3.9 million people, giving the country an overall population density of about 110 persons per sq. mile, with about one-quarter of all Panamanians concentrated in the two metropolitan areas, Panama and Colón. Panama is divided into nine provinces—Bocas del Toro, Chiriquí, Coclé, Colón, Darién, Herrera, Los Santos, Panama, and Veraguas—and one special territory, Comarca de San Blas.
The capital, Panama City, has approximately 700,000 inhabitants and is the principal commercial and transportation center. Other important cities are Colón, the northern terminus of the Panama Canal, and David, a farming center near the Costa Rican border. The country is very diverse, due to its reputation as the "crossroads of the world." The cosmopolitan capital city provides an ample selection of cuisines, activities, and languages to choose from, while the physical diversity of the country caters to many tastes.
Truly a unique country, Panama has found its way into the economies and imaginations of populations all over the world. Hardwoods Unlimited selected Panama for the perfect growing conditions present in the country's Darien region, as well as its exceptional foreign residency program.