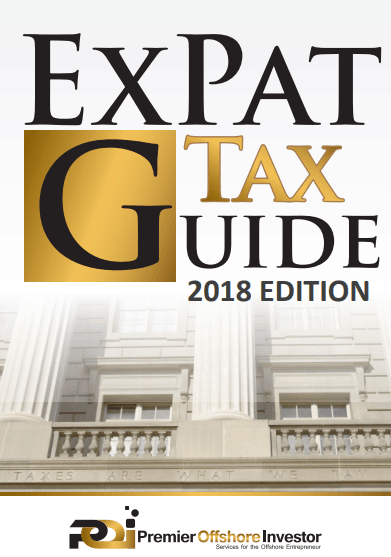 Expat Tax Guide 2018
International Tax & Business Guide 2018: Expert Legal Guide for American's Living, Working, Investing and Doing Business Abroad
165-page international tax and business guide for Americans living, working and investing abroad. This is the 9th edition of our bestselling offshore tax and business guide, updated for 2018 with 45 new pages on important topics like Trump's tax plan, cryptocurrency, living and working in the US territory of Puerto Rico tax free, and updated second residency programs.
The objectives of this international tax guide are to: 1) give you the tools to maximize profits and minimize taxes while working and living abroad, 2) provide a road map to the U.S. forms and reporting requirements, and 3) to point out the landmines of international taxation – costs and risks of failing to keep up with tax compliance.
Armed with this guide, you will be able to structure your business and plan your life abroad to your advantage.
Fill the below form to Download Expat Tax Guide for free.
Table of Contents:
Introduction
The Rules for Americans Overseas
Foreign Income Must Be Reported
Tax Advantages for Americans Overseas
Foreign Earned Income Exclusion
Housing exclusion or deduction
What exclusion will I take?
Form 2555 or Form 2555EZ?
Married couples claiming exclusions
Waiver of time requirements
Exclusion of employer-provided meals and lodging
The Foreign Earned Income Exclusion and President Trump
Withholding income tax and social security tax
Withholding from pension payments
U.S. Social Security taxes
Credits and Deductions on Foreign Income Taxes
Claiming a Deduction for Relocation Expenses
Avoiding Double Taxation
Double Taxation Treaties
Foreign Bank Accounts Must be Reported
Filing Deadlines, Extensions, and Penalties
Automatic two-month extension for Americans overseas
What to do if you need more time
Time to pay tax due on a return
Where to file
Electronic filing is the way to go
Foreign post marks and electronic filing
Interest and penalties
U.S. State Taxation of Foreign Income
Different states, different rules
What if I don't know which U.S. state I will return to?
Currency Issues with the FEIE
Expatriation – The Final Solution
Second Citizenships and Passports
St. Kitts Second Passport Program
Dominica Second Passport Program
St. Lucia's Program Updated for 2018
Low Cost Residency Programs 2018
Taxation of Foreign Real Estate Investments
U.S. Tax Breaks for Offshore Real Estate
Tax Deals Only Available in Puerto Rico
Detailed Analysis of Puerto Rico's Tax Incentives
U.S. Tax for Business Owners & Self Employed
Employees
Self-Employed
Tax Benefits of Incorporating
Where to Incorporate
Shelf Companies
International Foundations
Offshore Corporation or LLC?
Risks of Offshore Corporations
Offshore Merchant Accounts
Offshore Filing Requirements
International Bank and Brokerage Accounts
Corporate and Trust Filing Requirements
How Careful Structuring of Your Affairs Can Help Minimize Taxes
Multiple Bank Accounts
Transfer Title of Accounts to One Spouse
Form a Discretionary Trust
Estate Planning
2014 IRS Offshore Voluntary Disclosure Program
Great News for Some Expats and Dual-Nationals
U.S. Persons with Undisclosed Accounts
Offshore Voluntary Disclosure Program (OVDP)
Streamlined Filing Procedures
Streamlined Procedures for those Living in the US
Delinquent FBAR Procedures
Delinquent Informational Returns Procedures
Transitional Rules
Dealing with the IRS
Step One: Know your Risks
Step Two: Negotiate
Offer in Compromise
Installment Agreement
How to Avoid an Audit, Expat Edition
When do I need help?
Taxpayer's Bill of Rights
Cryptocurrency and the IRS
Introduction to Cryptocurrency
Introduction to Initial Coin Offerings
4 Ways to Pay Zero Tax on Cryptocurrency Gains
The US Government is Targeting Bitcoin
Selling Bitcoin is a Crime in the US
What can you buy with Bitcoin