Where the Pan-American Leads…
This article was published in the Escape Artist Weekly Newsletter on June 12, 2018. If you would like to subscribe to the newsletter, please click here.
12 strangers.
3 nations represented.
1 common goal…
…to become global citizens.
Among the 12 of us, the youngest was a 21-year-old woman from North Carolina, and the oldest was a gentleman in his mid-60s from South Africa. Conversation topics ranged from passports to Kuna Yalas to Panamanian botany.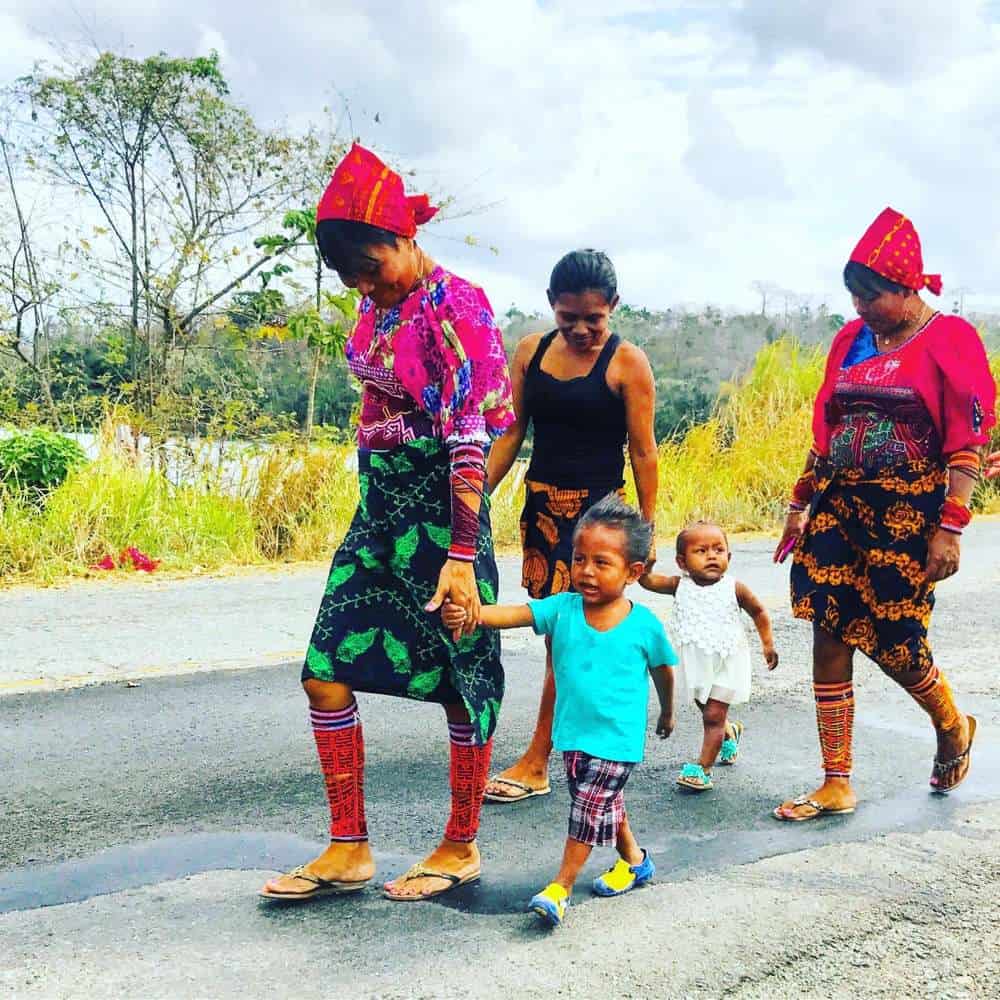 A picture of the Kuna Yalas from a couple of trips ago, passing right by our lake stop.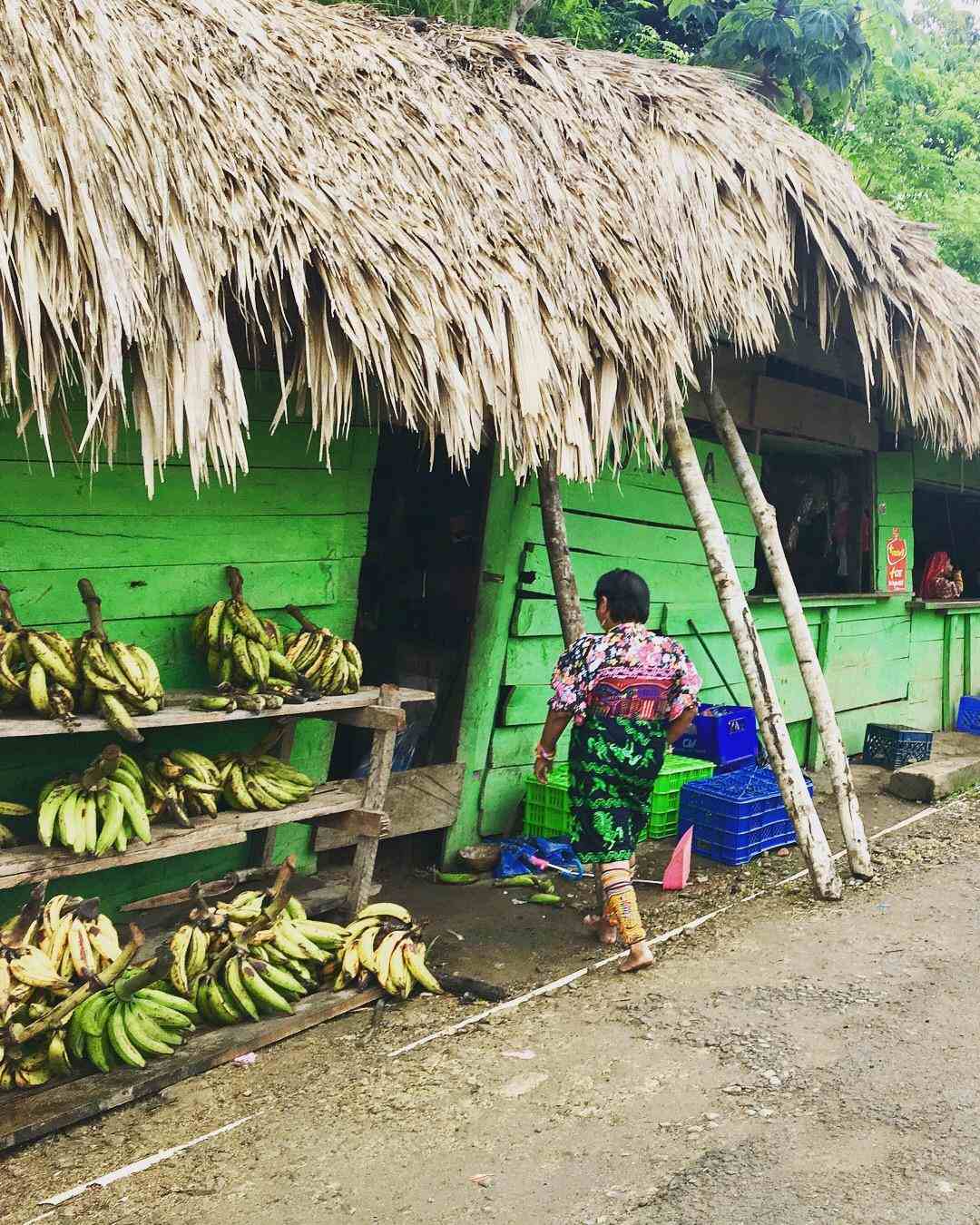 Kuna Yalas at their fruit stands on the side of the road.
And we even got a crash course in cryptocurrency and the math behind blockchain – for most of us, these were typical, yet intriguing topics that we generally don't discuss with our next-door neighbors. Together, we represented a group of curious, globally-minded individuals who were looking for opportunities around the world.
All of this occurred while in a white van heading east into the Darien province of Panama – an area well-known for its lush landscape and rolling, jungle hills. On this specific trip, we were traveling 3.5 hours on the (mostly paved) Pan-American Highway to hug our teak trees and meet up with Luis, the teak farm manager.
After explaining to the group about previous tour hiccups (sloths crossing the road, flat tires, and traffic caused by groups of cattle), we were relieved to arrive without a hitch.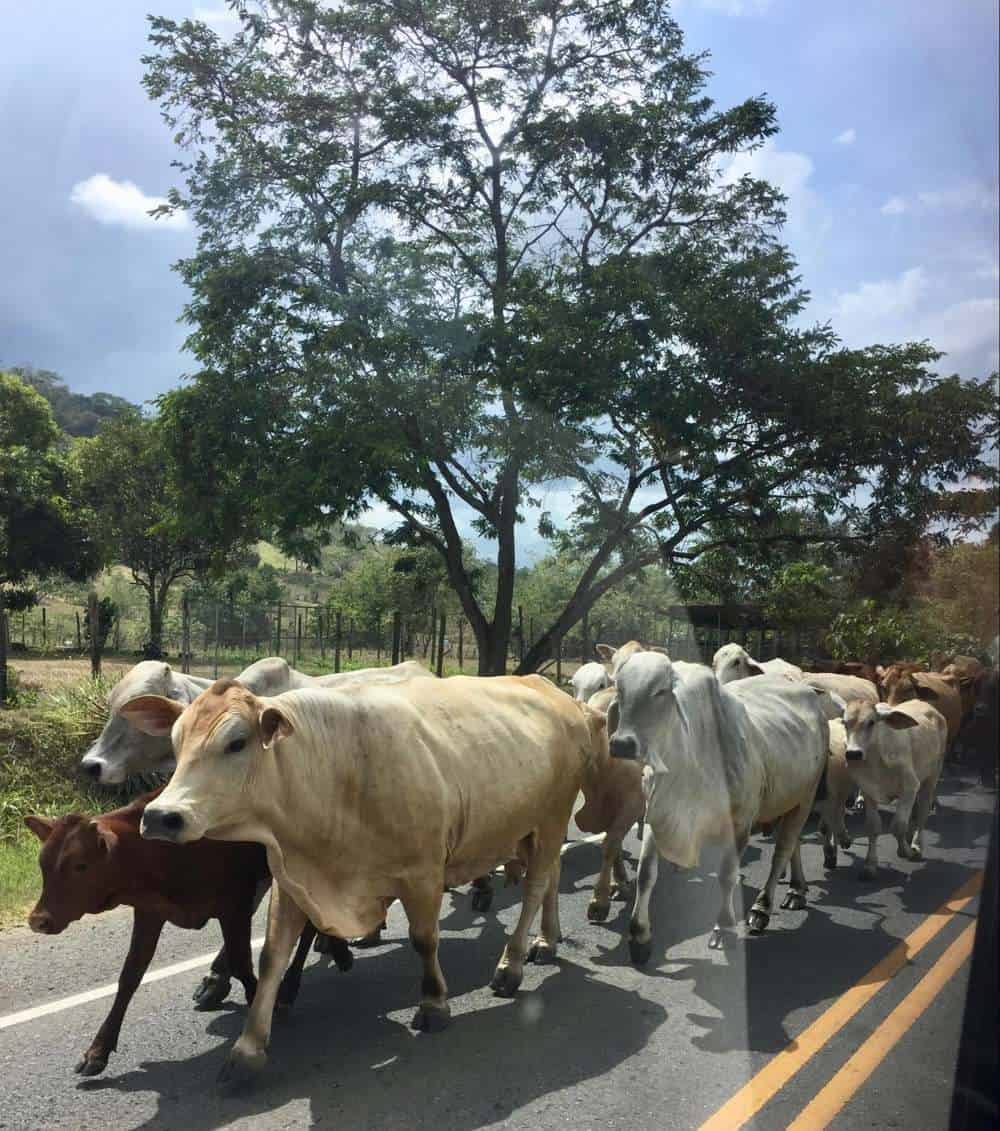 Roadblock!
Luis greeted us with a smile and a warning that the trails were a bit muddy from the rain. With close-toed shoes (no one wore heels this time, phew) and a sense of adventure, we walked further into the farm than any prior group.
We took our time walking through the trails, stopping to observe the flora that blossomed as a result of the recent rain.
Luis picked up the teak pods that fell to the ground, breaking open the thin layer to release the seed from inside. Our Rhode Island friend collected a handful and mentioned that he is going to try harvesting a small farm in the northeast (none of us are holding our breath for this).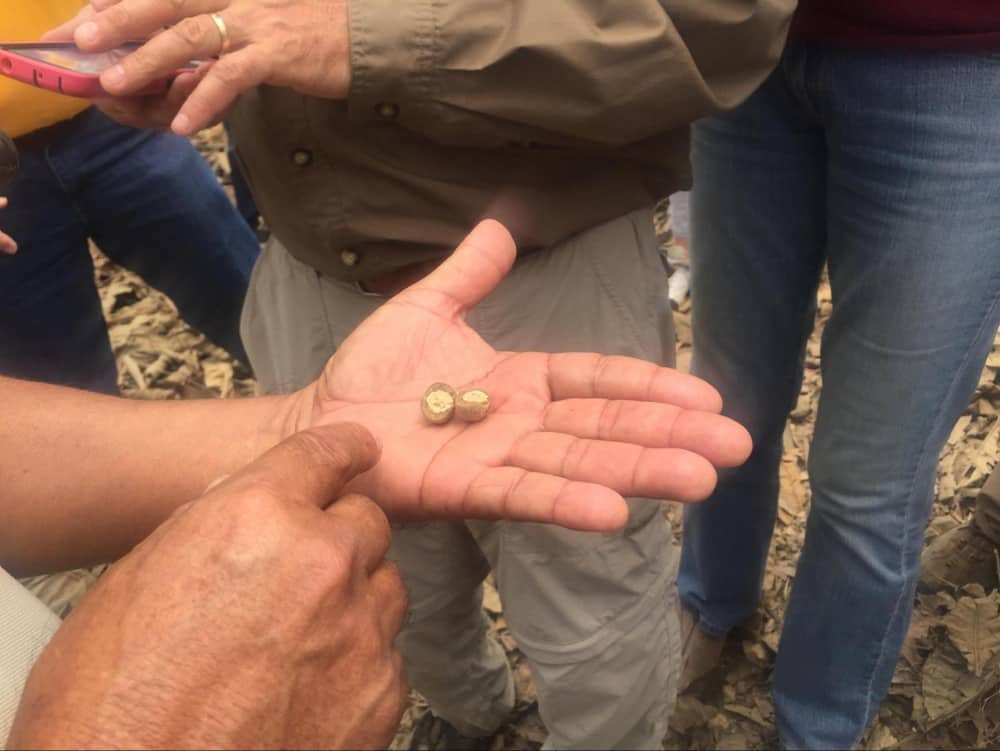 Teak seed pods.
Luis identified a small, smooth, white salamander egg laid in a newly growing palm. Imagine a white Freshmint Tic Tac, and that is how this egg looked.
He shared the story of the 200-year-old cuipo tree in the middle of the farm, explaining the commercial benefits of this tree in the local communities. Canoes are often dug from the swollen trunk and the bark is used for fiber.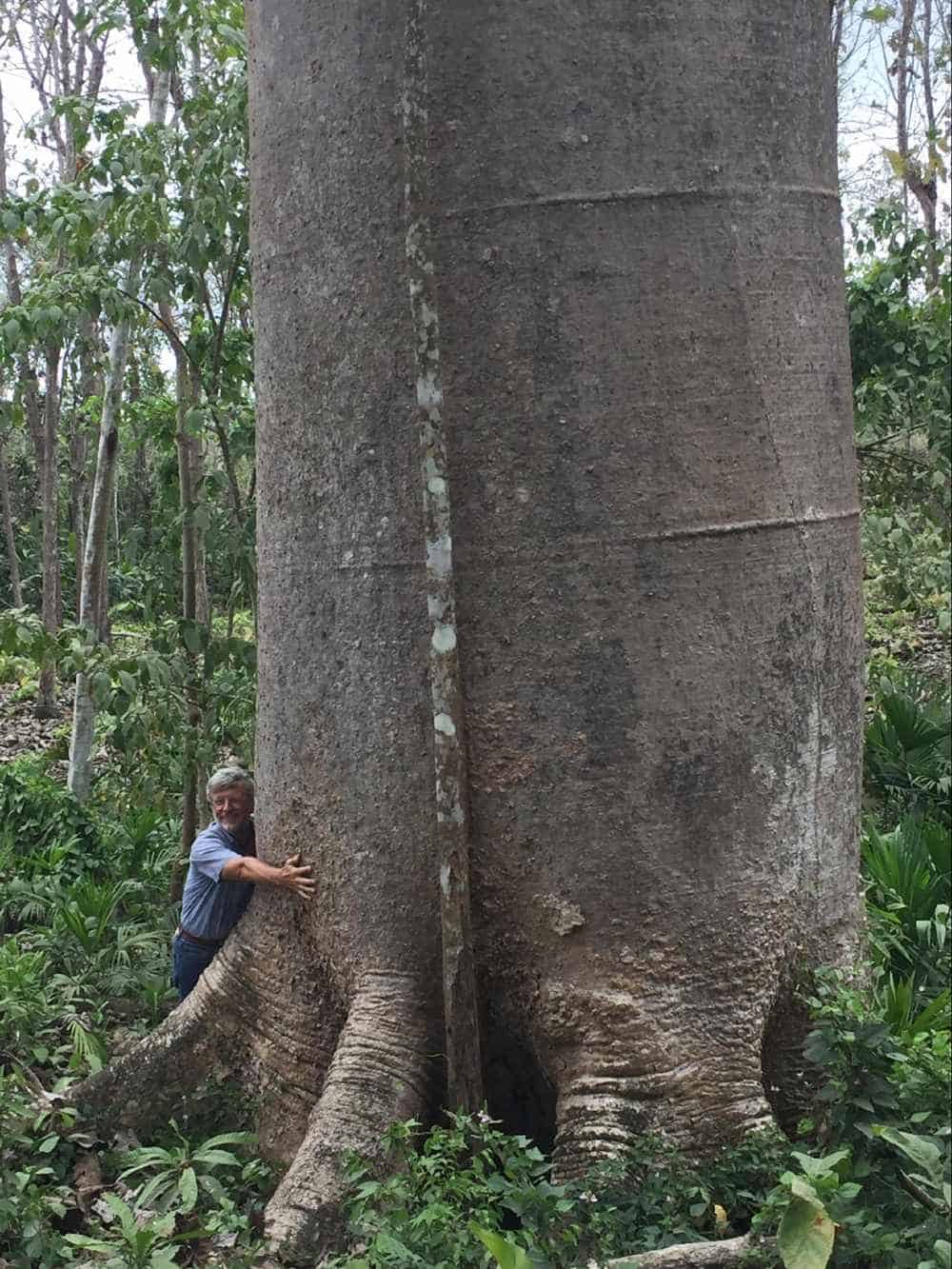 Cuipo has a swollen trunk, storing water.
And he pointed out the worker ants who walked so uniformly on the ground below, distinctly creating their own paths which crossed ours. Colorful spiders ran under the decomposing leaves, trying to hide from the giants stepping above.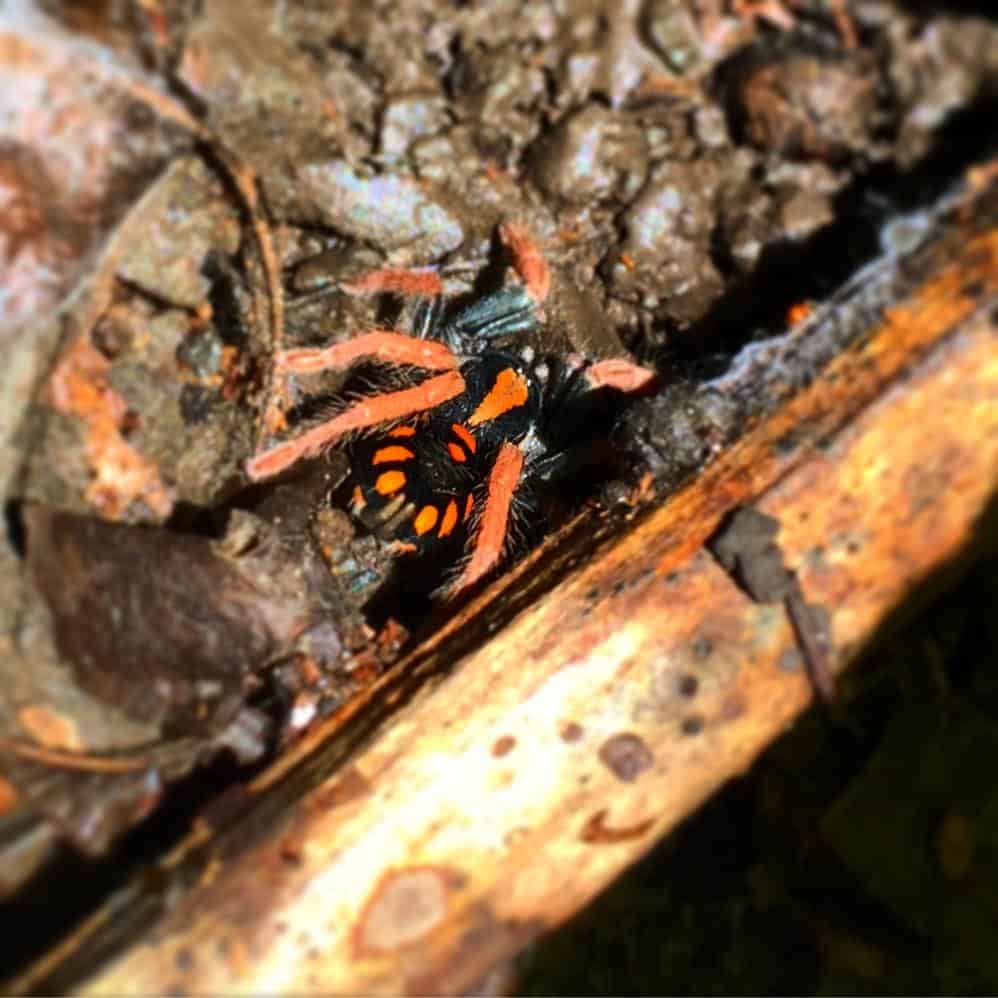 Spiders hiding under the teak tree leaves.
Luis also told us about the naturally growing "uvas de las palmas" – the colloquial name for a local palm fruit (I have yet to find this on the web) – and took a bite, with everyone else following suit. Luis explained that when workers are in the jungle and don't have water, they'll suck the juice out of these squishy, purple fruits to stay hydrated. Yes, it tasted like grape juice.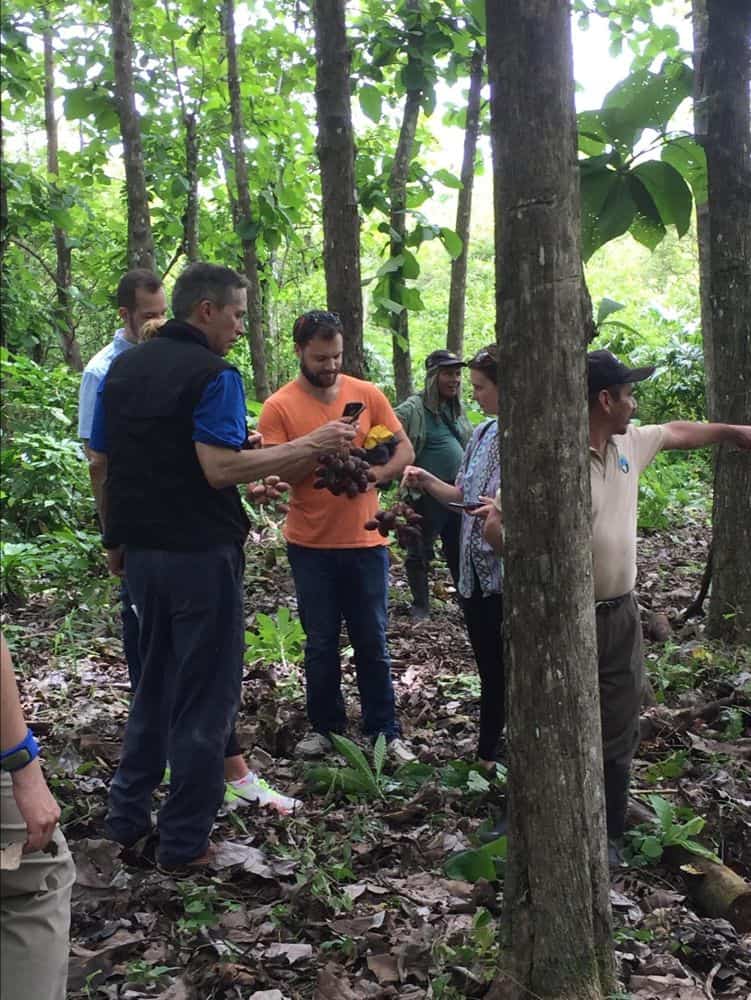 Clusters of the uvas de las palmas.

He even made us a teak bridge to cross the rainy-season stream.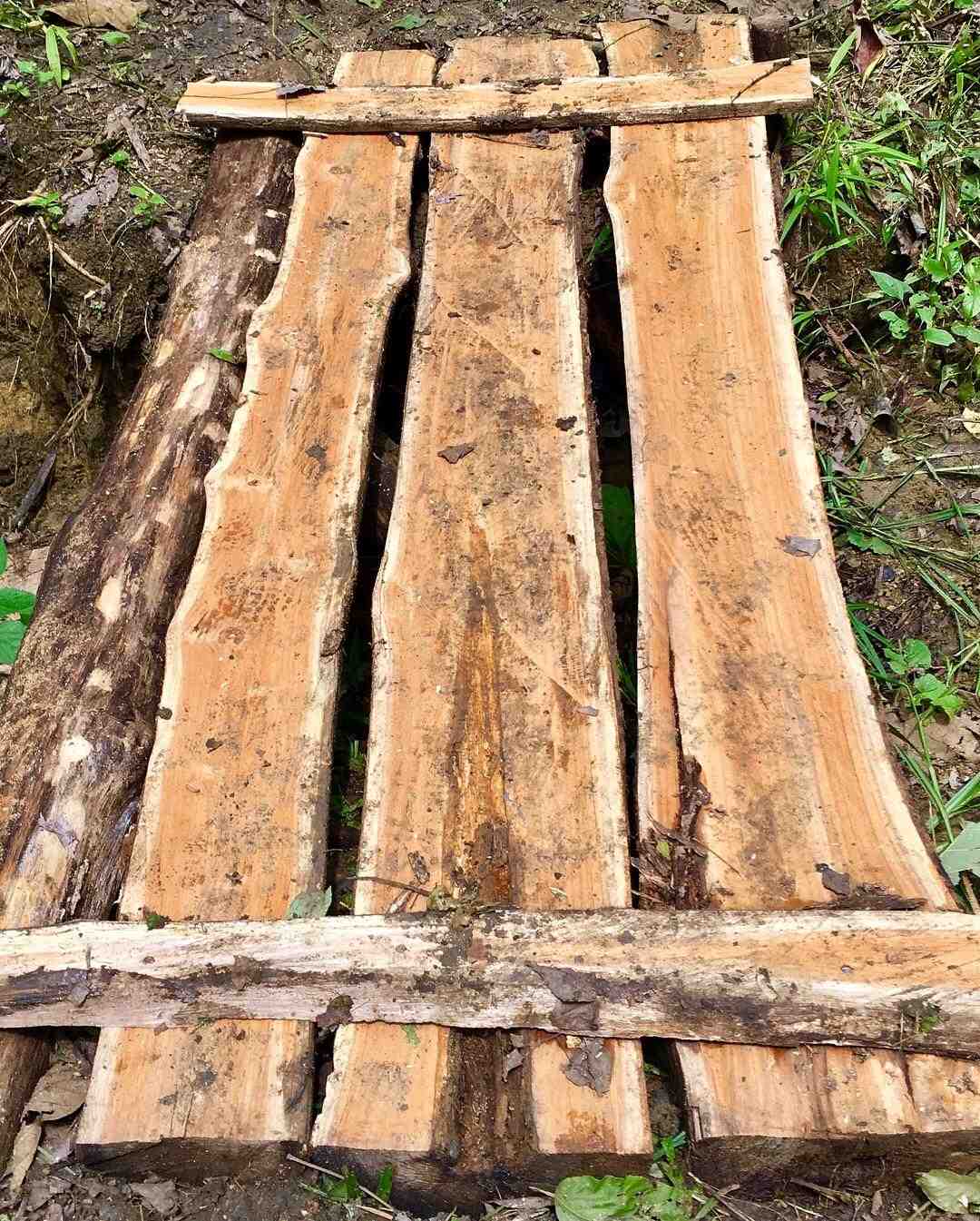 A golden teak bridge – didn't even move when we crossed!
And of course, we hugged teak trees.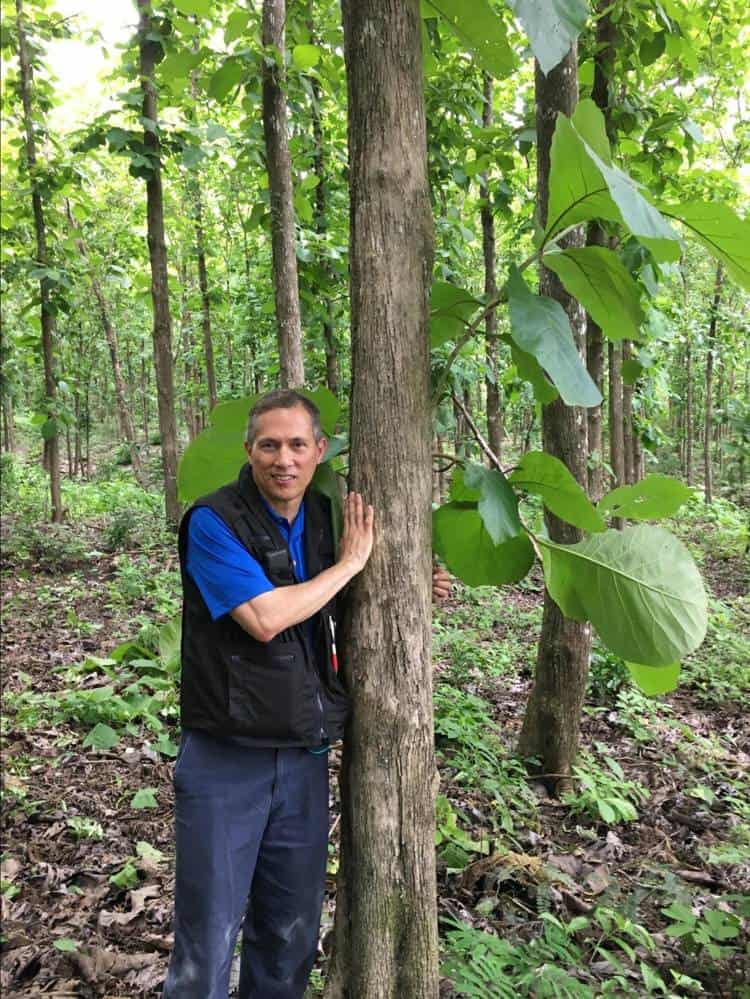 Tree hugger!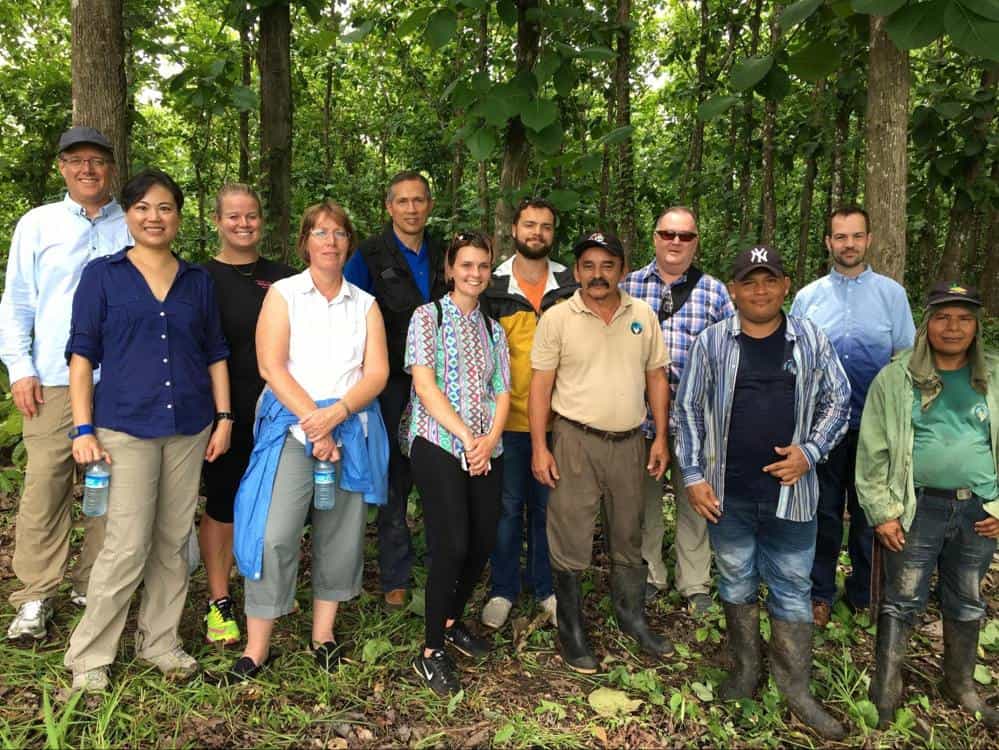 The group, plus Luis, and another GeoForestal worker.
The experience was unique and personalized to what the group wanted to learn.  It was an inquisitive bunch who wanted to understand all about their teak and its surroundings. It is for this simple reason of building a tribe with like-minded friends that these trips are so meaningful. Knowing that we all have a common outlook on what we want to accomplish sets us apart from others. It is why many of you subscribe to Escape Artist – for the global connection.
Due to the frequent incoming requests for field trip dates, we have scheduled another teak tour for Sunday, October 7th – over the long, Columbus Day weekend. For more information about the trip, please click here.
If you are planning to attend the teak tour and are interested in pursuing the Friendly Nations Visa, spend a few extra days in Panama to kickstart the process. When applying for residency, you will need to be physically present in Panama, and October 7th is a great excuse to come on down.
Because the country is quite geographically diverse – from unspoiled Caribbean beaches to cooler climates in the tropical highland communities – you'll easily be able to spend 10 days exploring the country.
A few places to add to your list:
San Blas
A rustic getaway offering an off-the-grid experience in a pristine setting. Comprised of many tiny islands, San Blas is a territory of the Kuna Yalas, the largest indigenous group in Panama. Bring a few good books and some extra bug spray.
Boquete
A brisk climate in the coffee-growing region, Boquete is a refreshing break from the Panamanian heat. Plan a few days hiking around the area and, of course, sipping on a freshly brewed cup of coffee.
Panama City
Metropolitan, yet diverse, Panama City is a unique city offering both new world conveniences and old world charm. Visit Casco Viejo, home of incredible Spanish colonial architecture and delicious cuisine. When you're in Panama City, make sure you check out some of these amazing places to eat:
Makoto ($$$) – A modern twist on Japanese cuisine. Known for its unique fusion flavors and extensive sake bar, when dining at Makoto, make sure you try the spicy edamame.
Tomillo  ($$) – Set in an open-air atmosphere, Tomillo offers a variety of large-sharing plates ranging from homemade chipotle bbq ribs to specialty mac and cheese. Aside from the comfort food, healthier options are also available.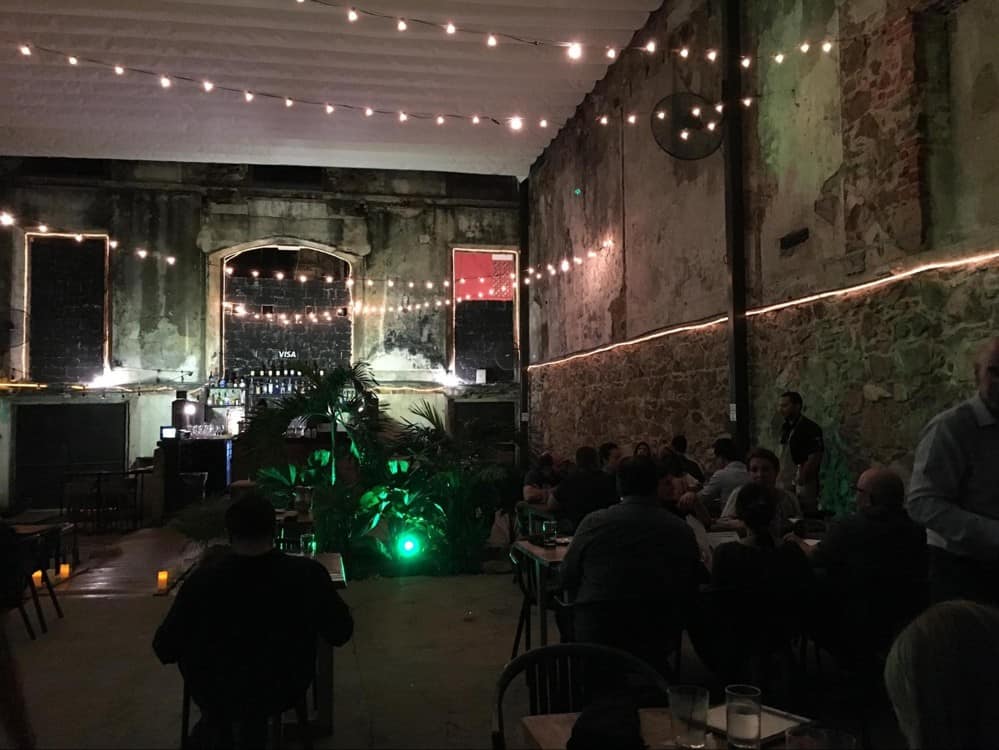 The inside of Tomillo.
Palettamerica ($) – An absolute must for dessert lovers out there! Palettas are a delicious and revitalizing way to end your evening.
Many different ice cream bar (paletta) flavors. Betsy recommends the guava cheesecake.
—
There are many opportunities across the globe, and Panama is just one country out of many. Consider joining us on the next Panama teak field trip on October 7th for a full scope of the opportunities and to meet others who are on the same path as you. Thinking about joining us?  Let me know and we can go through the details.
This article was published in the Escape Artist Weekly Newsletter on June 12, 2018. If you would like to subscribe to the newsletter, please click here.