Millions Left Without Water After Flooding in Chile
Just months after Chile experienced a terrible forest fire disaster, abnormal summer flooding has taken claim of the capital city's drinking water, affecting millions.
Millions of people are left without water in the capital of Santiago after unusually heavy rain led to landslides and flooding. Three people are dead and at least 19 are missing.
Over the weekend, Chile was struck with heavy rains during the usually dry summer, causing rivers to overflow in mountain valleys near the capital. The rains left 375 people isolated, according to the Onemi emergency service. More than 60% of households in Santiago were without water on Sunday.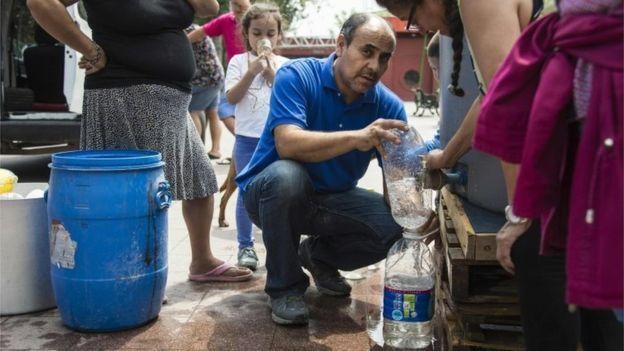 Image source: AFP
The Maipo river has been contaminated and has been cut off to most of the city until the water has cleared. Drinking water has been affected for millions and the rain has made it difficult to make repairs. Aguas Andinas, which provides drinking water to the capital, said it does not know when the water may be restored. An estimated four million people were affected.
Chilean president Michelle Bachelet took to Twitter, saying, "Emergency teams are working on the ground to connect with isolated persons and re-establish the water supply wherever possible."
Governor Claudio Orrego said the conditions in the mountains near Santiago are still quite bad. There were a lot of landslides in a short period of time.

A 12-year-old girl was killed when her family's car was swept away by a landslide in the O'Higgins region, south of Santiago. Two more people died in Cajon del Maipo.
Emergency crews had to clear debris from the roads in the San Jose de Maipo valley so residents could evacuate to less mountainous ground.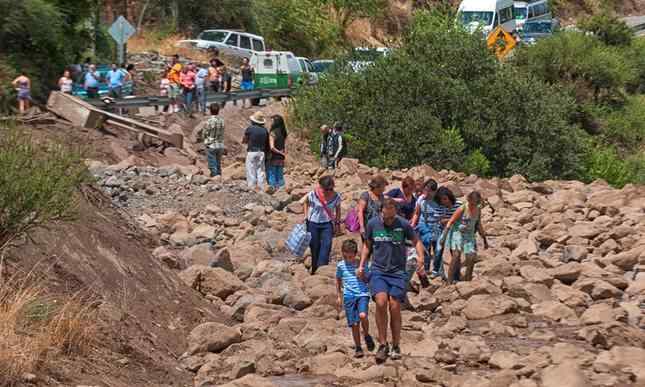 Image Source: Reuters
Orrego also says the heavy rains that began Saturday were "absolutely anomalous" for the summer season.
Many lined up to fill buckets and pans with water provided by the authorities. Stores have reported fights between people, hoping to stock up on bottled water. Some shops have run out completely.
Restaurants have been ordered to stay closed, and the beginning of the school year, scheduled for Monday, has been delayed.
This is the second major flooding incident in Chile in the past year. The first occurred in April in the San Jose de Maipo valley, shutting down production at some of the world's largest copper mines. The floods follow months of drought and deadly wildfires.
The fires devastated homes, farmland, and livestock. The fires were products of the prolonged drought and high temperatures and destroyed more than 700,000 acres of forestland and killed 10 people, mostly firefighters and police officers.