This article was published in the Escape Artist Weekly Newsletter on February 13, 2018. If you would like to subscribe to the newsletter, please click here.
I will never forget where I was when Kate called me.
It was a humid, hot August day and I was struggling to navigate my oversized luggage through the crowds at the Orlando airport. Determined to make it to the Uber pick-up area without accidentally knocking down a mini "Minnie" impersonator, I ignored my phone that continued to ring. After about the 3rd call, I finally dug inside my black-hole of a purse to answer.
It was my island friend, Kate, who was calling to see if I wanted to work with a group of other motivated young adults in San Pedro to charter the Rotaract Club of Ambergris Caye. Knowing what Rotary was from previous membership in New Orleans, I had an idea of what she was referring to, and I agreed. She said to stay tuned and that she'd send me the details after the upcoming information session.
I was curious now. I parked my suitcases against the wall and pulled up Safari to read more about the history and the goals of the Rotaract Club. It surprised me to learn that Rotaract was started 50 years ago, as a service-based subset of the Rotary Club, specifically for 18-to-30-year-olds as a means to get involved in the community and to achieve professional and personal development. I had no idea this subset existed. No wonder I was the youngest member of Rotary New Orleans!
Fast forward a few months…
After many hours of meeting with representatives from our sponsor group, the Rotary of Ambergris Caye, our club was officially chartered as the Rotaract Club of Ambergris Caye. The board and directors were elected, our club mission statement was decided, and ideas were put in motion.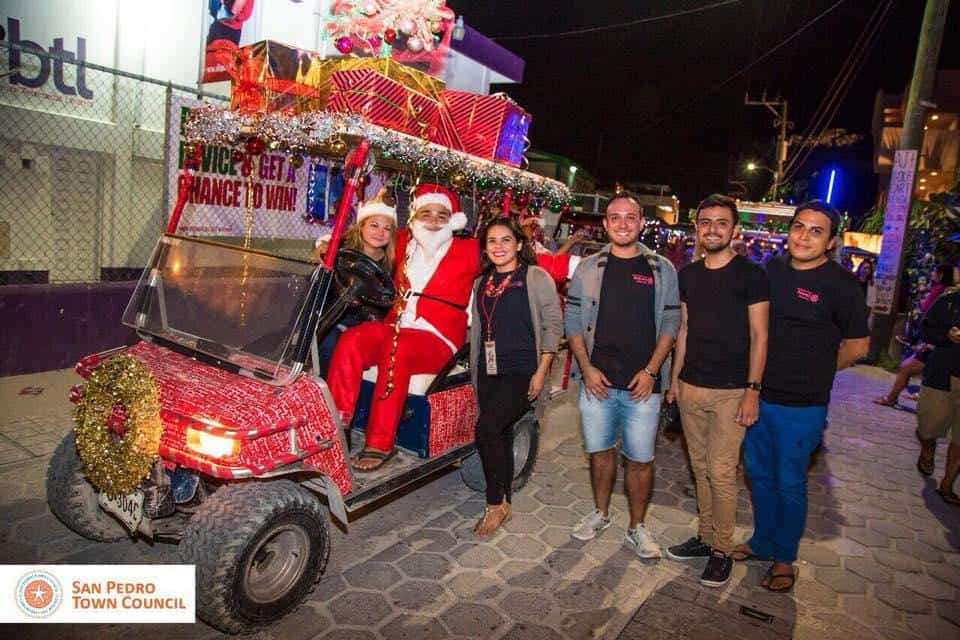 One of our first events as a club, the LoveFM Christmas Parade in San Pedro.
Over the short six years that I have spent on Ambergris Caye, there have been specific moments of progress that have stuck with me. Moments such as the day the first vegan restaurant opened on the island (can you believe it took until this past December?!), when fiber optics was installed in our office, and when Skype was no longer blocked.
And the moment when our club officially became chartered made it to the top of this list as one of the most significant moments for the community. Here, around a table at Fido's, sat a motley crew of 18 individuals comprised of both locals and expats, most of whom did not know each other prior to joining Rotaract, united to serve the community. It was an incredible sign of togetherness on our Isla Bonita.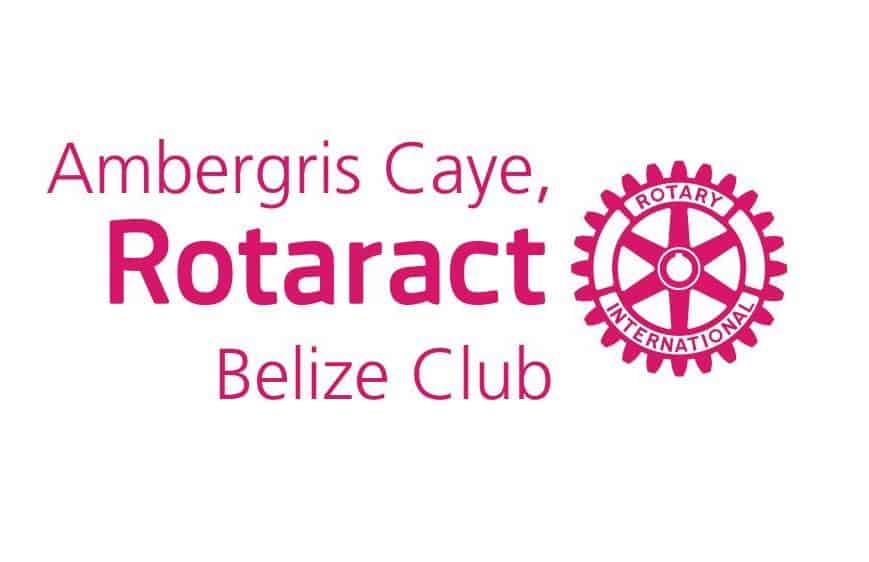 Our newly chartered group was invited to join the other Belize clubs in Belize City for their annual national weekend meeting, InterCitadina. Five of us had the opportunity to attend, and as new members were introduced to the many traditions and goals of our Belize cohort. Although we were newbies and overwhelmed by all of the new acronyms and awards, the unwavering support from the other club members was extremely encouraging. One of the most meaningful takeaways from the weekend was the understanding that Rotaract is a way of life. It is not just a club or a social event, but rather a selfless lifestyle practiced through service and professional development. This passion was apparent throughout the meeting, as Rotaractors presented the success of their club's projects and touted the noteworthy accomplishments of their members.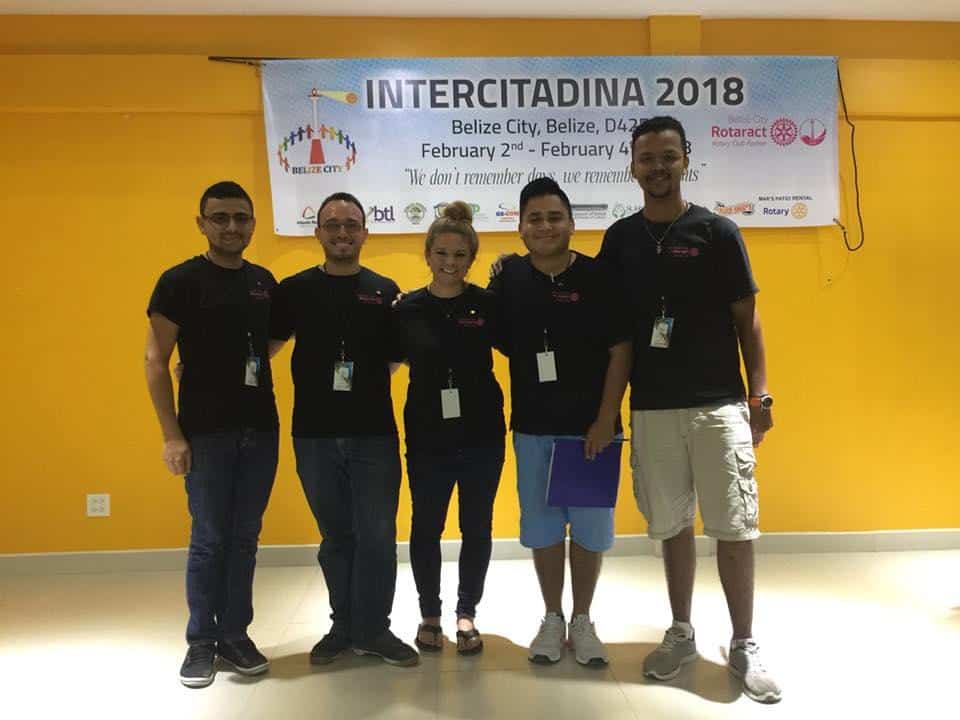 The Rotaract Group of Ambergris Caye!
Meeting other Rotaractors at InterCitadina made me even more confident that our club had nominated the right president – and I'd like to introduce him to you because he is a true inspiration for all young adults. Because of his continued passion for getting the club started and his nature for doing good, Job Mendizabal was elected the President of our newly formed club. With an entrepreneurial background in selling flowers in Belize City as a kid, to now working two jobs to support his dreams, this 20-year-old serves as our fearless leader. When I asked Job why he wanted to start Rotaract and what it meant to him, he explained it to me:

"It started as a small idea within the Rotary Club of Ambergris Caye to form a Rotaract club on the island. Five months ago, I was invited to start the club and today we have grown to 18 members. The Rotaract club of Ambergris Caye has been a life-changer for me.
I joined because of the inspiring stories of third generation Rotarians, the legacy their grandparents left their parents, and now left to them. Our Rotary advisor, Kate, has served as an incredible inspiration and mentor during this process of chartering the club. As I have been voted charter president, I see the potential and the impact this club can have on young adults, not just here but around the globe, to get involved and grow as leaders in their own community – to move past the status quo and to create a world that alters futures by developing skills and potential while also giving back to the community!"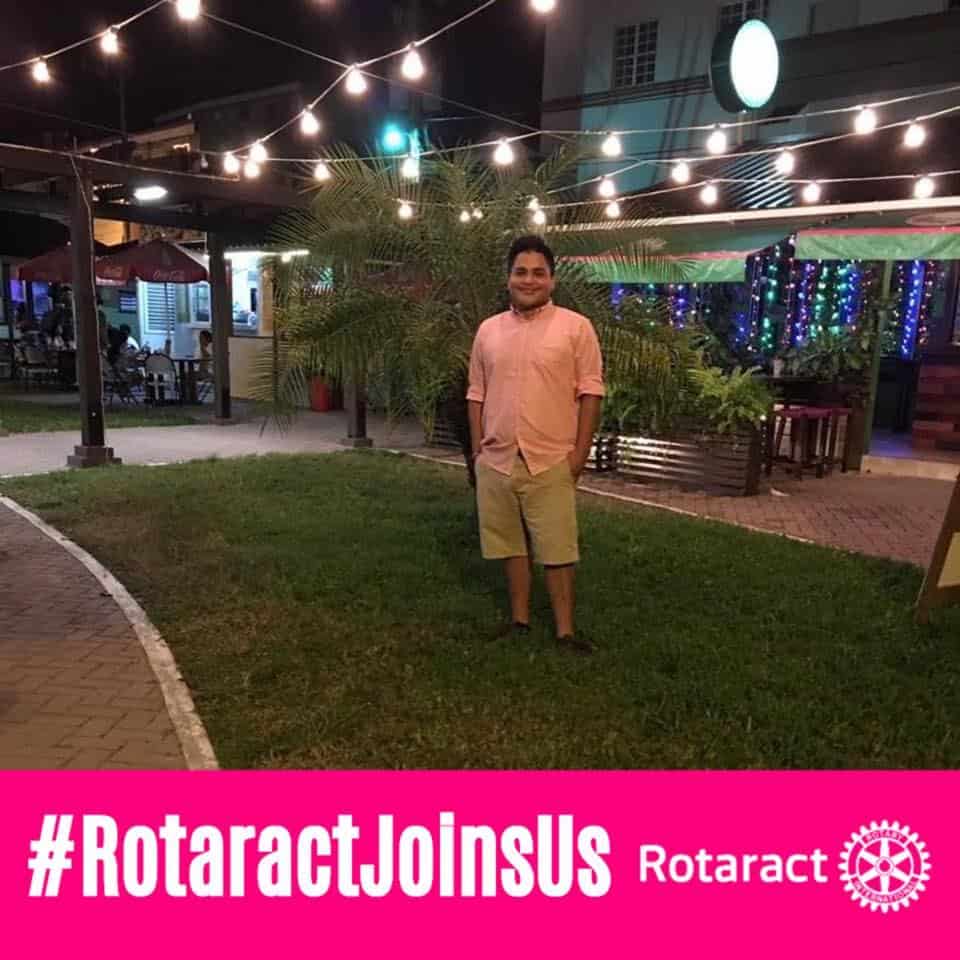 Job, the Rotaract Club of Ambergris Caye's president.
Because we are a new club, much of our focus has been on raising awareness of the club on Ambergris Caye through events such as the golf cart parade and raising funds.
Vice President Kyle Vasquez shares the latest happenings from this past week:
"To commence the Carnaval festivities on the island, the Town Board organized a small block party where they offered booths for people to either sell items or promote their business. The Rotaract Club of Ambergris Caye took advantage of this opportunity to organize a small bake sale in efforts to obtain funds to conduct future projects for the group. Thanks to the efforts of the members, we sold Oreo cheesecake, vanilla caramel cake, brownies, carrot cake, rum and pecan cake, cupcakes, and banana bread. Over $200 USD was raised.
On Sunday, the Rotaract Club of Ambergris Caye pledged to host dinner at the food bank as part of a follow up to our previous Merry Boxes campaign done in December. Members and volunteers prepped stew chicken and coleslaw, as well as rice and beans. The leftover goodies from the previous nights' bake sale were served as dessert for the night."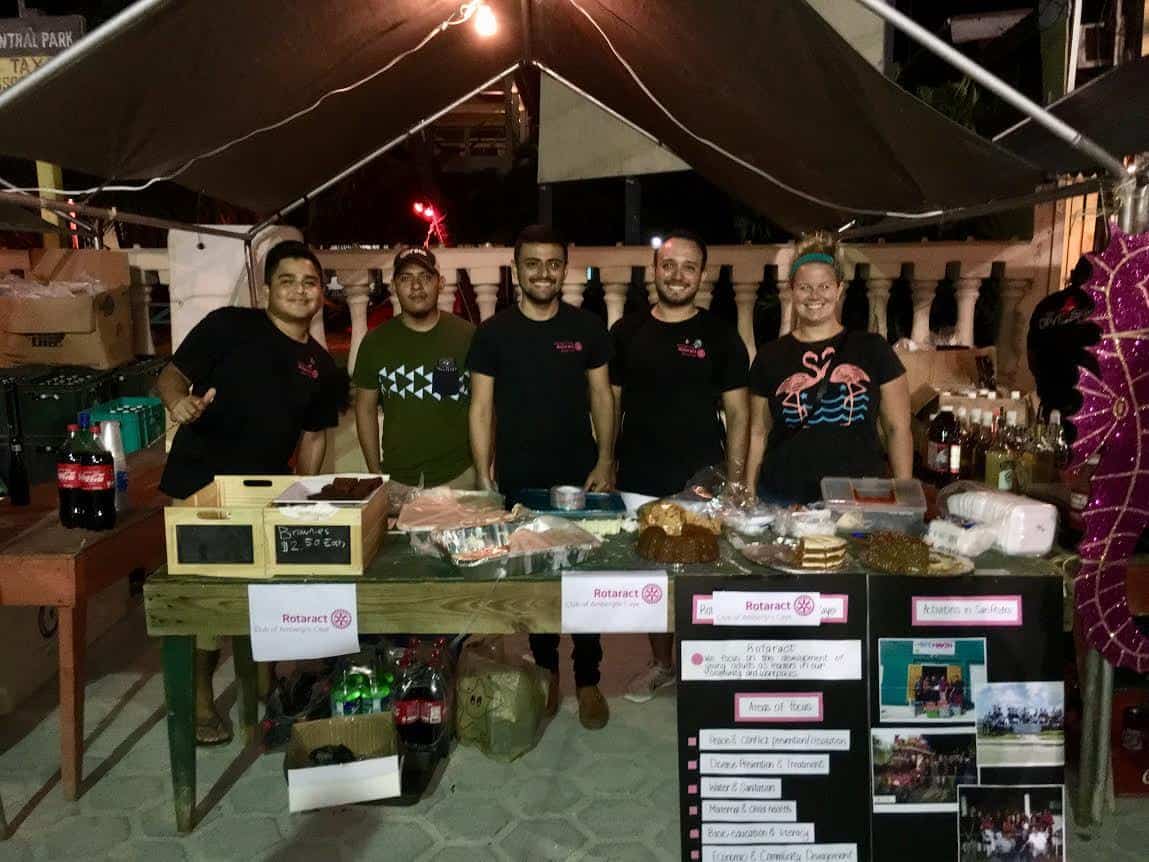 Rotaract Ambergris Caye at the Bake Sale. Kyle is the 2nd from the right.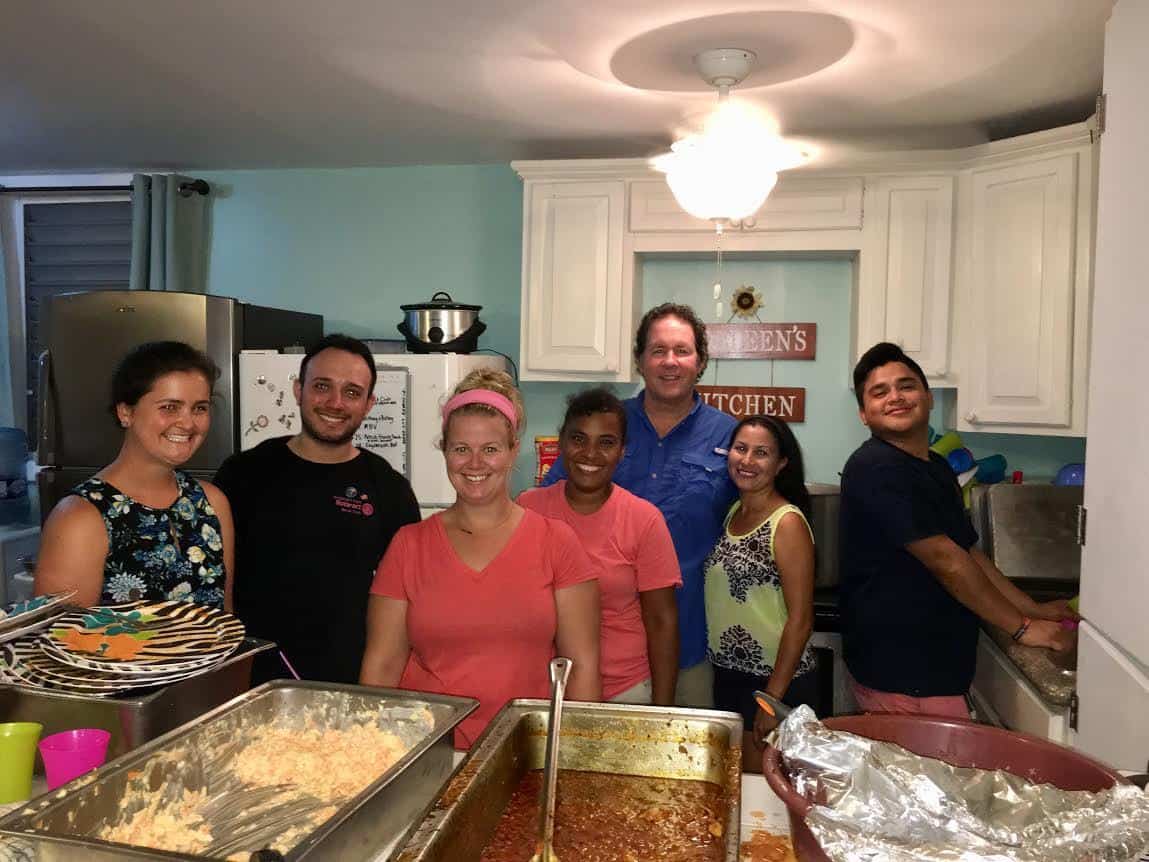 Rotaract Ambergris Caye at the Food Bank.
The reason I write this article is twofold:
To raise awareness of the opportunities for 18-to-30-year-olds around the world. 75% of people I talk with have no idea what Rotaract is, however, they have heard of Rotary. With Rotaract being an international club, hosting over 200,000 members in 170 countries, there is a unique opportunity to grow, learn, and give back through an incredible network of like-minded young adults.
As a very young club, we are still navigating through uncharted waters, learning what we can from our Belize Rotaract predecessors and from experienced Rotarians. We are open to partnering with sister clubs and learning about what other clubs have done. If you're involved in a community service outlet, perhaps Rotary or Rotaract, please feel free to share your efforts and extend your support. It is exciting to hear what others are doing and to grow together, regardless of the borders that may geographically separate us.​
The community of Ambergris continues to grow, as does the larger, international club of Rotaract. It is a monumental time for the island in many different regards (tourism, infrastructure development, general growth), and it's inspiring to see the people support each other.
This article was published in the Escape Artist Weekly Newsletter on February 13, 2018. If you would like to subscribe to the newsletter, please click here.