Are you thinking about visiting Southeast Asia for the first time?  Don't be surprised if you come across a sign like the one above, in the hallways of your hotel or hostel.  You have probably seen "No smoking" and "No pets" in your previous travels, but no durian?  What in the world?
Durian is a species of fruit native to the southeastern region of Asia, predominantly sold at street markets in Thailand, Malaysia, and Singapore.  They consist of a thick, thorny outer husk that protects the yellow fruit in the middle.  So, what's all the controversy about?
They reek.
In fact, the odor is so repugnant that many places ban their guests from bringing durian into their establishments, whether shelled or peeled.  And if you do, you are heavily fined.
The taste is often debated.  As Anthony Bourdain so eloquently put it, durian is, "Indescribable, something you will either love or despise…your breath will smell as if you'd been French-kissing your dead grandmother."
Not sold on the idea of tasting durian, while in Thailand we avoided it like it was the plague.  Instead of choosing it at the street markets, we opted for the freshly cut pineapple or dragon fruit instead.  What we didn't understand was why people, most notably the locals, were buying and eating it – and appearing as if they were enjoying it!
After 10 successful days of avoiding durian in Thailand, we made our way to Singapore. Our local friend asked if we had the chance to taste this controversial fruit yet.  Answering no, he drove us to Holland Village, a popular area of the city, well-known for its plethora of shopping and higher-end dining options.  However, we weren't going somewhere fancy.  We were heading to the durian parking lot markets.  Because no one wants to bring the durian into their home, isolated pop-up seating areas were created for families and friends to enjoy their fruit without having to stink up their car or home.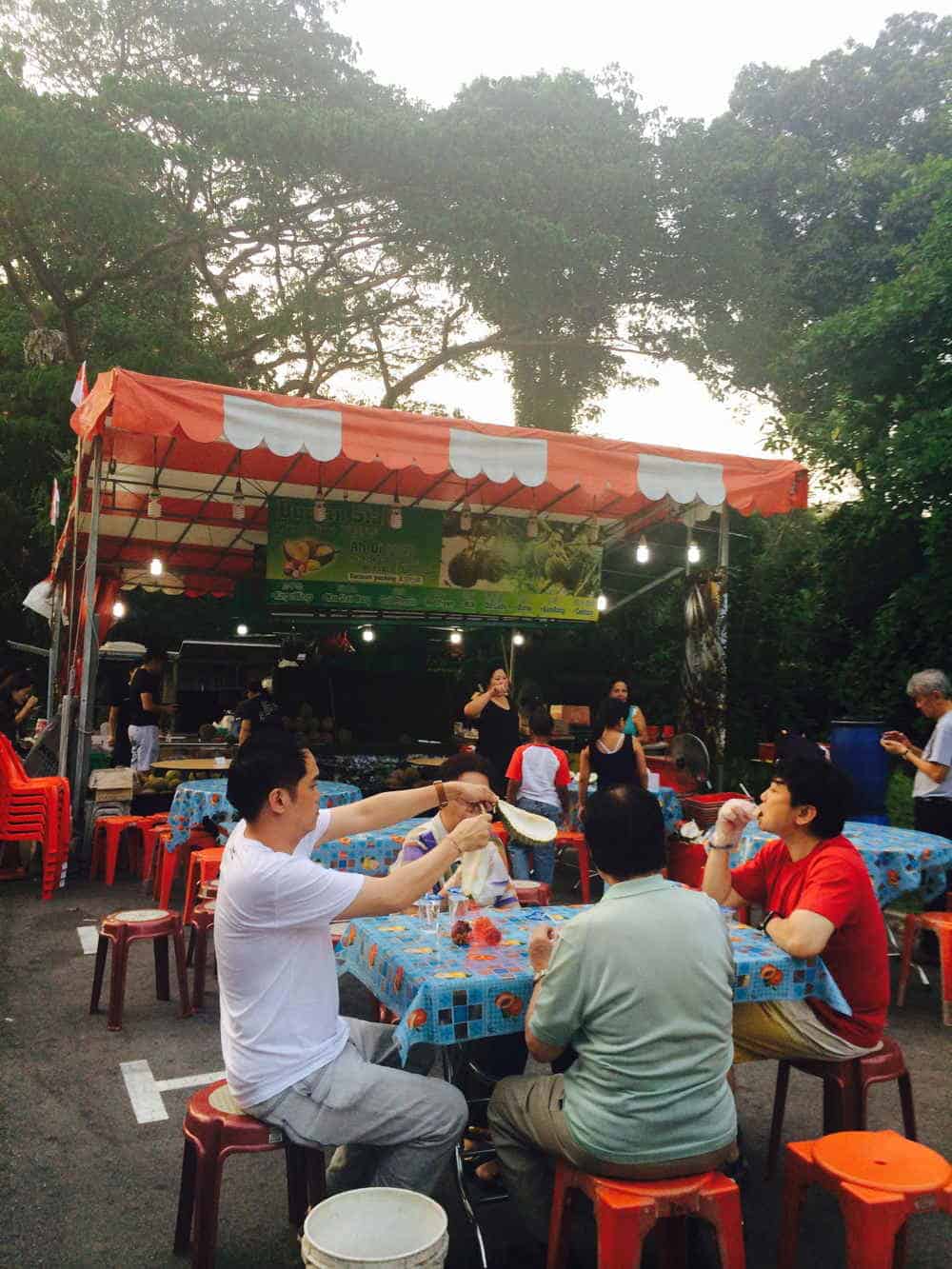 There were buckets of durian to choose from.  Our friend milled around the buckets, picked up a football-sized fruit, smelled it, and deemed it to be ripe – he handed it to the gloved worker to weigh.  Costing roughly $25 SGD ($18 USD), we carried the shelled fruit in a tightly sealed plastic bag to the trunk of the car.
Upon arriving back to the house, the housekeeper rapidly moved the durian into the backyard to cut.  She told us if we wanted to eat it inside, it would have to be quick.
…The moment of truth.
I took a bite into the yellow, custardy flesh of the fruit and my taste buds exploded.  The texture was creamy, but the taste was what old socks smell like.  Some say durian is a sweet and savory mix, like a combination of garlic and caramel.  I tasted neither of those.  Let's just say one bite was enough.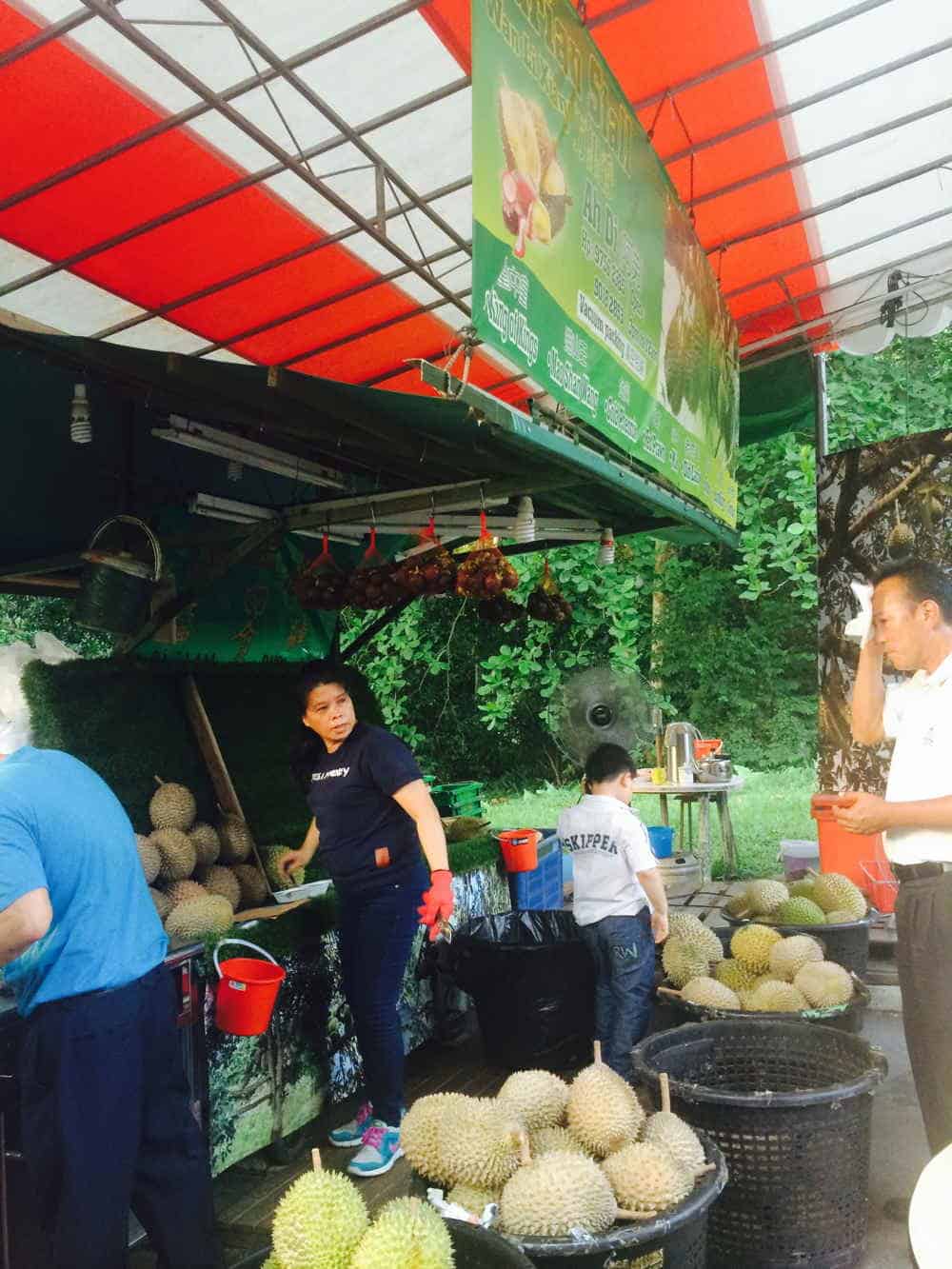 Because of the smell and the extremely short shelf life of the fruit, the housekeeper wasted no time in discarding the remaining durian in the outdoor trash bin.  Just as quickly as our durian experience started, it ended.
I have a feeling I didn't quite sell you on tasting durian, but when in Southeast Asia, it's worth a try.  Perhaps split it with your travel mates, so you don't end up with a full fruit.  Many folks like it, others don't.  Maybe you will.  Just don't bring it home with you!