I'm not much of a foodie, which is probably good since my travel buddy (and sister) Melanie is a vegan – and a picky vegan at that. What that means is that whenever we take a trip together, at least one meal per day is at a vegan/vegetarian restaurant. In the United States, many places in major cities often struggle with understanding the term "vegan." Now imagine being in a non-English-speaking country where meat, or cheese, or eggs are a culinary staple. It's not easy. It typically brings us off the beaten path, but she always manages to find a place.
A couple of months prior to our Euro-trip last year, Mel began her hours of research to line up the restaurants in each of the cities we were going to visit. The city she was most excited for was Amsterdam – a place where, little did she know, the city center streets are lined with fancy hot dogs, gouda cheese, and cheesy fries.
She stumbled upon a restaurant offering a 5-course, themed vegan dinner that changed every few weeks depending on what produce was in season. They don't post their menu online, but the reviews were great and I went along with it. Melanie committed to a date and booked an "eat'inspiration" (I'll share what that means later…) reservation for 2. As our dinner date approached, she couldn't wait. To be honest, I had a hard time getting excited about another vegetable meal.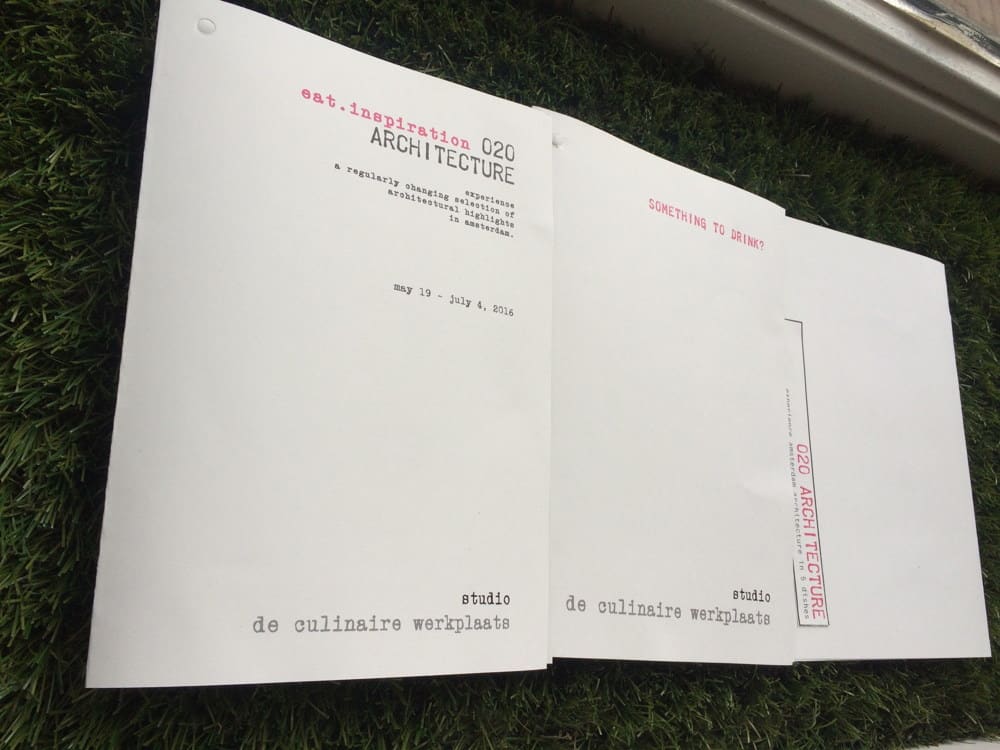 We knew ahead of time that the theme was going to be "architecture," but what does that really mean when it comes to food? Put French fries in a heaping pile and call it a pyramid, right? I couldn't have been more wrong.
—-
Melanie and I enjoyed a half-hour walk to the restaurant from our hotel. It was on the other side of the city center, away from the Heineken Factory and the Red Light District, in a residential part of Amsterdam. The door was inconspicuous and we only knew we were there when our GPS told us we arrived. We didn't really know what we were walking into…
The interior was modern and cozy, with high ceilings and an open floor plan – a similar feeling to that of a warehouse art studio. The prep area & kitchen were located in the middle of the floor – no walls, no glass, no barriers separating us from the chefs slicing, dicing, and chopping. There was seating for about 20, and we were the first ones there.
Upon being greeted by our first names and seated, the owner, Marjolein, came over to share her background and explain the night's menu. Her inspiration came from what is so easy for the Dutch to take for granted: the country's architecture. She chose five unique structures throughout the Netherlands and re-created them through the blending of organic, fresh produce. She called each structure an "edible story." The eat'inspiration, I then learned, referred to the "edible stories of regularly changing inspirational concepts, like black, time or emotions." We went through the specially crafted menu page-by-page, and she familiarized us with the buildings and how each plate would be assembled.

Her passion for her edible artwork was overflowing. Both Melanie and I were enthralled and excited to enjoy a new (to us), more interactive dining experience. She thanked us for coming, and our first treat was brought to the table – a cocktail derived from 3 homemade cocktail cubes that, when melted together, created the perfectly blended beverage. To kickstart the melting of the cubes, a lukewarm carbonated simple syrup mix was poured over the ice, and then the contents in the glass were torched.
It tasted incredible.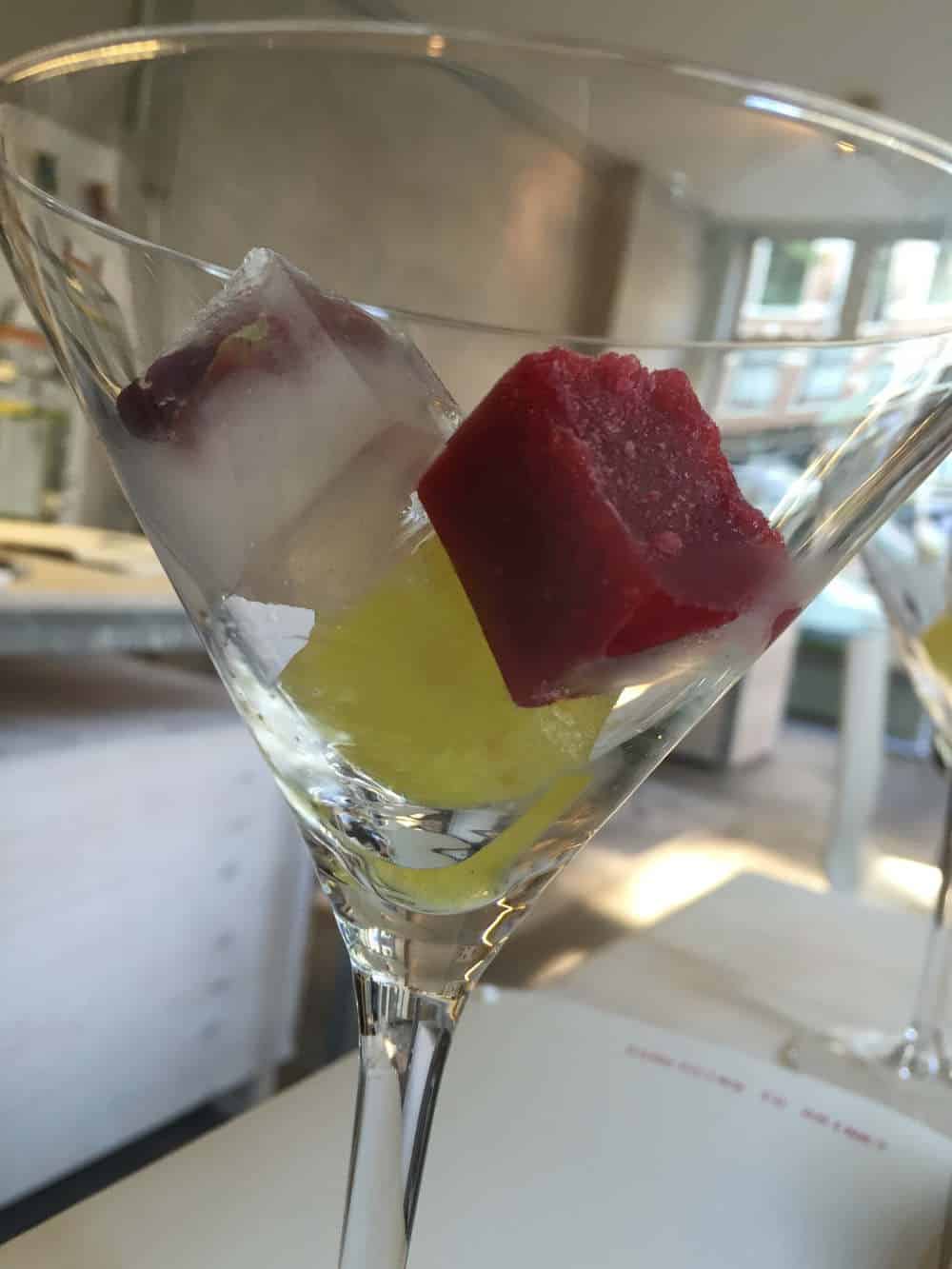 Before the cubes started to melt.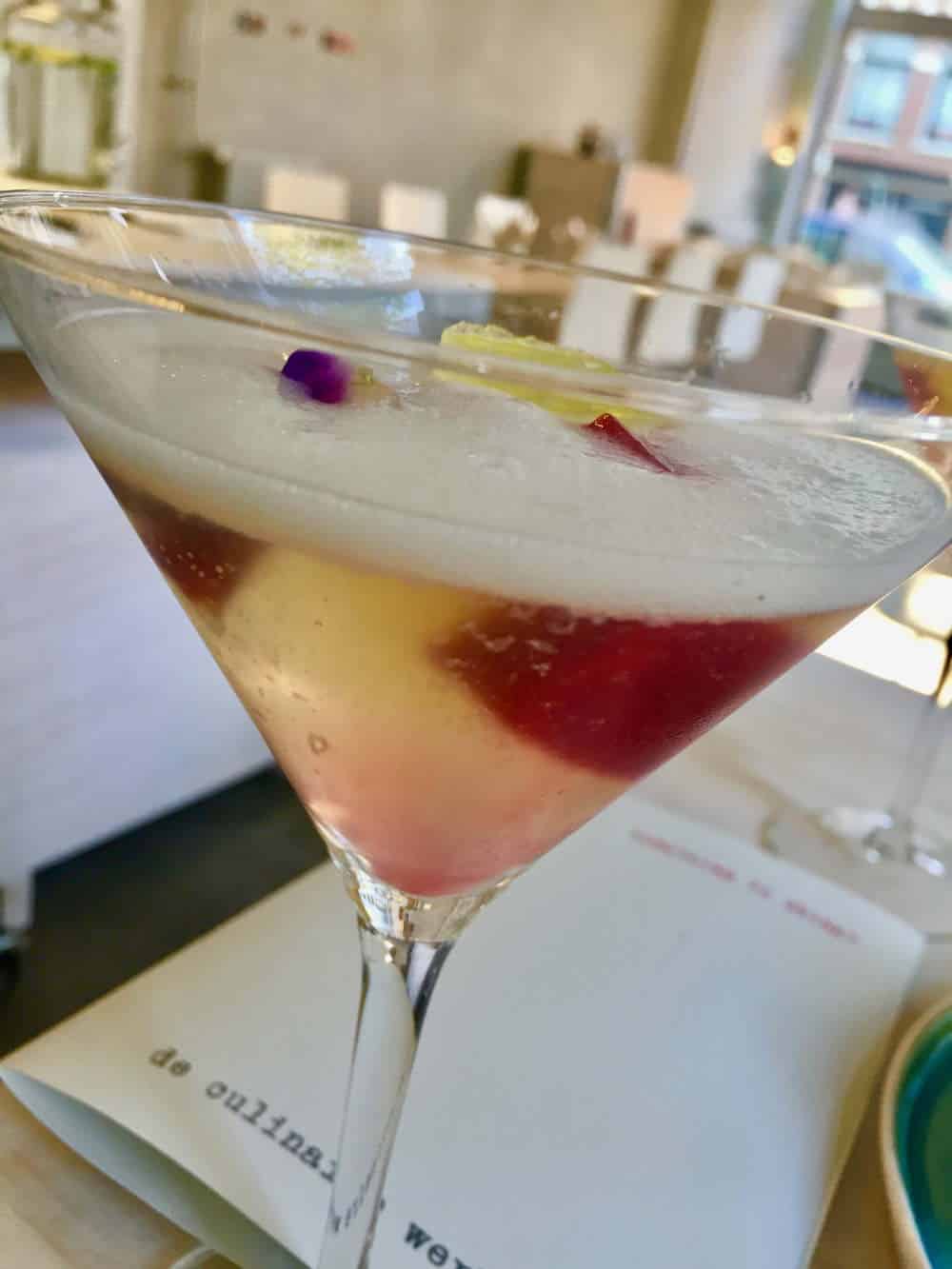 After the mix was poured in and the cubes were torched.
The dishes came out one-by-one, and each time the chef spent a couple of minutes further explaining the foods on the plate, where the produce came from, and asking if we had questions. In between dishes, Melanie and I observed the chefs' precision as they carefully prepared the next dish at the table right beside us.
We enjoyed five truly exceptional dishes and a couple of specialty cocktails, and we learned the art of mixing concepts with edible realities. The entire experience was a true culinary masterpiece. The color contrast and presentation of each plate was visually appealing. The thought and story behind each dish was personal to the owner. And the combination of flavors was overwhelmingly fresh and unique. This was by far one of the best meals I had eaten and experienced. The ambiance, personalization, and culinary creativity that went into this restaurant gave me a new appreciation for dining out.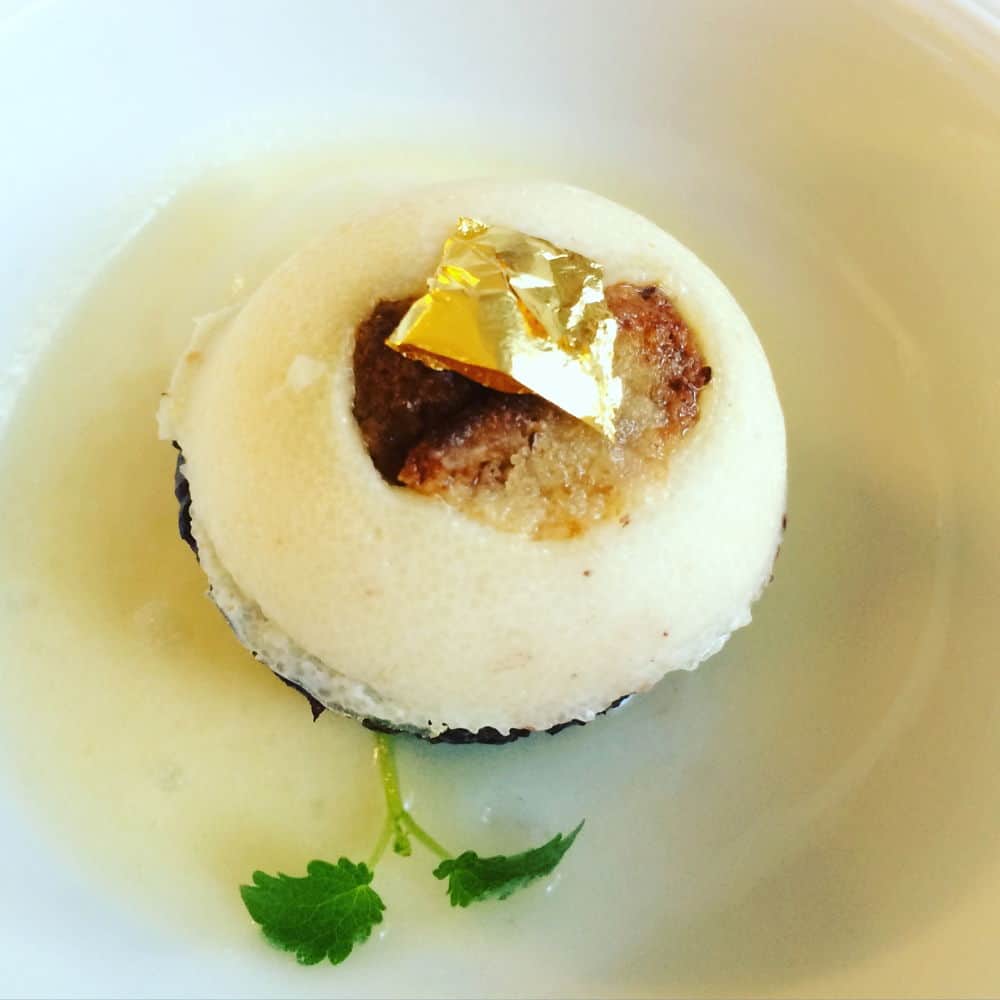 The neat part about writing this article is that you, and your fellow Escape Artist readers, are so international and may have had similar, eye-opening experiences while dining out. Please share those, as everyone can benefit from a fresh new perspective. Feel free to reach out to me with some suggestions!