Google Trips is the best of the travel planning apps. It's not a reservation or flight app, it's about what to do after you get to your destination. I've used Google Trips in 4 countries so far and it's great… like having a personalized tour guide in my phone.
First, let me tell you about how I use Google Trips.
I'm on the road 200 days a year, usually flying on short notice to a strange city or country. I've got my usual ports of call, Panama, Mexico, Puerto Rico, San Diego, and Belize. In between, I'll fly from place to place for client meetings.
I never plan downtime, but often find I have a half day to checkout my port of call. This is where I find Google Trips to be the most helpful… in finding things to do nearby with no notice. I download the city when I've got wifi and look for ideas under the Things to do button.
Google Trips gives you options and location information, including day plans, reservations, things to do, food & drink, and more, so you have everything you need to get out of the hotel and experience the culture.
That's right, you can download the entire city over wifi and access the app while you are offline. This, and turning off data while roaming, will save you big time on your wireless bill.
Fyi… you can also download regions and cities in Google Maps. This will give you offline access to GPS and search features.
I combine Google Trips with Yelp, which I use religiously. These two apps together will help you map out the day and find quality places to hang.  You will need Yelp because the reviews in Google are few and far between. I don't take any rating seriously unless there are at least 150 reviews… in big cities like Los Angeles, that goes up to 1,000.
Most importantly, the entire app is available offline — simply tap the "Download" button under each trip to save the region to your phone. Because you will always have GPS, this should allow you to navigate the area without a data plan.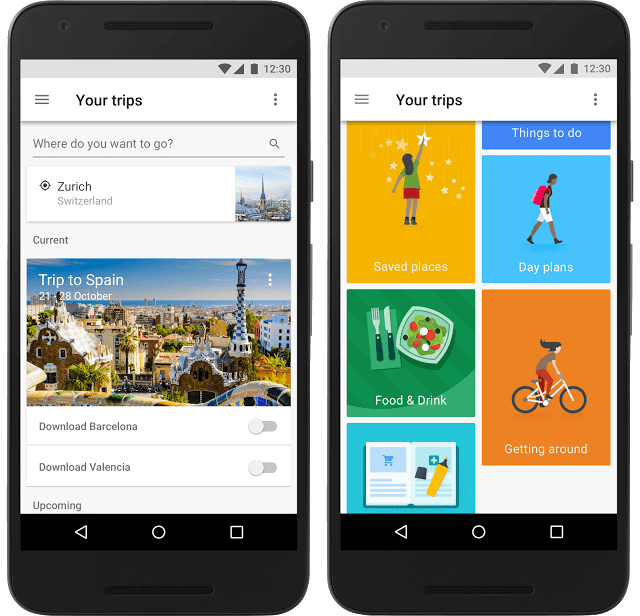 For the top 200 cities in the world, Google Trips shows you a variety of day plans featuring the most popular itineraries. They've assembled the most popular sights, attractions, and local gems into a full day's tour — based on visits by other travelers.
Say you're visiting Panama City, as I did last week. Day plans gave me a cool walking tour of old town and 6 sites around the Panama Canal. The walking tour was great because it showed distance from my hotel to the starting point, and then walking times between the 6 different sites. It also told me what time these places closed… to keep me moving.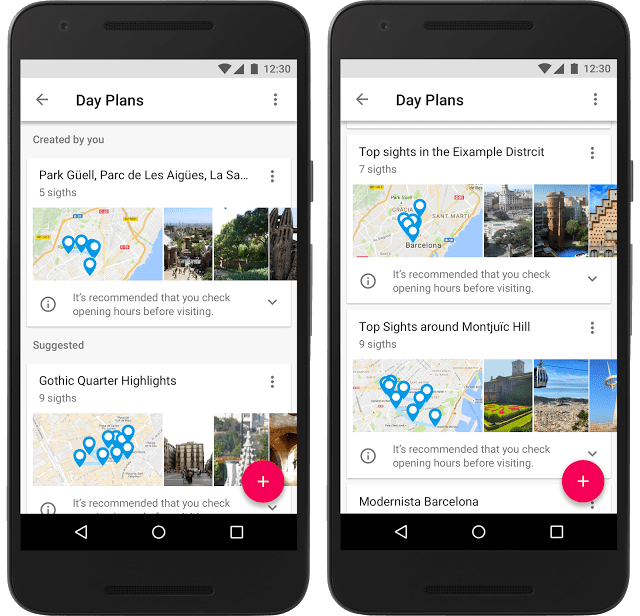 If you can't find a day trip that fits your style, you can create your own around a particular location.
Say your friends told you that you have to see the Sagrada Familia — and you're looking for suggestions on things to do around that spot. Press the "+" button in the day plans tile to jump into a map view containing all the top attractions in your destination. If you're time constrained, you can specify above the map whether you have just the morning or afternoon, versus a full day. Then tap and pin the Sagrada Familia to build your itinerary around it. Google Trips automatically fills in the day for you. If you want more options, tap the "magic wand" button for more nearby sights. You can pin any new spots you like, and if you want even more, each tap of the "magic wand" instantly gives you a new itinerary with updated nearby attractions like Palau Macaya or Parc del Guinardo, so you can build your own custom itinerary in minutes while munching on your morning churro.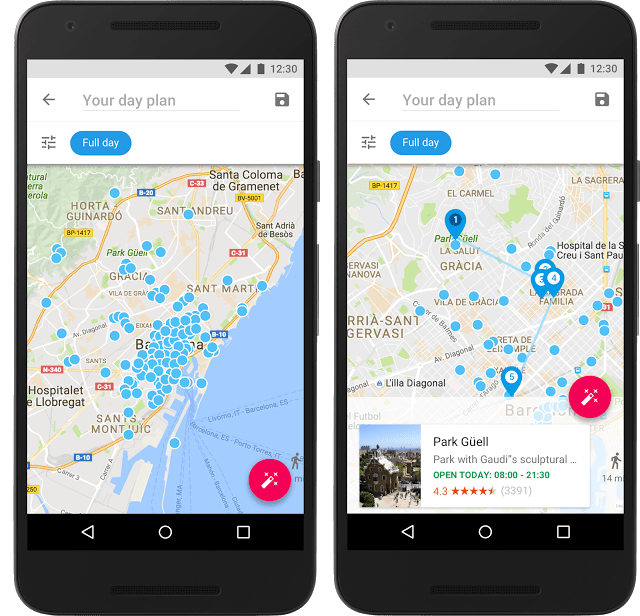 Google Trips will also keep track of all your flight, hotel, car and restaurant reservations. This information is automatically gathered from your Gmail, and organized for you into individual trips, so you don't have to search and dig up those emails.
I like the fact that data is pulled only from my email. It means that you don't need to connect Google Trips into Expedia or whatever travel app you use. This also helps keep your information private because Google Trips only has access to your email.
With the Google Trips and Google Maps and your city downloaded, you have no excuse to stay in your hotel or eat that crappy hotel food. Get out there and experience your city like a local!