This article was published in the Escape Artist Weekly Newsletter on February 12, 2018. If you would like to subscribe to the newsletter, please click here.
It is simply breathtaking to watch a leopard stalk a wildebeest from yards away.
Everything is hushed, with the only sounds the snorts of the wildebeest and the barks of the zebras. The leopard slowly creeps ever closer, hidden in the grass. Suddenly, one wildebeest bolts, the leopard dashes forward, his claws encircle his prey's neck and his teeth fasten upon its throat. The wildebeest, twice as big as the leopard, thrashes for an instant then goes down to be strangled to death.
It happened so fast I only got this one shot: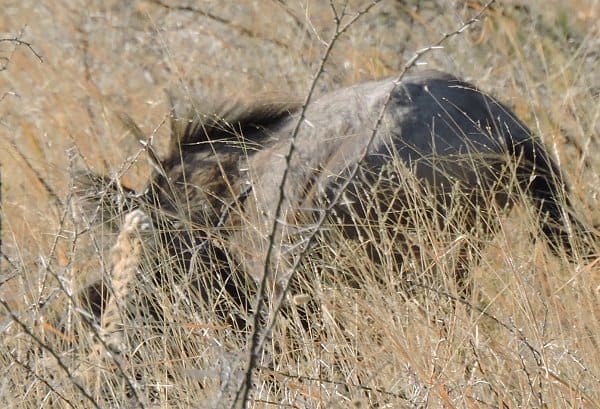 We are in Namibia's Etosha Pan on "safari." It was a moment never to be forgotten. All the world's problems, all the issues we worry about, seemed far, far away. Upon returning to our camp, with the obligatory après-safari gin and tonic in hand, we enjoyed a typically spectacular African sunset…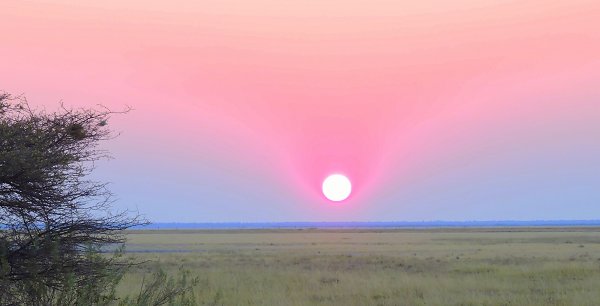 What true Escape Artist hasn't dreamed of going on a safari in Africa? But where? There's a lot of Africa to choose from.
It's almost impossible – even for those who've spent years wandering through it – to grasp just how enormous Africa is.
The world's largest country is Russia at 17 million square kilometers (msk); second largest is Canada at just under 10 msk; the world's largest island is Greenland at just over 2 msk. You could put them all together into Africa with room left over.
Russia, Canada, and Greenland total 29 msk. Africa is over 30.
Yet, within all this vastness, there is only a handful – out of the 50 nations on the African continent – that are "safari countries" to where you can journey (what "safari" means in Swahili) and see huge numbers of big animals in the wild.
Out of them – such as Tanzania, Kenya, Zambia, Zimbabwe, and Botswana – my favorite is Namibia.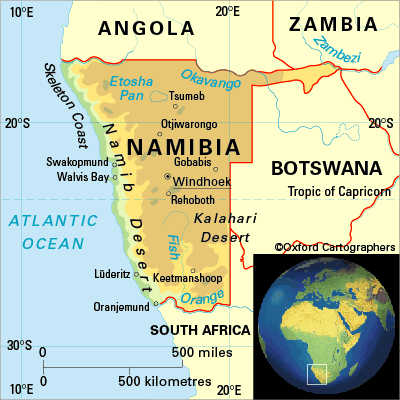 It's a large country, 50% bigger than France, 20% bigger than Texas, 34th biggest in the world – yet one of the least inhabited (239 out of the 246 ISO list of Countries & Dependent Territories by Population Density).
It's also the best run, most efficient, safest, and cleanest country on the African continent. By the gold standard of the 2017 Ibrahim Index of African Governance, Namibia ranks #1 in Safety and Rule of Law, #1 in Human Rights, #1 in Infrastructure, #2 in both Economic Opportunity and Business Environment.
Originally German Southwest Africa, it was created by Bismarck in the "Scramble for Africa" carve-up by Western colonial powers in the 1880s. This was solidified at the 1884-85 Conference of Berlin. One of the most hilarious outcomes was the borders of Southwest Africa, which were retained as agreed in 1884 when it gained independence as Namibia in 1990.
Note the strange panhandle at the top right – that's the Caprivi Strip. At the conference, the big duke-out was between Britain's Cecil Rhodes in charge of Africa colonization for Queen Victoria and German Chancellor Otto von Bismarck.
Rhodes' goal was a British Africa from "Cape to Cairo," the southern tip of Africa all the way to the Mediterranean. As you can see by this pre-WWI map, German East Africa or Tanganyika (now Tanzania) was in the way. Bismarck's goal was "Atlantic to Zanzibar," connecting his East and Southwest Africas together – but Rhodes' Rhodesia (Northern now Zambia, Southern now Zimbabwe) was in the way.
To create a wedge of Southwest Africa splitting Rhodesia apart, Bismarck ordered his conference negotiator, Count Leo Caprivi, to demand an extension of territory all the way to the Zambezi River, giving access to the Indian Ocean into which the Zambezi flowed.
To Caprivi and Bismarck's surprise, Rhodes agreed, signing off on the creation of the "Caprivi Strip," terminating at a specific point on the Zambezi. Rhodes, you see, knew what the Germans didn't. He knew about Victoria Falls and its location from fellow Brit David Livingstone who discovered it years before. Thus, Rhodes made certain that the Germans' Caprivi Strip ended well above this: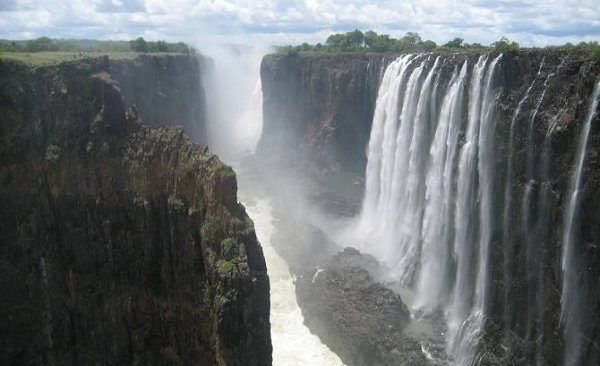 Victoria Falls
Good luck getting boats over that, Otto.
Namibia is a fascinating example of Africa's bizarre political geography – but far more fascinating is the country itself. First is you have it virtually to yourself. In other famous places like the Serengeti in Tanzania or the Masai Mara in Kenya, you'll have 30 zebra-striped safari jeeps and vans chock-a-block full of camera-snapping touristas around every lion or cheetah.
Not here. Just you and the animals.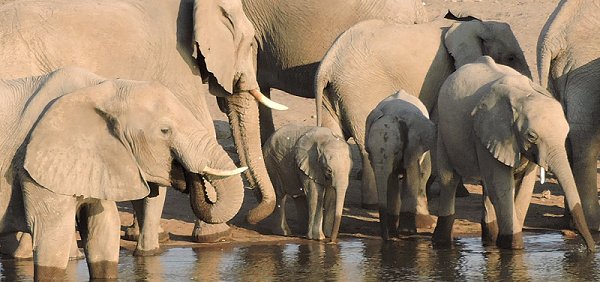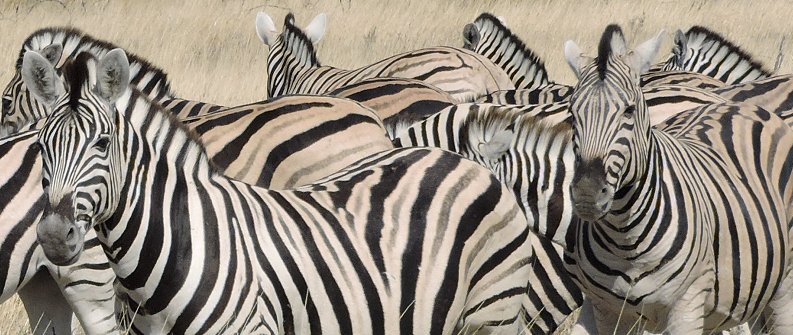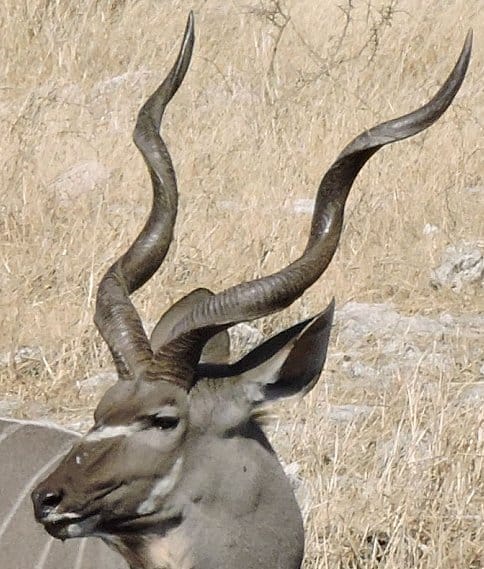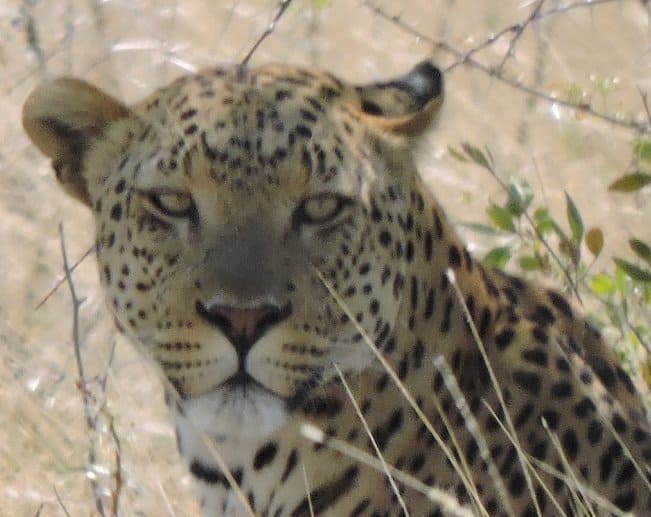 Yet, the Etosha Pan wildlife is just for openers. On the Skeleton Coast you'll find the largest colony of fur seals on earth, in the tens of thousands on the shore as far as you can see and swimming in the surf:

And in Sossusvlei, you'll find one of our world's most magical places. It was at Dead Vlei that National Geographic photographer, Franz Lanting, took this famous photo at sunrise at the base of the world's biggest sand dune in the world's oldest desert in Africa's most spectacularly unknown country: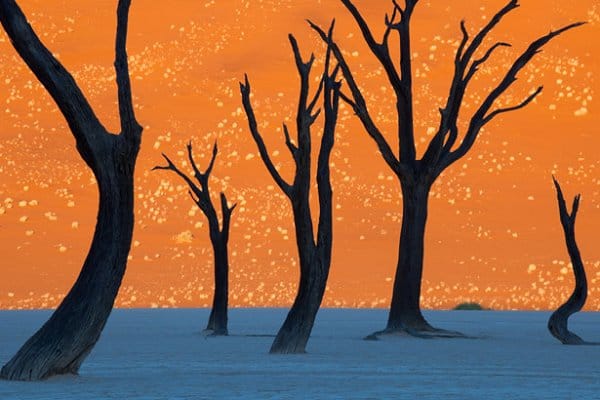 My effort, taken way after sunrise, doesn't begin to compare. (I should note here that all the photos in this article save for Lanting's are mine.)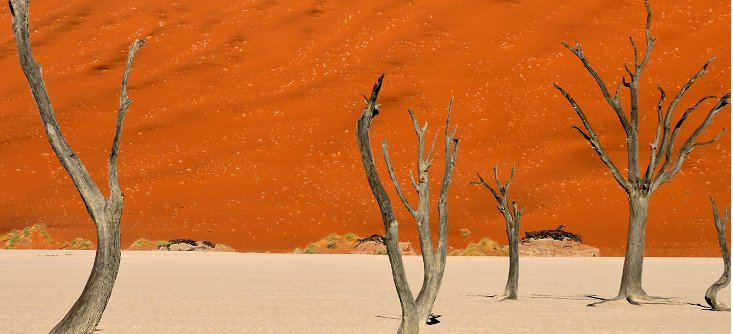 One reason is that at sunrise, my wife and I did one of the coolest things you can do in all Africa:  take a hot air balloon ride over the world's highest and most beautiful dunes…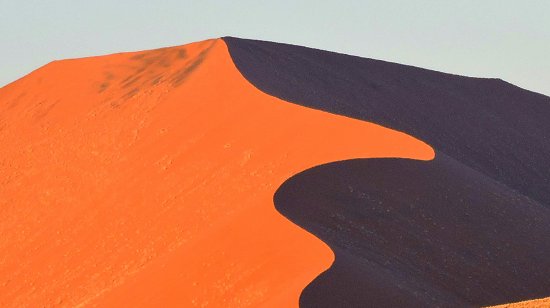 Then there are the Himbas.
It may surprise you to know there are very few genuinely traditional tribes left in Africa. Most of the photos you see of Africans in exotic traditional ornamentation and dress are guys and gals in blue jeans and t-shirts who put all that stuff on just for tourists. If you want the real deal, you come to respectfully and non-obtrusively visit the Himbas in remote northern Namibia.
They paint their skin and hair with a butterfat and red ochre paste called otjize for sun protection. They are nomadic herders and hunter-gatherers living an ancient way of life many would consider extraordinarily primitive. Yet they laugh and dance and sing and are as happy as any people you'll meet. I found it a privilege to be among them.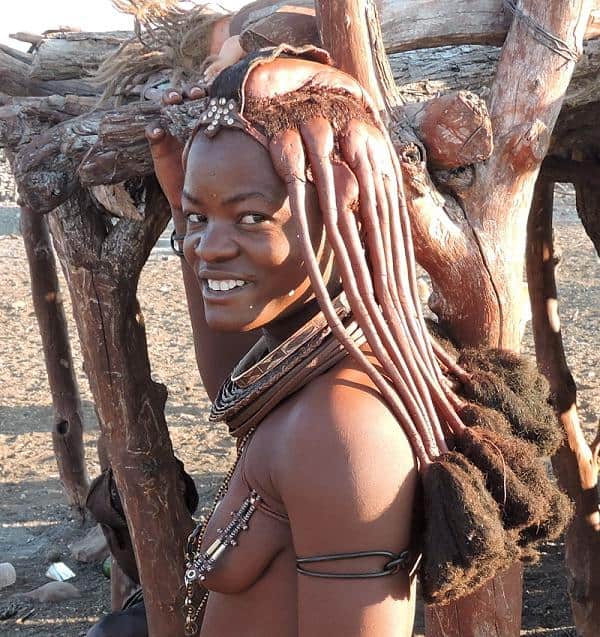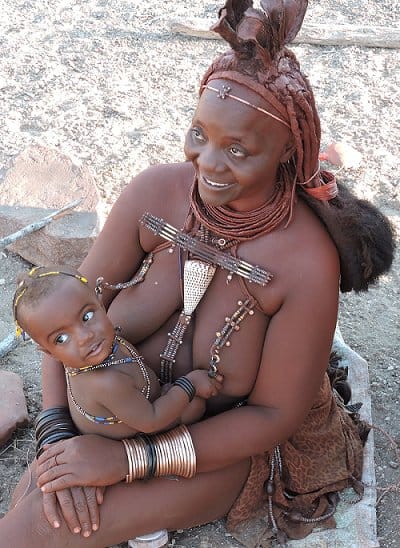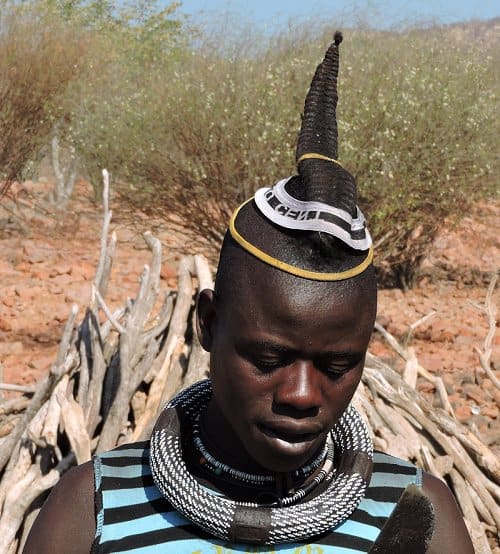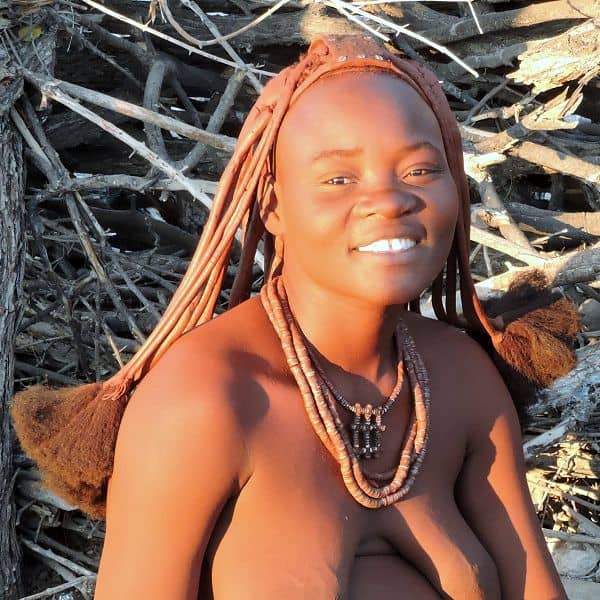 Believe it or not, we've just scratched Namibia's surface. You'll have a marvelous time discovering it for yourself. Especially
because the cost of a safari here is much less than in the Serengeti or Mara. All in all, I think you can see why Namibia is the place to consider that Africa safari you've always dreamed of.
Although I'm not organizing a safari to Namibia this year, if enough Escape Artists are interested, I might next year. Let me know if you are – and let me know what other places in Africa are on your dream list.
In the opinion of many birders, Africa's most beautiful bird is the lilac-breasted roller. They're in profusion in Namibia. Perhaps you'll take a picture of one with me someday.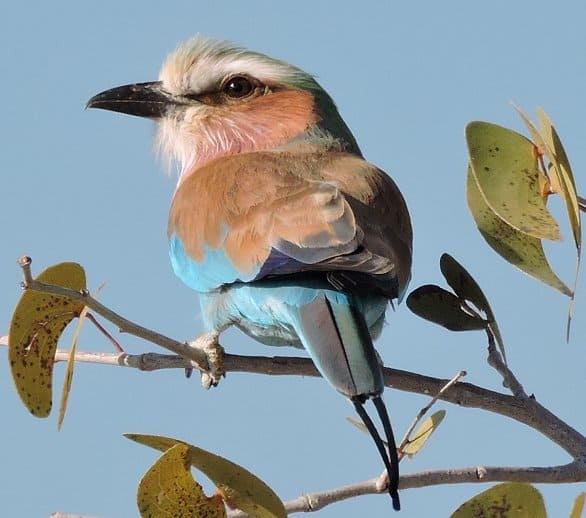 Click here to get advance notice of expeditions you can join & stunning photos of Once-in-a-Lifetime Adventures
Jack Wheeler is the founder of Wheeler Expeditions.
This article was published in the Escape Artist Weekly Newsletter on February 12, 2018. If you would like to subscribe to the newsletter, please click here.
©2019 Jack Wheeler – republished with permission