19 Razkowski Street is a free standing, concrete 3 story building, with all columns extending down to bed rock.
The floors and roof are 6 inch poured concrete.
All exterior and interior walls are 6 inch cement blocks.
All bathrooms and shower stalls walls are 4 inch cement blocks.
All windows are STORMGUARD ALUMINUM LOUVERED. Hurricane rated.
The doors are solid mahogany and are the only wood in the whole building.
THE BUILDING IS HURRICANE AND FIRE PROOF
The first floor contains a commercial space, 32 x 42, which includes a 300 sq. ft., finished and air conditioned office and a ½ bathroom.
The second and third floor each contain 8 rental units.
Each unit has a private, tiled, bathroom and shower, bed and ceiling fan. All halls and floors are also tiled with local tile.
The building and all rooms are wired for cable TV and the internet.
The building conforms to all local building, electrical and plumbing codes.
Total, usable concrete space, is 7300 sq. ft.
Income – 12 % return on investment
This property is wholly owned, duty paid, by and is the sole asset of DOOR LTD. a duly formed Belize Corporation
The Corporation is part of the sale.
Property has an onsite manager who collects the rent, deposits it in the Corporation bank account, and performs small maintenance.
INCOME PROPERTY FOR SALE
19 RAZKOWSKI STREET
Property: 50×75, – 3750 sq. ft.
Building: 32ft x 42ft = 3 Stories = 4032 sq. ft. – plus balconies
First Floor: 1344 sq. ft.= 2 Rental Spaces = 1044 sq. ft. – w/restroom #2 – Finished air-conditioned office 10X30 = 300 sq. ft.
Second Floor: 1344 sq. ft. = 8 individual rooms – 10 x13 = 130 sq. ft. – each – w/ shower – stool — sink – bed – ceiling fan – cable hookup
Third floor: 6 rooms — 10X13 = 130 sq. ft. – 2 rooms — 13X15 = 195 sq. ft.
each – w/shower — stool — sink — bed — ceiling fan — cable hookup
The building has a long term lease, for the roof, from the local Telephone Co for distribution antennas in their 4G network
Property Id : 12450
Price: $ 500,000
My details
Owner
richard-schmidt
Contact Me
Schedule a showing?
Similar Listings
$ 990,000
Rare opportunity to own a year around resort in the Toledo area of southern Belize. Located on approximately 25 acr
[more]
Rare opportunity to own a year around resort in the Toledo area of southern Belize. Located on approximately 25 acr
[more]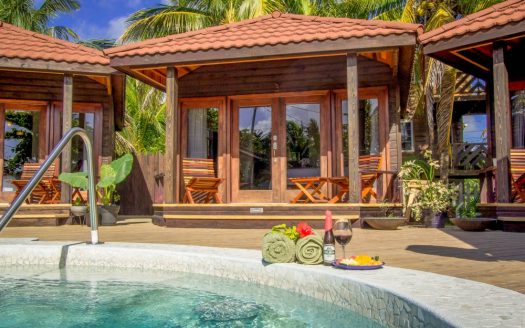 $ 1,300,000
Turn-key boutique resort with 4 cabanas, coffee shop and spacious home currently configured as the owner's apartmen
[more]
Turn-key boutique resort with 4 cabanas, coffee shop and spacious home currently configured as the owner's apartmen
[more]
$ 2,500,000
This drinking and dining establishment has been a popular tourist destination in the Caribbean for over 25 years. P
[more]
This drinking and dining establishment has been a popular tourist destination in the Caribbean for over 25 years. P
[more]