New Haven, Punta Ycacos – 14.67 Acres -The ultimate beachfront retreat, private estate or the ultimate fly fisherman's lodge
Belize Beachfront Private Retreat Potential Fishing Lodge- Just 25 Miles south of Placencia you will find one of the last truly wild beachfront private properties in Belize. . This 14.67 Acres of unspoiled tropical escape is positioned at the heart of one of the most sought after wild areas in Belize.
To the West is the sprawling network of canals and lagoons that make up Paynes Creek National Park. Paynes Creek is Belize's own version of the Florida Everglades and is a nature lover's sanctuary, offering probably the best Permit fishing on the planet. To the East the Sapodilla Keys, offering some of Belize's finest Bonefishing. Venture further and you will meet the Belize Barrier Reef, a great location for fishing and snorkeling. Leaving the reef and you will enter the blue water fishing grounds that make up the bay of Honduras. The Bay of Honduras offers great fishing for Wahoo, Tuna and Marlin and is the number 1 spot in Belize to see whale sharks. Venture South and you are in a paradise of islands, mostly uninhabited, venture a little further south and you are in Punta Gorda.
See the video of the site on youtube : https://youtu.be/FzIPGOM9iN4
The site features over 2000 linear feet of water frontage feet and is stunning high land with an elevated beachfront and beautiful beach. Protecting this incredible beach is a stunning reef that provides protection and natural beach buildup, the reef has plenty of lobster, fish and occasionally permit tail along the northern point of the reef…The land stretches from the beach to the tranquil back lagoon, offering safe harbor, a dock, with an elevated private walkway through the mangroves to the house.
The property features a concrete foundation and ring floor beams, with a very well-built house raised 12 feet off the ground and features 2 bedrooms, 2 bathrooms, Kitchen, Lounge, wrap around porch and an incredible rooftop crow's nest viewing station complete with table and benches, ceiling fan and lights, this is one of the most beautiful points to view the stunning surroundings.
The Kitchen features a gas stove with oven, microwave, refrigerator and all the conveniences of home…The house runs on rainwater collection from an ample cistern built into the foundation structure. 2 separate water heaters run the Kitchen and bathrooms and provide enough hot water for all requirements. The Property runs on an ample and well setup set up rooftop solar that charges a battery bank with an inverter. This means you can live completely off the grid. The location is in line of sight of a new mainland repeater tower that provides high speed internet. Watching Netflix or having VOIP based phone service in this unspoiled paradise is a reality!
The property features another acre parcel just adjacent to it, with access rights to join both properties, this acre site is on the lagoon side, where the current caretaker lives.
The property lends itself to the romantic that wishes to live off the grid (a la Robinson Crusoe) and wants to experience the wilds of Belize.
This property in our opinion is one of the best in Belize to open a specialized fly fishing and nature lodge. Adding walls to the lower level and turning the main existing building into ground floor storage / offices and upstairs into a lounge with bar & restaurant is extremely feasible.
This stunning beachfront sanctuary would jump start any operator into getting a lodge up and running as soon as possible and the property is move in ready with great existing infrastructure…Adding 6-8 raised cabanas across the waterfront would be easy and cost effective and the additional safe harbor for Guide boats makes it an attractive proposition. Having some of the only inland and protected permit fishing waters on the planet at your doorstep make this location desirable too many. The lagoons and channels are full of Tarpon and Snook, some Belize's most famous fly fishing guides from Placencia to Punta Gorda, recognize this as one of the last great protected fishing locations in Belize.
This is one of the last great wild properties in Belize and we believe it is a steal at US$975.000.00
Contact us to arrange a viewing this Belize Beachfront Private Retreat Potential Fishing Lodge
info@belizepropertyshop.com
Property Id : 25266
Price: $ 975,000
Property Building Size: 260.00 m2
Property Land Size: 59,367.00 m2
Rooms: 2
Bedrooms: 2
Bathrooms: 2
Year Built: 2008
Garages: 0
Garage Size: 0
Available From: Immediate
External Construction: Concrete Mason with wood
Roofing: steel
back yard
balcony
beach front
deck
front yard
gas heat
marina
mountain view
ocean front
recreation
roof deck
storage
wifi
My details
Property Specialist
Contact Me
Schedule a showing?
Similar Listings
$ 276,000
Peaceful and private location, upgraded and well-maintained home featuring a guest house for visitors. This propert
[more]
Peaceful and private location, upgraded and well-maintained home featuring a guest house for visitors. This propert
[more]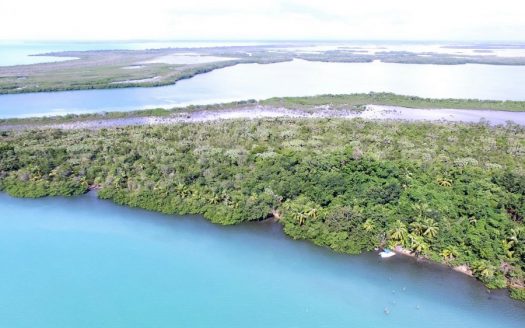 $ 69,000
Paradise Found Sheltered Bay to Lagoon Lots now for sale, Being sold as combined Seafront to Lagoon Channel! Punta
[more]
Paradise Found Sheltered Bay to Lagoon Lots now for sale, Being sold as combined Seafront to Lagoon Channel! Punta
[more]
High and Mighty! Admire the sweeping views of Mountain Pine Ridge from the large verandah of this custom-designed B
[more]
High and Mighty! Admire the sweeping views of Mountain Pine Ridge from the large verandah of this custom-designed B
[more]