Benefit Through Ownership of This Forward-Thinking Investment: Exposing How The Top 1% Invest Live Webinar
January 24, 2017 @ 7:00 pm

-

8:00 pm

Free!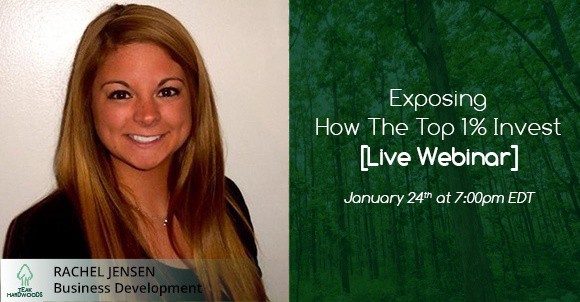 Over the past few years, Hardwoods Unlimited has offered the unique opportunity to own precious teak to pair up with a residency.  Because of the positive feedback expressed, I'd like to invite you to join a live webinar to go through this offer, explain how you'll benefit, and go through your questions.  Add this session to your calendar for January 24th at 7:00pm EST. 
If you haven't yet received the business plan, do note that we need this INFORMATION SHEET  from you first prior to sending the details & projections.  If you already received the business plan, feel free to look through and jot down questions we can answer online.
You can register for the webinar here.